Grant Boiler Service & Maintenance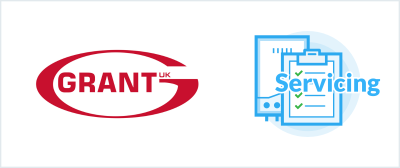 Grant oil boilers are well-known for their reliability and in many cases can heat your home for up to 15 years (or longer), but only if it gets the right amount of maintenance.
To keep your boiler working as efficiently as possible for as long as possible, and to minimise the likelihood of breakdowns, you need to make sure the boiler is serviced by an OFTEC engineer on an annual basis.
---
---
What is a boiler service?
Heating engineers carry out boiler services to check and test the unit in terms of safety, efficiency and performance. To get the most out of your boiler, a boiler service should be arranged annually and carried out by a Gas Safe engineer on gas boilers or an OFTEC registered engineer for boilers that run on oil.
All Grant boilers run on oil, which means that you'll need to find an OFTEC engineers for each service during the boiler's lifetime. OFTEC engineers are the only people qualified enough to work on oil appliances.
The engineer will be able to spot signs of potential problems or wear and tear which could lead to costly breakdowns or reduce the efficiency of the system. If a boiler is working inefficiently it will also be making your energy bills higher. A thorough boiler service will last around 30 minutes or more, however, the total time it takes will depend on the type of boiler and whether or not the come across any faults during the inspection.
Oil boiler service checklist
Oil boilers should be inspected and each component cleaned and replaced as needed. As oil is burned deposits build up which will harden if left for too long causing significant damage to the internal components. Here are some of the key things an OFTEC engineer will be checking during an oil boiler service:
A clean heat exchanger means a more efficient boiler. Too much smoke or partially burnt fuel can lead to a build up of soot on the heat exchanger which restricts how much heat is passed to water.
If an oil boiler is turning itself on and off for no reason this may be the cause the photocells may need cleaning. Photocells are a safety feature which detect when the boiler is lit; they become dirty over time and so won't be able to tell if the boiler is lit or not.
The oil nozzle controls how much oil passes through the burner and can wear out as the boiler ages. Too much fuel passing through can affect the boiler's ability to operate as too much oil can cause a build up of soot on the heat exchanger.
Electrodes – the parts which produce the spark which ignites the oil – will age and attract soot meaning that the boiler may not light.
Your oil storage tank will also need to be checked for signs of water contamination or oil leaks and the filter elements may need cleaning or replacing.
---
---
Why it's important to service your Grant boiler
Safety
A boiler which isn't working properly can be more than an inconvenience; it can be a serious risk to you health For example, an oil (or gas) boiler which isn't burning its fuel completely may emit carbon monoxide which is a colourless and odourless gas which replaces oxygen in the bloodstream when inhaled. Exposure to it can cause illness, brain damage or even death.
Keep heating bills low
When oil burns it leaves behind sooty deposits which will harden over time. When key components such as the heat exchanger have too much soot on them they won't be able to heat water as effectively and your heating bills will rise.
Prevent breakdowns
Prevention is always better than cure when it comes to boilers. The annual service is an engineer's chance to identify small problems with the boiler's operation or parts which are wearing out, before they cause damage or a breakdown. Waiting to get a boiler looked at by a professional when it has already broken down is going to land you with a repair bills which is much higher than the cost of a service.
Warranty
An oil boiler by Grant includes a 12 month warranty straight out of the box and a 2 year warranty if the boiler is registered on their website within 30 days of installation. For some ranges this can be extended up to 10 years, but any warranty will be invalid if you fail to have the boiler serviced annually by an OFTEC engineer.
Grant oil boiler service costs
The one-off cost of a boiler service usually falls between £60 – £120 but this will vary depending on which engineer you use to carry it out. The cost will also be impacted by where you are in the country, the make of boiler and how old it is. Unsurprisingly, if repairs or new parts are needed as part of the service this will increase the cost.
A good way to save money on the cost of a boiler service is to get it taken care of in the summer. Engineers are generally less busy and so are more competitive in their pricing and will be more flexible in terms of arranging an appointment to suit you. You'll also have peace of mind that the boiler is in good condition ready for winter.
NEVER attempt to service an oil boiler yourself. ALWAYS contact an OFTEC registered boiler engineer.
---
---
Boiler service plans
A boiler which is 8 years old or more and no longer covered by a warranty is at a higher risk of breakdown and inefficiency. In these cases you may want to consider a boiler service plan which enables you to spread the cost of the service over 12 monthly payments so you can avoid a large upfront cost. In many cases these plans also cover the cost of any repairs needed during the service too.
It's worth noting, however, it's likely that you will have paid out over £100 by the end of the plan, so if you can afford to do so paying for a boiler service in one go is the better financial option.
Boiler maintenance
To make sure the boiler is working at its best the boiler service is essential, but there are also some simple checks that you can carry out yourself which will also help.
Insulate the pipes
Should the external pipes connected to your boiler ever get blocked then it can lead to increased increased pressure, leaks or even complete breakdown. This is most likely to happen during cold weather as pipes are susceptible to freezing. This makes insulating your pipes with lagging (mineral or glass wool, polyethylene or foam) very beneficial.
Keep an eye on the pressure
Your boiler should have a built-in pressure gauge with a needle that shows the pressure. This should read somewhere between 1 and 2. If the pressure is too high or too low it could lead to your boiler shutting down.
Insulate
For maximum efficiency you should ensure your windows are closed and any potential heat loss areas like letterboxes, open chimneys or gaps in window frames are sealed. A poorly insulated home will mean your boiler has to work harder to keep you warm leading to higher heating bills and more wear and tear on the boiler itself which could lead to breakdowns.
Get an annual service booked
However often you carry out DIY checks, they're no replacement for an annual boiler service by an OFTEC registered engineer. Get a free quote for your next Grant boiler service from OFTEC engineers near you.