Common Ravenheat Boiler Problems & Repair Advice
Many common Ravenheat problems with boilers can be resolved without the expertise of a heating engineer and we'll be highlighting them in this guide. If in any doubt at all though, contact an engineer. You can get free boiler repair quotes using Boiler Guide.
Most common Ravenheat boiler problems
Failing to igniteElectrical fault (Flashing red light)
Failing to ignite
If your boiler is failing to start then there are several possible causes: insufficient or no gas supply, broken thermocouple, a draught blowing the pilot light out or a blockage in the pilot jet.
There will be instructions in your boiler's manual that can talk you through reigniting but before attempting this it's very important to to check that there aren't any issues with the gas supply.
Never carry out any work on your own gas boiler, so if it doesn't reignite get in touch with a Gas Safe registered engineer.
Electrical fault (Flashing red light)
A flashing red light suggests that there is an electrical fault with your boiler, potentially caused by the gas valve, printed circuit board (PCB) or flame sensor.
Fixing an electrical fault
You'll need to contact a heating engineer to determine whether the fault lies with one of the components or the wiring. If the gas valve or PCB are at fault, they might need replacing, which can be expensive. For older Ravenheat boilers, that were installed more than 10 years ago, it would make more financial sense to replace your boiler rather than these individual parts are they can cost over £500.
Without heating and hot water
You should start by checking the boiler pressure and your thermostat as they could be causing the issue. If not, the potential causes can be low levels of water, broken diaphragms and airlocks or motorised valves failing.
Getting the heating and hot water back on
With Ravenheat boilers specifically, this issue could be down to a faulty pump, if you think that your boiler needs a new part then you'll need to get a Gas Safe registered engineer on the case. They'll be able to thoroughly diagnose the problem and replace any broken parts where necessary.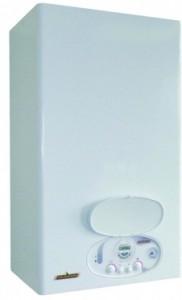 Radiators not heating up
It's a good idea to start out by checking that the thermostat is turned up enough for the heating to come on, we recommend 18-21°C. If your thermostat looks fine and the heating is turning on but the radiators simply aren't heating up then that's a strong indication there's too much air in the system and the radiators need to be bled.
Bleeding a radiator
Bleeding radiators allows excess air, that might have been blocking water circulating, to escape the heating system and allow for the hot water to circulate around the radiators again. Follow the steps in our guide to bleeding radiators to find out how to do it yourself, but you can always contact an engineer if you'd prefer.
Low boiler pressure (F73, F74 and 08)
Ravenheat boilers need sufficient water pressure to be able to operate and a sudden drop in pressure could indicate a leak. You can check the pressure by taking a look at the pressure gauge – it should be somewhere between 1bar and 2bar, if it drops below 0.6bar then the boiler will lockout.
How to increase boiler pressure
If there's been a sudden drop in pressure and you notice leaking from your Ravenheat boiler don't attempt to increase the pressure. Instead, turn the water supply off and contact a Gas Safe registered engineer. Otherwise, increasing boiler pressure is something you can do yourself and our guide to low boiler pressure can take you through the steps.
---
---
Which Ravenheat boiler problems need a heating engineer?
To help you identify the potential causes of some common boiler problems, we've put together the table below so you'll know if you'll need an engineer.
| Problem | Possible cause | Do you need an engineer? |
| --- | --- | --- |
| No heat or hot water | Broken diaphragms and airlocks, failure of motorised valves, issues with the thermostat or low water levels | Yes |
| Leaking and dripping | Likely to be a broken internal component but depends where the water is coming from | Yes |
| Banging, whistling or gurgling noises | A common cause is air in the system, alternatively it could be that the water pressure is too low or it's kettling | Yes |
| Pilot light goes out | Could be a broken thermocouple which is stopping the gas supply | Yes |
| Losing pressure | A water leak in the system, or the pressure relief valve needs replacing or due to recently bleeding radiators | No, unless there's a leak |
| Frozen condensate pipe | Your boiler will display a fault code or warning notification | Yes |
| Trouble with the thermostat | It may be turned off or not set to the correct settings (time etc.) | Consider replacing |
| Kettling | Limescale or sludge may have built up on your boiler's heat exchanger | Yes |
| Radiators not getting hot | Sludge or air build up in the system or an unequal distribution of heat | The radiators need to be bled, which doesn't require an engineer unless you'd prefer a professional took a look. |
| Boiler keeps switching itself off | Could be low water pressure, a problem with the thermostat or a lack of water flow due to a closed valve, air or the pump not circulating the water in the system properly | Yes |
Ravenheat boiler warranty
The boilers in Ravenheat's range offer different warranty lengths from 2-5 years. Have a read through our guide to Ravenheat warranties for a full understanding of what they offer.
Once installed, you'll want your new boiler to heat your home and hot water for as many years as possible. To do this, you should arrange an annual Ravenheat boiler service, which involves a Gas Safe engineer running a series of inspections and tests on the unit. An annual boiler service is also required to keep the warranty valid.
Boiler insurance and ongoing cover
It can be easy to think that your boiler warranty expiring is the end of the road in terms of cover for your boiler, but that doesn't have to be the case. Boiler insurance is something well worth considering. If you think boiler insurance is the way to go then keep an eye out for any that offer an annual service and safety inspection. And remember, you're under no obligation whatsoever to take this insurance out with your energy supplier.
Is it time to replace your Ravenheat boiler?
Once you've had your Ravenheat boiler for a few years, it might be time to consider having a new one installed. A brand new boiler could be saving you up to £300* a year in a detached home. The table below shows how much you could be saving depending on the rating of the boiler in your property.
| House Type | G (less than 70%) | F (70-74%) | E (74-78%) | D (78-82%) |
| --- | --- | --- | --- | --- |
| Semi-detached | £195 | £140 | £125 | £110 |
| Detached | £300 | £210 | £165 | £135 |
| Detached bungalow | £155 | £110 | £100 | £90 |
| Mid-terrace | £170 | £120 | £105 | £95 |
| Mid-floor flat | £80 | £55 | £50 | £45 |
How to find the best installer to replace a Ravenheat boiler
After you've decided that you'd like a brand new boiler in your home, you have to start thinking about who you'd like do the installation. Your two options are a local engineer or a national company, both of which offer many benefits depending on your preferences.
Local engineers can offer some very competitive rates and if you like to receive service with a personal touch then you're likely to be in direct communication with one person throughout.
When receiving quotes, we don't recommend going with the first one you receive, instead aim to get up to 3. This way, you're more likely to find the best deal for you. Send us an enquiry to receive free quotes from trusted engineers near you with our free service.
---
Get Ravenheat Boiler Quotes
---
*According to the latest figures from the Energy Saving Trust