Mixergy: The Smart Hot Water Tank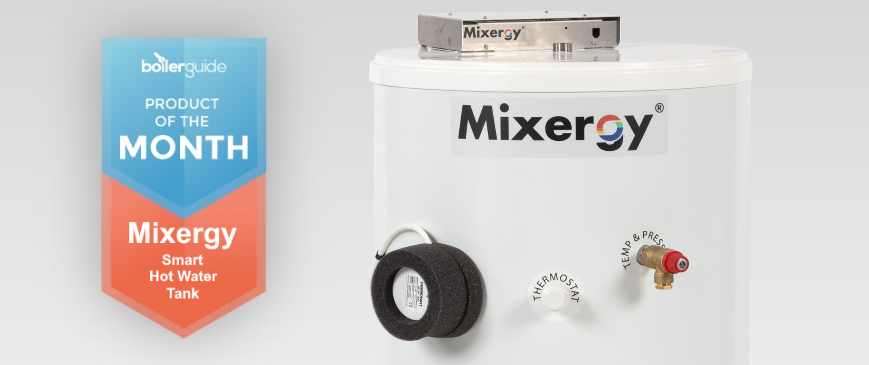 Mixergy have developed a smart hot water tank that heats water much more efficiently than a conventional tank to help reduce your energy bills.
While conventional hot water tanks either heat all or none of the water, Mixergy smart hot water tanks only heat the water needed thanks to the unique top-up technology.
Find out how Mixergy hot water tanks work and the many ways installing one could benefit your home.
---
---
How does the Mixergy smart hot water tank work?
Normal hot water tanks allow cold water in while hot water is already present, reducing the overall temperature. In turn, this means that the heat exchanger then has to work hard to heat the water up again.
This process is very inefficient and will only add to your energy bills.
Mixergy Smart Hot Water Tanks, on the other hand, feature a special inlet diffuser that prevents the cold water from mixing with the hot water. As water rises as it heats up, this allows the hot water to 'float' on top of the cold water, with more being heated depending on the demand, resulting in:
Reduced heat loss
Quicker reheat time
30% more hot water being available to your home when the tank is fully heated before the temperature will drop
The image below shows the difference between the Mixergy tank's top-up technology in comparison to a conventional hot water cylinder.
As you can see, Mixergy have developed a highly-innovative hot water cylinder that will help to reduce energy waste by only heating the water needed, rather than the all-or-nothing approach of conventional hot water cylinders.
They're known as smart hot water tanks because they can be controlled using a smart device by downloading the Mixergy App (Android and iOS) which shows:

Water level in the tank
Amount of energy being consumed
Electricity cost estimations
Hot water levels and temperature
Visibility of when the tank is heating up the water
Mixergy hot water tank control
You'll get more control over a hot water tank from Mixergy than any other hot water cylinder on the market. In addition to being able to monitor the tank from your smart device, you can also make the following adjustments so that the system works best for your home.
Heat exact amounts of water
Standard hot water cylinders heat all of the water in the cylinder all at once, when you might not even need all that water. Installing a Mixergy tank only heats the amount of hot water you need, saving you time and money without wasting energy.
Set the temperature
You can set the exact temperature of the hot water in the cylinder so that the water coming out of your taps is just the temperature you want.
Select a heat source
Mixergy hot water tanks can be fitted to conventional heating systems (boilers) and renewable heat sources (solar). To help save money on running the cylinder, you can take advantage of Economy 7 tariffs or with a solar PV system.
What are the benefits?
The innovative way that Mixergy smart hot water tanks heat water means that by installing one, you get many benefits:
Reduced energy waste;
Water reheated 5x faster than with a conventional hot water cylinders;
Machine learning allows the hot water tank to adapt the way you use the system;
A sterilisation routine prevents bacteria, such as Legionella, from building-up at the foot of the cylinder;
Renewable energy sources, such as solar panels, can be used to power the hot water tank.
This final benefit about renewables is something that Mixergy have put great focus on with their hot water tank as you can power the tank with an air source or ground source heat pump as well as solar panels.
---
---
Mixergy hot water tank with a combi boiler
If you have a combi boiler, which work by heating water from the mains and sending it directly to the taps, without the need for a hot water cylinder or tank, you can still benefit from a Mixergy smart hot water tank.
The process of installing a Mixergy tank would effectively mean that the combi is converted into a system boiler, storing hot water rather than providing it instantly.
Mixergy Warranty
Mixergy smart hot water cylinders are available with a very lengthy 25-year warranty, with other components and electronics being covered by a 3-year warranty. It's worth noting that your warranty won't be valid until it's registered and then connected to the Mixergy network.
Who can install a Mixergy hot water tank?
Mixergy recommends having their tanks installed by one of their approved installers but they can be installed by plumbers or heating engineers with the necessary qualifications (BPEC G3).
This means that you can compare quotes from multiple plumbers and heating engineers to help you find the best possible installation price. Which is very helpful when you consider that installation costs can vary greatly from one installer to another.
---
---