How to Use Boiler Thermostats and Controls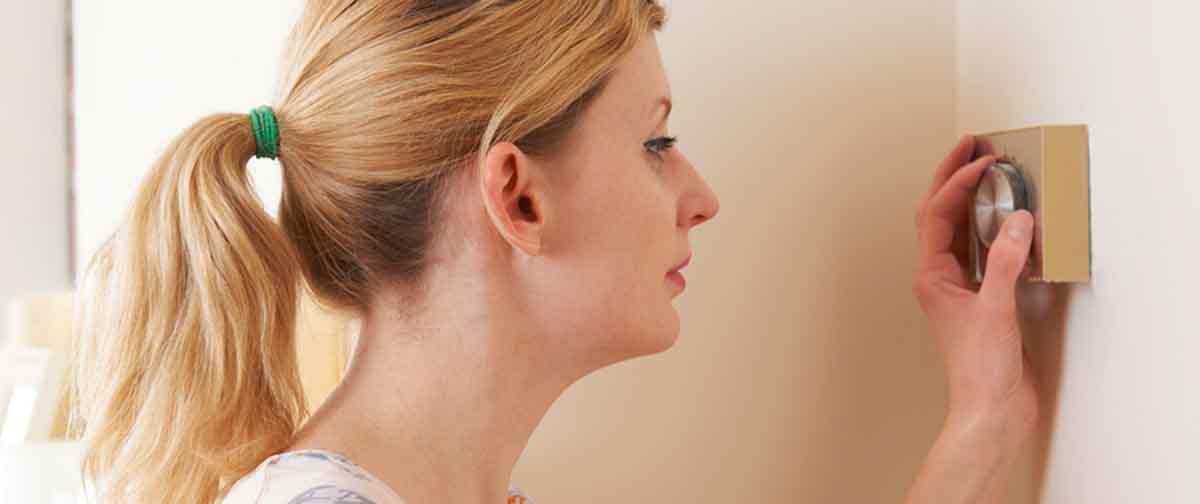 Boiler thermostats and central heating controls not only make it easier to use your boiler, they can also reduce your energy bills dramatically. Plus, time and temperature controls are also now an essential part of a central heating system under the Boiler Plus legislation.
There is however a lot of confusion surrounding how to use central heating controls, likely due to the number of different types and models available. From boiler timers to programmable thermostats, we've outlined the most common heating controls and what they can do for you.
Benefits of central heating controls
Before looking into the various types of boiler thermostats and central heating controls, it's good to know how they can all benefit your home:
Lower energy bills
Smaller carbon footprint
Only heat rooms or areas that need warming up rather than the whole property
Schedule the heating to come on when you need it and turn off when you don't
Turning your thermostat down by just 1 degree has the potential to save you £80 on your energy bills over the course of a year which could also see your carbon footprint reduced by more than 300kg annually too.
---
---
Central heating controls explained
It's estimated that around 800,000 UK homes (4%) don't have any form of central heating control, while 70% are benefiting from a full set of controls. There are several types of boiler thermostats and central heating controls, including:
Built-in boiler controls
Boiler timers
Room thermostats with a dial
Digital programmable room thermostats
Smart thermostats
Thermostatic radiator valves
We're going to take you through each type of boiler thermostat and central heating control so you know how to use them in the most efficient way.
Built-in boiler controls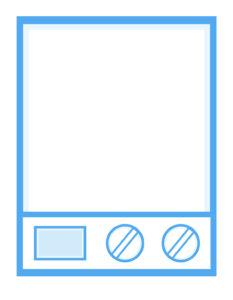 Your boiler is likely to have its own set of controls on the front of the unit, which is great for controlling your heating if your boiler is easily accessible but not so much if it's been installed in a garage, loft or externally.
One of the simplest Your boiler itself will likely have simple controls including an on/ off switch. This will either turn both the heating and hot water off or one or the other. Being able to control them separately can be useful if you want to turn your heating off in the summer months but still require hot water. You may also have temperature controls on your boiler. These will allow you to alter the temperature the boiler heats its water to so it is a good idea to adjust this accordingly for both winter and summer.
 
 
Boiler timers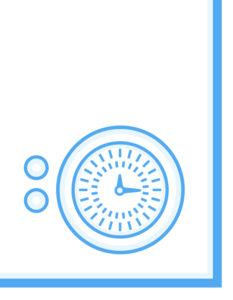 This mechanical type of timer allows you to control the times when your boiler is on or off. They will often be round, with the hours of the day (broken down into slots, usually 15 minutes) and tabs you can slide in and out of position.
While boiler timers can be used to control when the boiler turns on and off, they can't be used to set the temperature. To do that, you'll also need a separate temperature control, such as a thermostat.
This kind of control should be adequate if you need your boiler to turn on and off at the same times each day. If you want the central heating to turn on and off at different times each day then you won't be able to rely on a boiler timer to do that.
Room thermostats with a dial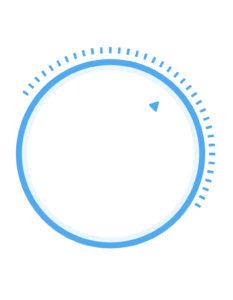 Room thermostats will turn on the heating until the room reaches the temperature you have set. Once the desired temperature is reached they will turn the heating off. Room thermostats are installed onto the wall with a circular dial with an arrow marked on it, pointing it to a temperature that's displayed it.
Thermostats need to be able to take the temperature of the air around them, so it's important to keep them clear of curtains and anything else that might block the flow of air.
There is a common misconception that turning your thermostat up will heat your home quicker. This won't actually work as your home will take the same amount of time to reach your required temperature, but will then continue to heat until it reaches the higher temperature you had raised it to.
Digital programmable room thermostats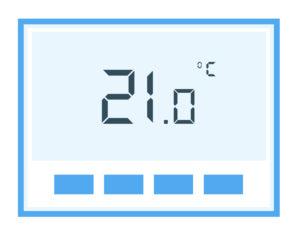 A programmable thermostat allows you to control when your heating switches on and off as well as set the temperature, all via a digital interface. Many models will let you have programmes created for weekdays and weekends separately to allow for different schedules.
Some of the more advanced options will allow you to enter a different heating schedule for each day of the week.
Smart thermostats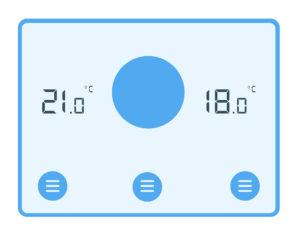 Smart thermostats offer the highest level of control over your home heating system. Whilst features vary between models, smart thermostats generally allow you to program and control your heating online or using a smartphone. Other features can include:
Weather responsiveness
The ability to learn and adapt to your routine
Geolocation which can recognise when nobody is in the home
Some of the most popular brands are Nest, Hive and Honeywell. You can find a full guide to smart thermostats here.
Thermostatic radiator valves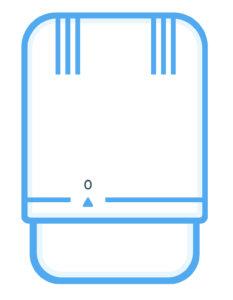 Whilst thermostatic radiator valves don't directly control the boiler, they can help to keep your rooms at a desired temperature.
Thermostatic radiator valves work by controlling the flow of warm water through the radiator, reducing it when the temperature reaches a certain level. They detect this temperature using the air around them, so it is best not to use covers on radiators which have thermostatic valves.
On the valve will be either a series of symbols or numbers (often 1-6) that represents the level of heat that will come from the radiator, with a setting of 3 normally giving the room a temperature of around 20°C.
It's not a good idea to have a TRV fitted to the radiators in rooms that also have a wall-mounted smart thermostat as they will be competing to control the room temperature.
Also available now are smart radiator valves that you can connect to a smart thermostat to control the heat output of the radiator from a smartphone, no matter where you are.
 
 
---
---
Zonal heating
Many properties only have the ability to turn the central heating on and off for the entire property, with TRVs on the radiators to set the temperature.
When having a new central heating system installed, zonal central heating can be set up which allows you to split your home into 2 or more zones. With multi-zonal heating, it's possible to set the central heating to different temperatures and times.
Switching to a zonal heating system gives you much greater control over your central heating and will help to increase the potential savings on your energy bills.
Boiler Plus
In 2018, a new legislation was introduced to improve the efficiency of UK homes. Under the legislation, known as Boiler Plus, all gas and oil boiler installations must now include time and temperature controls.
Combi boiler installations will also need one of the following:
Smart controls
Weather compensation
Load compensation
Flue Gas Heat Recovery
What is weather compensation?
With a weather compensation kit, your boiler will be aware of the temperature outside. This allows it to set a flow temperature that will keep your home at a comfortable temperature. So your heating system will be able to run more efficiently, saving you money.
What's load compensation
Load compensation allows the heating system to change the temperature of the water going into the radiators. So when your home only needs warming up a little, the temperature of the radiators will reflect that – which is far more efficient. This means the radiators don't always have to be piping hot.
Flue Gas Heat Recovery
All modern condensing boilers have a Flue Gas Heat Recovery System. Since April 2005, all new gas boilers must be condensing by law. So, if you've had a new boiler fitted since then, it should be a condensing boiler. If you haven't had a boiler installed since 2005, consider a boiler replacement.
When to have boiler controls installed?
It's never too soon to give yourself more control of your central heating and domestic hot water by upgrading your current controls or purchasing new ones.
If your existing boiler was installed more than 8 years ago then it's about time you considered a replacement and having a new boiler installed is the most cost-effective time to have new controls fitted. That way, you'll benefit from a more efficient heating system and have more control over it to increase the efficiency even further.
Using Boiler Guide, you can get free quotes for boiler installation from fully-qualified engineers in your local area by taking a few moments to complete our simple online form.
Up to 3 boiler installers will get in touch with you, each providing a quotes for you to compare, giving you the greatest chance of finding the most competitive price.