ATAG vs Navien: A Boiler Comparison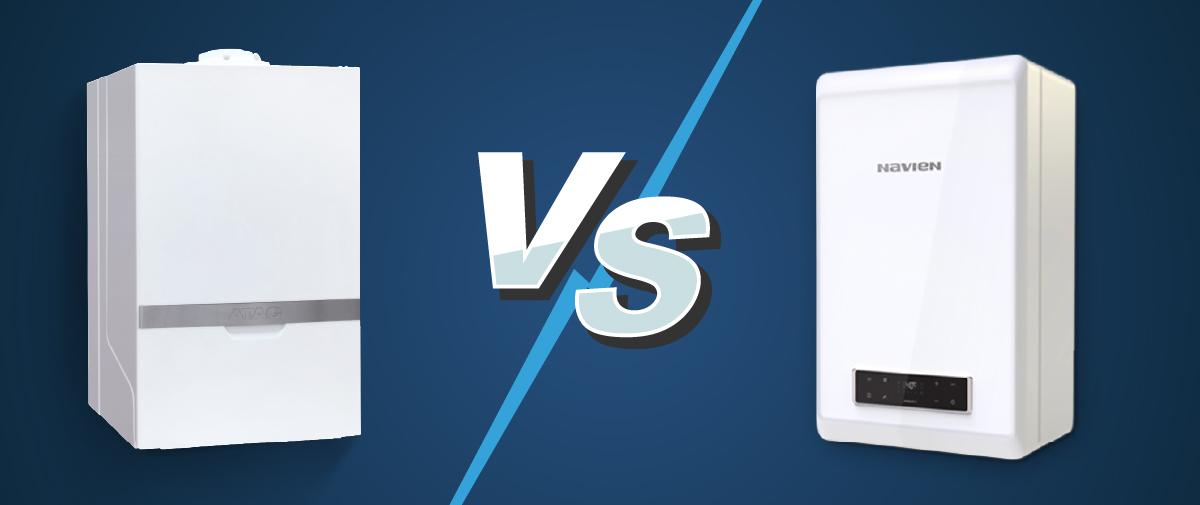 Navien are a relatively new addition to the UK boiler market so we've put them up against ATAG, a UK boiler manufacturer with a great reputation for efficiency, innovation and reliability, to see how they compare.
If you're looking for a new boiler, find out which of these boiler manufacturers you should turn to: ATAG vs Navien.
Best ATAG and Navien boilers
We're going to compare the combi, regular and system boiler manufactured by ATAG and Navien to help you find the right boiler for your home.
Live off the gas network? All ATAG and Navien gas boilers are available with LPG conversion and Navien's LCB 700 range of system and regular boilers run on oil too.
Combi boilers
Combi boilers are the most popular boiler type in the UK and are perfect for smaller homes with no room for a hot water cylinder. They provide hot water on demand, rather than storing it, which is why they're the ideal choice for homes with a single bathroom.
Both ATAG and Navien have a great range of efficient combi boilers with extensive warranties.
Boiler model
CH output
DHW output
Flow rate
Efficiency

ATAG combi boilers

I24C
23.2 kW
26.6 kW
10.1 l/min
94%
I28C
23.2 kW
30.3 kW
11.5 l/min
94%
I36C
31.2 kW
39.3 kW
14.9 l/min
94%
I40C
31.2 kW
42 kW
16.2 l/min
94%

Navien combi boilers

NCB 24
21.4 kW

.

23.8 kW
13.8 l/min
92%
NCB 28
25.6 kW
27.7 kW
11.5 l/min
93%
NCB 34
31.1 kW
33.7 kW
13.9 l/min
93%
NCB 39
33.2 kW
39.6 kW
16.9 l/min
93%
ATAG IC combi boilers
The ATAG IC combi range is one of the most efficient available on the market and comes with a long warranty of up to 14 years. Additional benefits to this combi boiler range include:
It's a compact unit so can be hidden away in a kitchen cupboard
Runs quietly as it works to heat the home
Comes with plenty of flue options so can be installed in many places around the home
Navien NCB combi boilers
Navien NCB combi boilers don't quite reach the same level of space heating efficiency as the range from ATAG but you do get more choice. There are 4 boilers with outputs ranging from 24 kW up to 40 kW, making it easier for you to find a suitable combi for your home. Some of the benefits that come with having a Navien combi boiler installed are:
Fast response to demand for heating and hot water
Flexible flue lengths mean Navien combi boilers can be installed almost anywhere
Touchscreen controls make it easy-to-use
Quiet during operation
LPG also available
Regular boilers
ATAG and Navien both have a range of regular (heat-only) boilers but with a difference being that ATAG models are gas-fired while Navien units run on oil.
So if you live in a property off the gas network then a Navien oil boiler could well be the winner. However, the ATAG IR range of gas boilers are also available with LPG conversion – a fuel that is also suitable for properties that aren't connected to the gas network.
Boiler model
Output
Efficiency

ATAG regular boilers

I15R
15 kW
93%
I18R
18 kW
93%
I24R
24 kW
93%
I32R
32 kW
93%
I40R
40 kW
93%

Navien regular boilers

LCB 700 21
21 kW
93%
LCB 700 28
28 kW
93%
LCB 700 36
36 kW
93%
ATAG regular boiler
ATAG regular boilers are available in output ratings of 15 kW right up to 40 kW which will give you plenty of options when it comes to finding the best fitting system for the heating and hot water demands of your home. Once installed, you'll be able to benefit from the following:
Compact dimensions which will help to keep installation costs down
Multiple flue options help to make for a flexible installation
iCON heat exchanger fitted as standard and has a lifetime replacement guarantee
User-friendly heating controls
Compatible with solar
LPG models also available
Navien regular boiler
There are fewer regular boilers in the Navien LCB 700 range but still have a wide choice of outputs on offer. Here are a number of advantages to Navien regular boilers:
Blue flame technology for high efficiency and ultra-low NOx emissions
Low lift weight (67kg)
Receives an ErP A+ rating when paired with a Smart Plus control pack
Can learn and adapt to the domestic hot water usage of the home to prepare hot water at just the right time
Internal and external models available
System boilers
A system boiler sits somewhere between combi and regular boilers as they take water directly from the mains supply (rather than a tank in the loft) but store it in a hot water cylinder.
ATAG system boilers run on natural gas, with LPG conversion available for off-grid properties, while Navien has a range of system oil boilers.
Boiler model
Output
Efficiency

ATAG system boilers

I15S
15 kW
93%
I18S
18 kW
93%
I24S
24 kW
93%
I32S
32 kW
93%
I40S
40 kW
93%

Navien system boilers

LCB 700 21
21 kW
93%
LCB 700 28
28 kW
93%
LCB 700 36
36 kW
93%
ATAG system boiler
Output ratings of 15 kW up to 40 kW will give you plenty of choice when it comes to finding the right boiler for the level of demand your home has for heating and hot water. In addition to high efficiency levels and lengthy 10 year warranty, ATAG system boilers also offer:
Compact unit size to make for an easier installation
Zero risk of pipes or tanks freezing during the winter months
Fitted with an iCON heat exchanger
Can be used with the ATAG ONE controller with 3 port valve kit
LPG conversion
Compatible with solar
Navien system boiler
If you live off the gas network and would prefer an oil boiler to LPG then Navien has the solution. Their oil system boilers are highly efficient, boast blue flame technology and are covered by a 7 year warranty period. With a Navien system oil boiler, you'll experience the following benefits:
Blue flame technology for reduced emissions
Quick response to need for hot water
A smart control panel shows how much fuel has been used
External models are also available
Fitted with a stainless steel heat exchanger which can help to extend the lifetime of the boiler
---
---
ATAG vs Navien
Efficiency
All of the boilers that we've compared are highly efficient and should help to reduce your energy bills.
The most efficient boilers, in terms of the ErP seasonal space heating efficiency rating, are the ATAG IC Economisers which have a 94% rating. This means that for every £1 being spent on heating your home only 6p is lost to waste gases, which are produced during operation and sent out into the atmosphere through the flue pipe. When you consider that some older boilers can be around 70% official, considerable savings could be made.
Price
As combi boilers are the most popular choice we'll start by looking at the prices of the combi ranges offered by ATAG and Navien. ATAG IC Economiser combi boilers are potentially much more expensive than the Navien NCB range. So if you're looking for a combi on a budget, Navien is probably the way to go.
Prices are much more closely matched when it comes to their system and regular boilers but seeing as the ATAG ranges run on gas while the Navien ranges are oil-based, the fuel rather than the price should be the deciding factor here.
| Boiler Type | ATAG Potential Cost | Navien Potential Cost |
| --- | --- | --- |
| Combi | £2,050 – £2,460 | £741 – £921 |
| System | £1,599 – £1,799 | £1,560 – £2,025 |
| Regular | £1,550+ | £1,400 – £1,950 |
Installation
When it comes to the installation, there are a few differences between gas and oil that need to be considered.
Oil boilers will need somewhere to store the fuel (as would LPG versions) while natural gas boilers will be delivered with the fuel from the grid. Having to install a tank (if you don't already have one or the existing one needs to be replaced) will add to the installation costs.
Whether you're having a gas, oil or LPG boiler installed, we can connect you with heating engineers based in your area who hold the relevant qualifications to install the boiler. Take a few moments to complete our simple online form and you'll get free quotes from up to 3 local boiler installers.
Warranty
ATAG boilers are unique in that they all come with a 10 year warranty as standard. During which time you'll be covered for parts and labour. Navien boilers are also covered by an extensive period of 7 years.
To keep the warranty valid no matter the manufacturer, the unit must be serviced annually by a fully-qualified heating engineers. This means a Gas Safe registered engineer for gas boilers and an OFTEC technician for oil boilers.
Find out more about ATAG and Navien boiler warranties:
Winning boiler manufacturer
Navien might only be a recent addition to the UK boiler market but that doesn't mean they should be underestimated. Even when put head-to-head with ATAG, a manufacturer who has built a reputation for innovation and efficiency.
What gives ATAG the edge is the backing of that extensive standard 10 year warranty on all of their boilers. This not only means you're well covered in the unlikely event that something should go wrong but shows the faith ATAG have in all of their boilers.