Which is the Best Combi Boiler?


The best Combi boilers on the market are manufactured by Worcester Bosch, Vaillant and Ideal.
Year after year, these boiler manufacturers continue to dominate both homeowner and installer surveys as providing the most reliable, energy efficient and high performance range of Combi boilers available today.
To help you in your search to find the best Combi boiler for your home, we're going to look at a Combi boiler from each of these manufacturers:
---
---
What is a Combi Boiler?
Before looking into the best Combi boilers, or Combination boilers to give them their full name, let's get to know exactly how a Combi boiler works.
Combi boilers are the most commonly installed type of boiler in the UK for a number of reasons. While System and Regular boilers require a hot water storage cylinder, a Combi boiler is an all-in-one unit which will produce hot water for central heating and your taps. This saves a great deal of space in your home and often means it can be tucked away in a kitchen cupboard. With no water tank or cylinder needed it also results in a simpler and faster installation.
It takes its water supply directly from the mains which usually results in a stronger pressure. A Combi boiler gives you the luxury of hot water on demand so there's no need to worry about running out and having to wait for the tank to refill.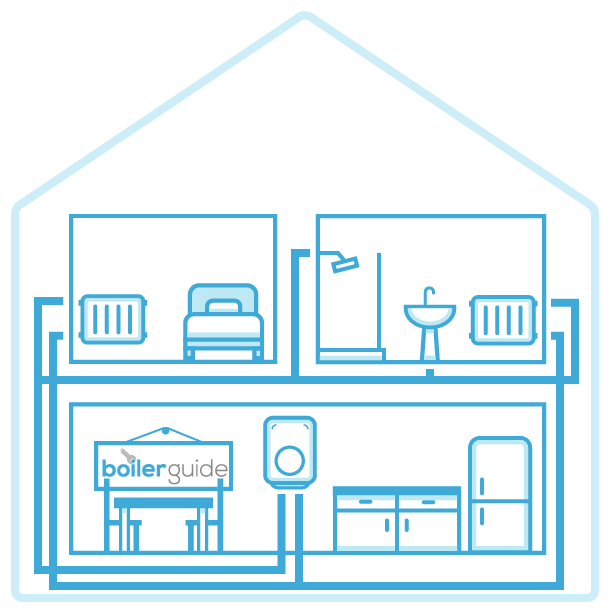 Combi boilers work by heating water directly from the mains, so you don't need a hot water storage cylinder or cold water tank.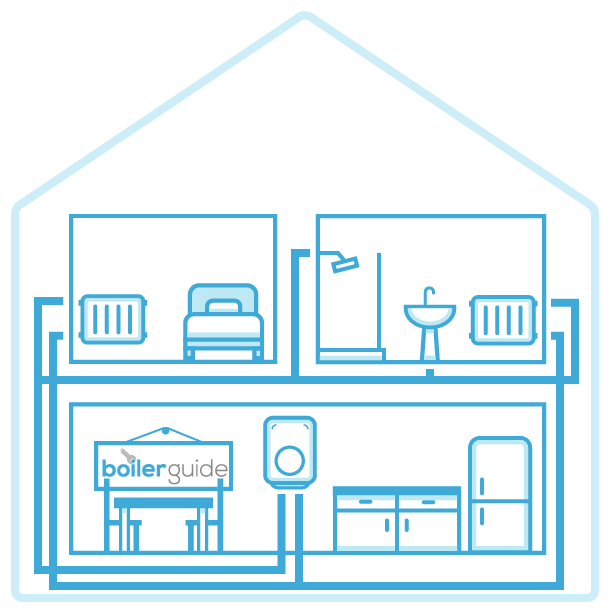 Combi boilers work by heating water directly from the mains, so you don't need a hot water storage cylinder or cold water tank.
Finding the Right Combi Boiler
Combi boilers are available in a range of outputs to suit homes of most sizes from 1 bedroom flats to 4 bedroom houses and it's vital that you get a Combi boiler with the right output installed for your home. A Combi that's too small won't be able to meet your heating and hot water requirements while a Combi that's too powerful will end up increasing your energy bills.
A professional installer will be able to recommend the best Combi boiler for your home but to help you narrow down your search, we've put together some guidelines based on industry recommendations:
Number of Bedrooms
Number of Bathrooms
Number of Radiators
Recommended Output
Which Boilers?
1 – 2
1
Up to 10
24 – 27kW
Worcester Bosch Greenstar 25i
Vaillant ecoTEC Plus 25kW
Ideal Logic+ 25kW
2 – 3
2-3
Up to 15
28 – 34kW
Worcester Bosch Greenstar 30i
Vaillant ecoTEC Plus 32kW
Ideal Logic+ 30kW
4+
3+
Up to 20
35 – 42kW
Vaillant ecoTEC Plus 35kW or 38kW
Ideal Logic+ 35kW
So, the size of your property and your demand for heating and hot water will play a huge part in determining which of the best Combi boilers available in 2019 is most suited to your home.
1-2 Bedrooms and 1 Bathroom
Worcester Bosch Greenstar 25i
Vaillant ecoTEC Plus 25kW
Ideal Logic+ 25kW
2-3 Bedrooms and 2-3 Bathrooms
Worcester Bosch Greenstar 30i
Vaillant ecoTEC Plus 32kW
Ideal Logic+ 30kW
4+ Bedrooms and 3+ Bathrooms
Vaillant ecoTEC Plus 35kW
Ideal Logic+ 35kW
Please note: For larger properties with 4 or more bedrooms, multiple bathrooms, lots of inhabitants or a particularly high need for hot water, a professional heating engineer may recommend a System or Regular boiler rather than a Combi as these include a hot water cylinder that stores hot water.
---
---
The Best Combi Boilers
Now that we know how Combi boiler works and the required output you'll need to meet the heating and hot water demands in your home, it's time to look at the best Combi boilers available.
As we mentioned at the top of the article, the best Combi boilers are manufactured by Worcester Bosch, Vaillant and Ideal. How do we know this? Well, all 3 of these boiler manufacturers are consistently receiving great reviews for their Combi boilers by installers and those who have them installed.
We've taken a look at a Combi boiler model from each of these leading boiler brands, Worcester Bosch Greenstar, Vaillant ecoTEC and Ideal Logic PLus, all of which have more than one output available which makes it easier to find the right size of boiler for your home. Find out more about each Combi boiler in the table below:
| Brand / Model | Available Outputs (kW) | Dimensions (mm) | Efficiency | Average Price |
| --- | --- | --- | --- | --- |
| Worcester Bosch Greenstar i | 25, 30 | 710 x 400 x 330 | 94% | £800-£950 |
| Vaillant ecoTEC Plus | 25, 32, 35, 38 | 720 x 440 x 340 | 89.4% | £1000-£1400 |
| Ideal Logic+ | 25, 30, 35 | 700 x 395 x 278 | 94% | £700-£900 |
Worcester Bosch Greenstar i

According to Worcester Bosch, this is their most popular Combi boiler. It has been awarded a Which? Best Buy Award for 7 years running and regularly tops both homeowner and installer polls for reliability and performance. In addition, the brand currently holds the Royal Warrant to supply heating to the Royal Family.
While the Worcester Bosch model we've featured here is a gas boiler which best suited to small or medium sized homes, Worcester Bosch manufacture a wide range of boilers to suit almost every home. For example, the Greenstar CDi Highflow is a Combi boiler designed for larger homes with 2 bathrooms and they also produce oil boilers, System boilers and Regular boilers.
Key Worcester Bosch Greenstar Features:
Simple boiler controls with clear information display
Zero risk of condensate pipe freezing in severe weather
Wide choice of controls including mechanical, digital and smart (Wave by Worcester Bosch)
Compact design for kitchen cupboard installation
Low energy pump reduces electrical usage
LPG convertible
Which? Best Buy Award for 7 years running
Achieves an A+ ErP package efficiency rating for heating when installed with a Wave smart internet connected control
Fills a standard kitchen sink in 45 seconds
Solar compatible
Vaillant ecoTEC Plus
Vaillant have been producing heating systems since 1874. Today they boast German engineering combined with UK manufacturing. This boiler is Vaillant's 'flagship' model and offers the highest output of the boilers we've selected at 38kW so it's a great choice for larger homes with a high demand for hot water. This boiler includes a 5 year warranty as standard with 7 or 10 years available when installed by a Vaillant accredited installer.
Vaillant also produce a range of other Combi, System and open-vent boilers to suit a range of homes and lifestyles.
Key Vaillant ecoTEC Plus features:
Rapid hot water delivery in just 5 seconds
Awarded Which? Best Buy 2017
Wide modulation range of up to 1:6 results improves energy efficiency
Flame lift detection system enables quieter combustion
Stylish contoured case design
Two-stage frost protection built in
Quiet Mark accreditation
Designed for quick installation
Compatible with aroTHERM air to water heat pump hybrid system
LPG convertible
Range of controls including wired, wireless and smart (vSmart by Vaillant)
Ideal Logic+

This manufacturer has been designing high quality boilers in the UK for over 100 years. In addition to the quality, they offer real value for money when compared to some other brands and are a popular choice for many homeowners and installers.
The Logic+ boiler by Ideal includes a 7 year parts and labour warranty with an impressive 10 year warranty on the heat exchanger. The range is endorsed by the Energy Saving Trust and received both the Queen's Award for Enterprise 2013 and Good Housekeeping Reader Recommended Status in 2013 and 2017. In addition to their range of Combi boilers, Ideal also manufacture System and Regular boilers for homes in need of a hot water cylinder.
Key Ideal Logic+ features:
10 year warranty on heat exchanger
Compact cupboard fit
Low lift weight for easier installation
Wide range of additional flueing options
Large digital display
Includes PRV wall outlet pipe
Fully modulating operation to low outputs
Concealed pipe connections
Includes boiler frost protection
Pre-wired mains lead
Preformed copper tails
Universal condensate connection
LPG conversion kit available on 30kW model
You can compare the best Combi boilers in more detail using our Comparison Tool to find the best boiler for your home.
Benefits of a Combi Boiler
We've looked at what 3 of the best Combi boilers can add to your home but all modern Combi boilers have many benefits to offer.
Highly efficient
All Combi boilers installed in UK homes have to meet efficiency levels of at least 92%, meaning that Combi boilers achieve incredibly high levels of efficiency which will not only help to lower your carbon footprint but could reduce your energy bills too.
Can help to lower your energy bills
Thanks to their high energy efficiency, a Combi will help to save you money on your energy bills. A Combi boiler with 92% efficiency, will only lose 8% of the fuel it uses, meaning that for every £1 you're spending on your energy bills, only 8p is wasted.
So, if you're planning to replace your current boiler with a modern Combi boiler, then you could potentially be saving £315* a year on your energy bills.
Space saving thanks to their compact size
There are 3 different types of boiler: Combi, Regular (Traditional or Heat-Only too) and System. Out of these 3, Combis are the only boiler type that don't require any water tanks or storage cylinders, as everything it needs to heat your home and hot water is wrapped up into a single compact unit.
Hot water to taps on demand
Rather than the hot water being stored in a hot water cylinder, which can mean having to wait for hot water, like with Regular and System boilers, Combi boilers take water straight from the mains and heat it on demand when you turn the hot water tap. Not only does this get you quicker access to hot water but stronger water pressure too.
Easy to install
With everything being wrapped up into a single unit, Combi boilers are the easiest type of boiler to install, especially when replacing an old Combi boiler with a new one. This will help to save you time and money when it comes to the installation.
How Much Does a Combi Boiler Installation Cost?
Once you've found the right Combi boiler for your home, you'll need to hire a Gas Safe engineer to carry out the installation, which will add to the upfront cost of the unit itself.
The simplest, and likely to be the cheapest, Combi installation is a like-for-like replacement, in other words, replacing an old Combi boiler with a new one in the exact same location. Typically, this type of installation will cost somewhere between £500 and £700.
A more complex Combi installation, which could involve replacing a different type of boiler (Regular or System) or having the Combi installed in a new location, would end up costing you more. In some of the most extreme cases, the total cost could end up being £1,500 – £1,800.
Get Free Combi Boiler Installation Quotes
While the price of installation will vary depending on the type of installation, you can really help yourself by comparing quotes from multiple Combi boiler installers and that's where we can help.
Complete our simple online form to let us know the type of work you need, which shouldn't take long at all, and we'll match your needs with fully-qualified Gas Safe engineers in your local area. You'll soon be contacted by up to 3 heating engineers who will all provide a free quote, leaving you free to compare them. That way, you can choose the quote that's best for you and make the best possible start with your Combi boiler installation.
---
---
Related Articles
A Complete Guide to Combi Boilers
Worcester Bosch vs Vaillant: A Comparison
Which Boiler Brand Offers the Best Warranty?
*Source: www.energysavingtrust.org.uk/home-energy-efficiency/boiler-replacement. Figures based on installing a new A-rated condensing boiler with a programmer, room thermostat and thermostatic radiator controls (TRVs) in a gas-heated home from an older boiler with a programmer and room thermostat. Based on fuel prices as of August 2019 for a detached house.