Which is better? Ideal vs Baxi Combi boilers
As brands, both Ideal and Baxi hold the middle ground when it comes to reviews and it can be difficult to separate the facts from opinions.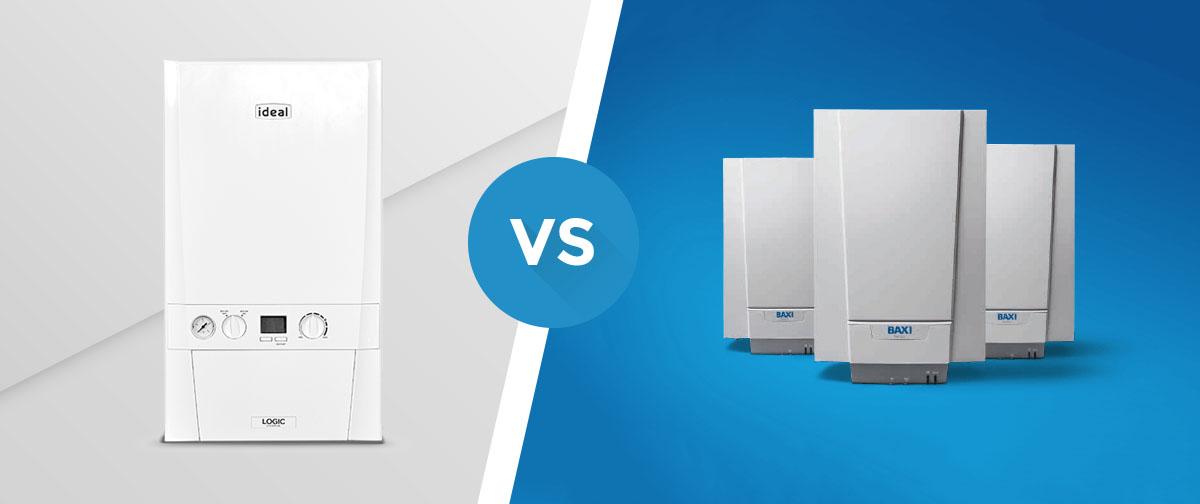 The mid-range price offered by both manufacturers makes them an attractive compromise between top of the range and low budget. We've compared a Combi boiler from each brand to find out which brand comes out on top.
---
Get FREE Boiler Quotes
If it's time to replace your current boiler, use our free service to
Get quotes now
---
Brand reputation
Both Ideal and Baxi are UK based brands and have been operating for more than a century. They can both comfortably claim historical innovation and significant past glories. Ideal started operating in 1905 and has been continuously reinventing its product ever since including the 1920s Cookanheat, the 1950s Autocrat and the 1970s Concord right up to modern, high efficiency models of today.
In 2016 Baxi celebrated the company's 150th birthday; amongst their sizeable back catalogue is the hugely popular Baxi Bermuda back boiler of which they sold over 2 million units until it was discontinued in 2015.
However, both brands have suffered reputationally in recent times. They manufacture multiple models of high efficiency Combi, System and Conventional boilers but tend to hold the middle ground when it comes to customer and engineer reviews; the latest Which? survey ranked them as 'average' with Baxi 56% and Ideal at 55%.
Comparing a boiler
The below table compares a wall-mounted, 24kW gas Combi boiler from each brand. Both are recommended for small homes with one bathroom and up to 10 radiators. As with all Combi boilers, they do not require a storage cylinder or tank as they heat water on demand. For that reason they are not suitable for homes with multiple bathrooms and a high demand for hot water.
Boiler Make / Model
Baxi EcoBlue+ Combi Gas 24kW
Ideal Logic+ Combi Gas 24kW
Other outputs available (kW)
28kW, 33kW
30kW, 35kW
ErP Rating (efficiency)
A (89.1%)
A (94%)
Size (HxWxD)
70x39x29.5cm
70×39.5×27.8cm
Hot water flow rate (litres per min)
9.8
9.9
LPG compatible
No
No
Standard warranty
5 years (when serviced annually)
7 years (when serviced annually
Noise Level Output (dB)
51
48
Price
Both Ideal and Baxi occupy the middle ground when it comes to price. These particular models are almost interchangeable: the Ideal Logic+ 24kW falls between £700 – £850 while a Baxi EcoBlue+ 24kW averages a little higher at £800 – £950.
Prices for these boilers will vary depending on which supplier you choose. Boiler Guide can provide up to 3 different boiler quotes from qualified engineers, tailored for you, so you can be sure you're getting the best deal.
---
Get Boiler Quotes
If it's time to replace your current boiler, use our free service to
get quotes now
---
Alternatively you can compare up to 4 different boiler models via our Comparison Tool.
Repairs and warranties
In terms of standard parts and labour warranty, the Ideal Logic+ includes is longer at 7 years while Baxi offers 5 years on the EcoBlue+. In both cases the warranty is only valid once officially registered and if it's serviced annually by a professional.
If anything does go wrong with your boiler, the fact that they are both UK based means it's relatively easy to get hold of parts and spares for both brands.
Size
With only a couple of centimetres to separate them, both boilers boast a compact cupboard fit so you can fit it straight into a kitchen cupboard. There is a slight difference in weight with the Baxi weighing 5kg more.
Controls
Both boilers are compatible with a range of customisable controls including the option to have either standard or smart controls.
A noticeable difference between the two boilers is the control panel. While it is visible on the Ideal Logic+ (for easy access) it is concealed behind a panel on the Baxi EcoBlue+ which gives a cleaner, sleeker finish.
The verdict
While these boilers are a very close match, the truth is that the Ideal Logic+ edges the race by a toe in almost every respect.
Comparing like for like, the Baxi has a higher noise output, is less energy efficient, is heavier and slightly bigger, has an incrementally smaller flow rate and has a shorter standard warranty. According to our research it is also, on average, slightly more expensive.
REMEMBER: Each installer will have their own experiences of each brand from past installations so it's important to get multiple quotes. It's worth asking the installer if they receive any incentive to install a certain brand; if the answer is yes, keep in mind that you may not be getting impartial advice. On the other hand, if an installer is specially trained to install a brand it could mean that you receive an extended manufacturer warranty.
---
---
Why use Boiler Guide?
Receive up to 3 free quotes to compare from approved boiler engineers – with no obligation and no hassle.
We only work with reputable Gas Safe Registered companies and regularly check ratings to ensure you get only the best.
Our friendly customer service team are happy to help and you can track the progress of your quote request online.
Genuine ratings and reviews of installers – we only show feedback from customers introduced to companies via Boiler Guide.