New Boiler: Installation, Costs & Prices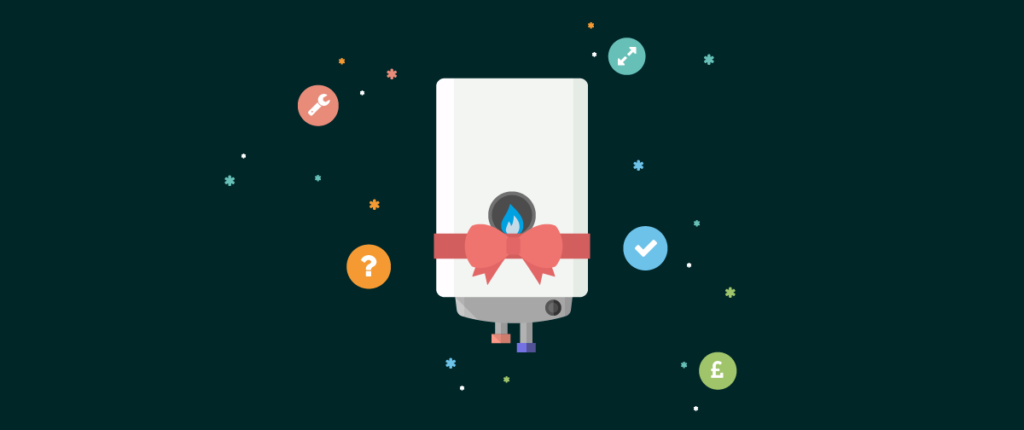 Buying a new boiler doesn't need to be stressful. Here's our step-by-step guide to making the right choice for your home at the right price.

1. Work out which type of boiler system your home has / needs: Combi, System or Regular, Gas, LPG or Oil.
2. Decide what size of boiler your home needs i.e. how much hot water the new boiler needs to produce. This is also known as the output and is measured in kW.
3. Choose a manufacturer which delivers on reliability and high performance. You should compare advice from professional installers, customer recommendations and the length of warranty on offer to make this judgement.
4. Check the efficiency levels of the boilers you're considering. After April 2018 it will be illegal in the UK to install a gas Combi boiler with an efficiency of less than 92%.
5. Get multiple installation quotes from professional installers so you can compare both the prices and the quality of the services on offer. It's the best way to ensure you're getting a competitive price for your boiler as installation prices will vary from company to company.
Boiler Guide can provide you up to 3 FREE quotes from professional installers in your area for your new boiler.
---
---
1. What Type of Boiler?
One of the first things you need to consider is the type of boiler you need. There are 3 options but not all of them are suitable for every home or lifestyle. A professional installer will be best placed to advise you about the best type of boiler for you, but when requesting quotes it will help to understand what system is already in place and if it's working for you or not.
Combi: This is the most common choice for new boiler installations in the UK. A Combi or Combination boiler does not require a large feed tank in the attic or a hot water storage cylinder; it's an all-in-one unit which takes its water supply directly from the mains which should deliver a strong water pressure. It will produce hot water on demand, i.e. whenever you turn on the tap, radiators or shower and is a great choice for smaller homes with 1-2 bedrooms and 1 bathroom.
System: A System boiler also takes its water supply directly from the mains (and so doesn't require a feeder tank in the attic) but uses a hot water cylinder to keep a store of hot water. This cylinder is usually found in an airing cupboard and makes it an ideal choice for homes with a higher demand for hot water as the stored water can supply multiple outlets at once without weakening the flow.
Regular: Also known as Conventional or Traditional, a Regular boiler requires a large feeder tank to be kept in the attic which takes water from the mains supply and then feeds this water down to the boiler. The boiler then heats water to be sent to your radiators and to be stored in a hot water cylinder for your taps.
Most homes in the UK are connected to the natural gas network and, as this is the cheapest fuel on the market, gas boilers tend to be the most commonly installed. However, you can also opt for LPG (Liquid Petroleum Gas) or oil boilers which will need a fuel tank which is usually installed in your garden either above or underground.
If an oil boiler is what you're looking for, you may also have the option to have it installed outside your home which could save you even more space. Get free quotes for a new oil boiler today.
2. What Size of Boiler?
It's important to get the right size of boiler. A boiler which is too small won't be able to produce the amount of hot water you need and, if worked too hard to compensate, could develop faults. On the other hand, a boiler which is too big will use unnecessary energy resulting in higher heating bills and excess emissions.
Domestic boilers tend to range in size (or output) from around 24kw up to 42kW. The size you need depends on the amount of hot water you need it to produce which usually increases with the size of your home and how many people are living there.
| Number of Bedrooms | Number of Radiators | Number of Bathrooms | Size of Boiler Needed |
| --- | --- | --- | --- |
| 1-2 | Up to 10 | 1 | 24-27kW |
| 2-3 | Up to 15 | 1-2 | 28-34kW |
| 4+ | Up to 20 | 2-3 | 25-42kW |
A professional installer will be able to advise you as to the best, but generally speaking the table below should give you a good starting point.
---
---
3. Which Brand?
There are lots of boiler manufacturers on the market to choose from which vary not only in price but also in quality. The length of the warranty offered with the boiler is a good indicator of the quality of the boiler as warranties can vary between 2 – 10 years. Obviously the longer the warranty the more confidence the manufacturer has that their product will stand the test of time.
A professional installer will also be able to recommend the best boiler brands (in their experience). However, some installers are affiliated with specific brands and receive incentives to install these boilers, so getting advice from more than one installer is a very good way to get a broader, more objective view.
Why not compare boiler brands with our easy Comparison Tool?
4. Check the Efficiency!
Every boiler is rated for energy efficiency which will directly affect the cost of your heating bills. The higher the efficiency the less energy (and therefore) money is wasted during its operation. From 6th April 2018 the new Boiler Plus legislation comes into play and it will be illegal to install a gas Combi boiler in the UK with an efficiency under 92%. This means for every £1 spent on heating your home, only 8p is wasted.
5. Find the Right Price…Compare Quotes
The cost of a new boiler tends to fall between £600 – £2,500 depending on type, brand and size. Then you need to factor in the cost of installation. If it's a like for like replacement then this could be anything from £600 but if you are making changes such as the location of the boiler, introducing new heating controls or radiators then this could rise to around £2,000 or more.
Many companies now offer finance options which enable you to spread the cost of your new boiler and often also include aftercare and servicing arrangements. Get boiler finance quotes.
Once you've pinpointed exactly what it is you need from your new boiler, you need to find it at the right price. The best way to be sure you're getting the best deal is to compare at least 3 quotes from different companies. This is where Boiler Guide can help.
Simply enter your requirements into our online form and we'll find you up to 3 quotes to compare. You choose the installer and price that is best for you. There's no obligation, no hassle and absolutely no fee.
---
---
Read our most popular article on replacing your boiler here.