What is a Condensing Boiler?
All new boiler installations have to be condensing by law, as they're much more efficient than non-condensing units. But what is a condensing boiler and how do they operate differently to their non-condensing counterparts?
We've put this guide together so that you'll know all the benefits of installing a condensing boiler, how they operate and where to start when looking to purchase one.
What is a condensing boiler?
As a boiler burns fuel it produces water vapour. This water vapour, or steam, contains heat which can contribute to warming up the central heating.
However, up until condensing boiler technology was developed, this heat went straight out of the flue pipe. Meaning that up to 30% of the heat produced by the boiler was being lost. As a result, the boiler would need to use more fuel to make up for that loss.
Condensing boilers work on a 'Flue Gas Recovery System', which recycles the heat from the steam and stops it being lost. This means that modern heating systems are now more efficient than ever.
Thanks to condensing boilers, the same amount of heat and hot water can be delievered to your home using much less fuel than a non-condensing boiler.
Condensing Boiler Regulations have been introduced which state that all new and replacement boilers must be condensing.
What is a non-condensing boiler?
Rather than recycling heat that would be lost, non-condensing boilers allow the heat to escape through the flue pipe. This is an incredibly inefficient process that's bad for the environment.
Up to 30% of the heat generated by a non-condensing boiler can be lost. So, by updating to a condensing boiler, you could reduce your energy bills and help the environment.
How does a condensing boiler work?
The purpose of a condensing boiler is to harness more heat. Heat that would otherwise be lost as a non-condensing boiler operates.
As gas or oil boilers work to heat the home, burning the fuel results in waste gases being produced. These waste gases must be expelled out into the atmosphere via the flue pipe, otherwise, they could prove harmful to those in the property. While this is an essential safety feature, the waste gases carry heat that could otherwise be used to contribute to heating the home. Condensing boilers were designed just for this purpose and the Flue Gas Recovery System includes 2 heat exchangers to harness the heat that would otherwise be lost.
By recycling this excess heat, condensing boilers can use less fuel to meet the same demand for central heating as a non-condensing boiler. This means that they achieve efficiencies of over 90%.
Types of condensing boilers
Condensing boilers are all encompassing. Whether it's combi, regular or system, any type of boiler can be condensing, no matter whether the unit runs on gas, oil or LPG.
 
The type of boiler that's best suited to the heating and hot water demands of your property will allow you to benefit from condensing technology. There are three main types:
Combi boilers are the most modern boiler type and they've quickly become the most popular. Rather than needing any external tanks or cylinders, combi boilers are single cost-effective units that deliver heating and hot water on demand.
System boilers are similar to combi boilers in the sense that they take water from the mains. The difference is that rather than delivering hot water on demand it's stored in a hot water cylinder. This means that system boilers can meet higher demands for domestic hot water compared to combi boilers.
Regular boilers go by many names, including conventional, heat-only and open-vent. They're the most traditional boiler, often found in large, older properties. Rather than taking water directly from the mains, water is fed to the boiler from a cold water cistern in the loft. The central heating system is then heated directly by the boiler while domestic hot water is stored in a cylinder.
Whether your boiler runs on natural gas, oil or LPG is likely to depend on whether you're connected to the gas network. Most UK properties have a gas boiler, a fuel that is delivered directly to the property via pipes. Not all properties are connected to the gas network, however, which is when oil or LPG – two fuels that can be stored on-site – can be used.
Condensing boiler regulations
A series of condensing boiler regulations have been introduced by the government to help reduce the CO2 emissions produced by non-condensing boilers. In short, a selection of the regulations state the following:
After 1st April 2005: All gas-fired boilers have to be condensing. This applies to all brand new installations and those that are a boiler replacement.
After 1st April 2005: All condensing boilers must have a SEDBUK efficiency rating of A or B.
After 1st April 2007: All oil-fired boilers have to be condensing boilers. Again, this applies to new installations and replacement boilers.
There are some exceptions to the regulations should it be considered too difficult or costly to replace an old non-condensing boiler. An assessment must be carried out by a Gas Safe registered engineer who will provide a certificate as proof.
More recently, in April 2018, Boiler Plus was introduced which states that new gas boilers must be awarded an ErP efficiency rating of at least 92%. This is a level of efficiency that only condensing gas boilers can achieve.
Advantages of a condensing boiler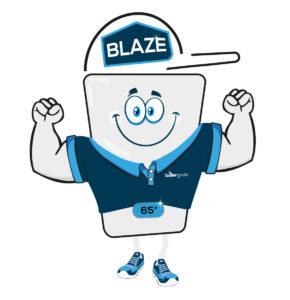 Condensing boilers can reach efficiencies of 15-30% higher than non-condensing boilers.
Highly efficient performance means that the boiler can deliver the same level of central heating using less fuel. Using less fuel will then result in lower energy bills.
Reduce a property's carbon footprint.
Condensing boilers don't require any specific form of ventilation as non-condensing units do which helps to save space.
While non-condensing boilers take air in from the property, condensing boilers are sealed systems. The only air they take in comes from outside of the property through the flue pipe. Additional safety features, such as pressure relief valves, will turn the boiler off in the event of a fault
Condensing boiler problems
Many condensing boiler problems are the same as those you would find with non-condensing boilers. However, one issue that is unique to condensing boilers is a frozen or blocked condensate pipe.
The condensate pipe allows for acidic water, produced during the condensing process, to be drained safely and disposed of down a drain. As non-condensing boilers don't do this, they have no need for a condensate pipe.
The condensate pipe can be fitted internally or externally. When installed externally, these pipes can be prone to freezing during the winter months. If they become frozen, this can cause a blockage and prevent the boiler from working.
Thawing out a frozen condensate pipe is something that doesn't need to be carried out by a qualified heating engineer. However, if you have the slightest bit of concern about thawing a condensate pipe, don't hesitate to contact a professional.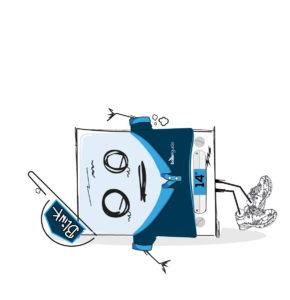 Thawing out a frozen condensate pipe can be done in a couple of ways:
Holding a hot water bottle, microwaveable heating pack or warm cloth over the frozen area.
Use a watering can to pour hot water (never boiling water) over the frozen part of the condensate pipe.
Boilers can run into many different problems over the years, whether they're condensing or non-condensing. Some of the most common boiler problems include no heat or hot water, leaking, kettling, low boiler pressure and cold radiators. We're going to take you through how these problems can be resolved.
Kettling
Over time, limescale can build up on the heat exchanger, restricting the flow of water. This can lead to the water overheating and steaming to resemble the sound of a kettle. Kettling is most common in hard water areas but isn't unheard of in soft water areas too.
If you hear strange sounds coming from your heating system, then you will need to contact a heating engineer. It's likely they will flush the system to clear the build-up of debris.
Leaking and dripping
Water coming from any part of the heating system, no matter how small, is a concern. Any number of reasons could lead to leaking and dripping and a heating engineer will be needed to diagnose and repair. Should you find that water is coming from your heating system, turn off the boiler and water supply and contact a heating engineer.
No heating or hot water
The heating or hot water not coming on when you expect it to can be the result of any number of problems. Most issues will need to be dealt with by a heating engineer however, it's worth making a couple of checks beforehand. Start with looking at your thermostat to make sure it's working and set correctly. Secondly, it could be that the boiler pressure is too low.
Low boiler pressure
Boilers have a pressure gauge that shows the pressure of the hot water running through the system. Should it get too low (below 1 on the pressure gauge) then the boiler could stop working. Boiler pressure is likely to drop over time but other causes include:
A leak
Radiators recently bled
Faulty pressure relief valve
If there's no sign of a leak then you could attempt to increase the boiler pressure yourself. This can be done by turning the boiler off, waiting for it to cool down then securely attaching the filling loop to the boiler. Once attached, open the valves of the filling loop which will allow mains water to make its way into the heating system. At this point, the pressure on the pressure gauge should begin to increase. The manual with your boiler should tell you an appropriate pressure but this is typically between 1- 2bar.
The top of the radiator remains cold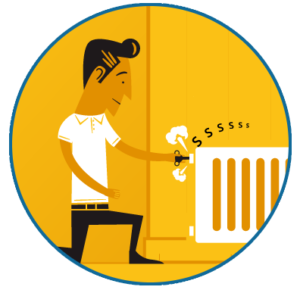 Air can gradually build up in the radiators, causing blockages that prevent the hot water from circulating properly. If this is the case and only the bottom of the radiator is warming up then it's time to bleed the radiators. The process of bleeding a radiator involves releasing air from the system so that hot water can circulate freely.
The best way to keep your condensing boiler running safely and reliably is by arranging an annual boiler service. During a boiler service, a Gas Safe registered engineer will examine and test all components of the boiler. This will ensure the safe and efficient running of the boiler and bring to light any potential issues before they happen. An annual boiler service is also an essential part of keeping the warranty valid.
Best condensing boilers
When looking for the best condensing boilers it's important to compare various models. To compare condensing boilers properly, you should consider the following:
Output rating
Measured in kilowatts (kW), the output rating displays the power of the boiler. Combi boilers have central heating (CH) and domestic hot water (DHW) output ratings, while regular and system boilers only have a CH output. Simply put, the higher the output rating, the higher the demand for central heating the boiler will be able to meet. It's vital that a boiler with a suitable output rating is installed otherwise your energy bills could rise or the boiler will fail to meet demand.
Efficiency rating
How efficiently a boiler converts fuel into usable energy is displayed as the efficiency rating. ErP is the most modern efficiency rating system and displays energy efficiency as both a percentage and a letter.
Warranty
After the installation of a new boiler, the warranty will ensure you're covered by the manufacturer in the event of a fault. The length of the warranty and what it covers will differ between manufacturers and boiler models.
Customer reviews
Taking the time to find out the experience other homeowners have had with a certain boiler will reveal whether it's reliable.
Installer reviews
Heating engineers are the most experienced and knowledgeable people when it comes to boilers, so seeking out their opinion is well worth your time.
Potential cost
Boiler prices can vary widely depending on the manufacturer and model. Not only that but you will also need to factor in the cost of installation. Installers have their own rates when it comes to new boiler installations, which is why we highly recommend comparing quotes from up to 3 companies.
Best gas condensing boilers
The best gas condensing boilers are manufactured by Baxi, Ideal, Vaillant and Worcester Bosch. Each of these boiler brands manufactures multiple ranges, so we've picked out their best selling gas boiler range in the table below.
| Brand | Best selling Range | Types of boiler available |
| --- | --- | --- |
| Baxi | 800 | Combi and system |
| Ideal | Vogue Max | Combi and system |
| Vaillant | ecoTEC Plus | Combi, system and regular |
| Worcester Bosch | Greenstar i | Combi, system and regular |
LPG conversion is available on Ideal Vogue Max and Worcester Bosch Greenstar i boilers as well as some models in the Vaillant ecoTEC Plus range.
Best oil condensing boilers
For properties that aren't connected to the gas network, there's no shortage of condensing oil boilers to choose between. In addition to the different boiler types, some oil boiler models are available for internal or external installation.
| Brand | Best selling Range | Types of boiler available |
| --- | --- | --- |
| Firebird | Envirogreen | Internal and external combi, regular and system boilers |
| Navien | LCB700 | Internal and external regular and system boilers |
| Viessmann | Vitorondens 200-T | System |
| Worcester Bosch | Greenstar Heatslave II | Internal and external combi boilers |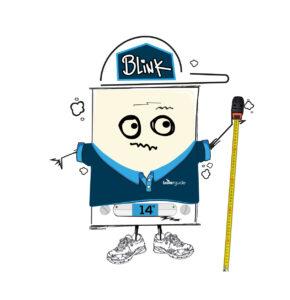 What size condensing boiler do I need?
Size is one of the most important things to consider when looking for a replacement boiler, and by size, we don't mean the physical dimensions. Boiler size refers to the output rating which indicates how powerful the unit is. The more power, the higher level of demand it will be able to meet for heating and hot water.
It's important to install a condensing boiler with a suitable output rating for the demands of your home. This is because an output rating that's too high could unnecessarily increase your energy bills. while an output rating that's too low simply won't be able to meet demand.
The table below is a guide to the output rating you should consider depending on the number of bathrooms and radiators in your home.
| Number of bathrooms | Number of radiators | Recommended Output |
| --- | --- | --- |
| 1 | Up to 10 | 24-27 kW |
| 2-3 | Up to 15 | 28-34 kW |
| 3+ | Up to 20 | 35 – 42 kW |
Our guide to What Size Boiler Do I Need? goes into more detail about finding an appropriate boiler size for your home.
How much does a condensing boiler cost?
Prices typically range from £500 to £2,000 for a condensing boiler, but these figures will vary depending on the brand, model and the length of the warranty.
In addition to the cost of the boiler, the price of installation must be factored in too. Condensing boiler installation will potentially cost £500 – £1,000 but, again, this will vary depending on the complexity of the installation and rates charged by the installer (this can be affected by the time of year and your location).
| Type of boiler | Typical price range (excluding installation) | Average price of boiler fully installed |
| --- | --- | --- |
| Combi | £500 – £1,500 | £1,000 – £2,500 |
| System | £500 – £2,000 | £1,000 – £3,000 |
| Regular | £500 – £2,000 | £1,000 – £3,000 |
These prices don't include the cost of a hot water cylinder which is an essential part of a heating system that includes a regular or system boiler.
To find out all of the costs involved, read our guide to New Boiler Replacement Costs.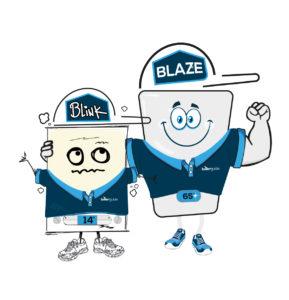 Get quotes for a condensing boiler
To get the most competitively priced quote for the installation of a new combi boiler, we highly recommend comparing quotes. Taking the time to compare at least 3 quotes will give you the confidence that you're getting the most competitive price from the best company for the job.
By completing our simple online form, you can get free quotes from up to 3 heating engineers based in your local area. Each company will then be in touch to arrange a date and time to quote for a new condensing boiler.