Hydrogen Boiler Manufacturers
For Baxi and Worcester Bosch, hydrogen is the fuel of the future which is why they've become hydrogen boiler manufacturers.
Hydrogen is a low-carbon alternative to natural gas that could potentially be distributed through the gas network. And should hydrogen be added to the gas network, the demand for hydrogen boiler manufacturers will rise.
Hydrogen boiler manufacturers
While hydrogen boilers aren't yet available to buy, leading boiler manufacturers Baxi and Worcester Bosch are both planning ahead.
Baxi
Baxi's parent company, BDR Thermea, have been at the forefront of hydrogen boiler technology for a number of years. Now Baxi are developing their very own hydrogen boiler.
The Baxi 100% hydrogen boiler will be available as a combi and system boiler with a modulating thermal output of 28 kW. While hydrogen boilers aren't yet on the market, Baxi are developing their model with the consumer in mind. Some of the features include:
Help to lower the carbon footprint of a home as it produces zero carbon emissions
Will make your home safer as they don't produce carbon monoxide, meaning there's no chance of a leak
Low NOx emissions
Installation and commissioning is very similar to a conventional boiler
Compact dimensions and low lift weight for a straightforward installation
Worcester Bosch
Worcester Bosch unveiled their very first hydrogen boiler in November 2019. As one of the leading UK manufacturers of gas and oil boilers, Worcester Bosch are now working to find low carbon alternatives and have stated that all boilers installed from 2025 should be hydrogen-ready.
The Worcester Bosch hydrogen-ready boiler is an ideal solution moving forward as they can run on 100% natural gas. So, these boilers could still be in full working order whether the switch to hydrogen is made or not.
Why are boiler manufacturers getting behind hydrogen?
More than 20 million UK homes have gas boilers; they've been the heating system of choice for many years. To ensure the vast majority of homes have a reliable and consistent supply of natural gas, they're connected to the gas network. The gas network is a series of pipes that delivers gas to a property as and when needed.
While natural gas is an effective way of heating our homes, it isn't kind to the environment. When burned, natural gas releases carbon into the atmosphere, a leading cause of climate change.
Reducing carbon emissions while making use of the extensive gas network would be an ideal solution. And this is why Worcester Bosch and Baxi are pushing for hydrogen.
Hydrogen is a renewable energy source that won't run dry on a human timescale, unlike fossil fuels such as gas and oil
No emissions are released into the atmosphere when hydrogen is burned which makes it a clean energy source
Hydrogen contains 3 times as much energy as fossil fuels meaning that less hydrogen can be used to provide the same amount of energy
Find out more in the Advantages and Disadvantages of Hydrogen Energy.
Can I buy a hydrogen boiler yet?
Hydrogen boilers aren't yet being manufactured for installation. This is because the UK gas network doesn't currently contain hydrogen.
Carbon emissions generated by home heating need to be reduced if the UK is to achieve the 2050 net-zero carbon target. Hydrogen is one low-carbon alternative. However, until a decision is made about the future of heating then hydrogen boilers won't be available to buy until then.
While hydrogen boilers aren't available to buy, the Vitovalor CHP from Viessmann is a fuel cell that generates heat and electricity which already makes use of hydrogen.
---
Get FREE Boiler Quotes
If it's time to replace your current boiler, use our free service to
get quotes now
.
---
Is hydrogen the future of home heating?
As of 2020, natural gas is by far the most common type of heating system for UK homes. Around 85% of properties now rely on natural gas.
With so many properties burning gas to heat their homes, adding hydrogen to the gas network would help to lower the carbon emissions that are the result of home heating.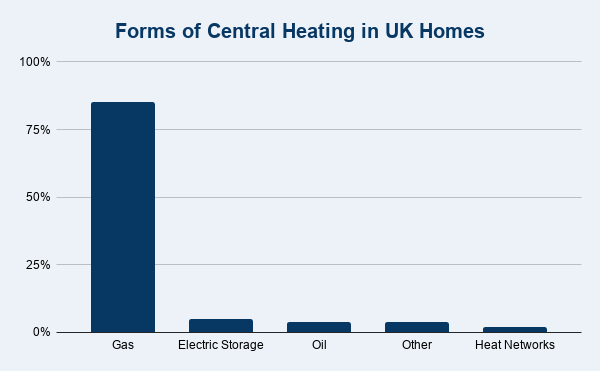 Hydrogen isn't the only answer to lowering the carbon emissions from home heating. However, with such an extensive pipe network connected to millions of homes, it could certainly be the least expensive and most practical.
Plus, the UK government is currently in the process of replacing mains gas pipes with polythene, a material that is perfect for hydrogen gas – this project is due to be completed in 2032.
Find out if hydrogen boilers could replace gas boilers in our article Hydrogen Boilers: An Alternative to Gas Central Heating?
What are the possible alternatives to hydrogen?
Hydrogen isn't the only low-carbon solution for heating our homes. A number of renewable heating systems are already available and The Committee on Climate Change (CCC) believes that heat pumps could be the key.
There are two forms of heat pump: air source and ground source. Air source heat pumps extract heat from outside air (even during the winter) to provide central heating. Meanwhile, ground source heat pumps circulate liquid through underground pipes. This liquid is heated by the ground where temperatures sit at a constant 10-15°C all year round.
While heat pumps would help to reduce the carbon footprint of UK homes, they're a challenge to install into existing properties (retrofit). With gas boilers being banned from new build homes as of 2025, heat pumps are a likely replacement. However, with more than 20 million homes already using a gas boiler, installing heat pumps would be expensive, impractical and in some cases impossible. For these properties, a low-carbon fuel could replace the natural gas circulating around the netowrk. And that's why a number of boiler manufacturers are preparing for a hydrogen future.
When could we be heating our homes with hydrogen?
Hydrogen boiler manufacturers Worcester Bosch and Baxi are calling for all boilers to be hydrogen compatible as of 2025. This coincides with the ban on installing fossil fuel burning boilers into new build homes.
However, as we mentioned earlier, the project to replace all mains gas pipes with polythene isn't due to be completed until 2032. This means that it wouldn't be possible to deliver hydrogen to every UK property connected to the gas network until then.
All this being said, there hasn't yet been a commitment to adding hydrogen to the gas network. So while we're seeing a rise in the number of hydrogen boiler manufacturers, there's a chance that it might not happen.
Lower your home's carbon footprint now
While we might have to wait for hydrogen boilers to hit the market, gas boilers are more efficient than ever before. Replacing an old inefficient boiler could reduce your carbon footprint as well as your energy bills.
Using Boiler Guide, you can get free quotes from local Gas Safe registered engineers. Simply take a few moments to complete our online form and you'll hear from up to 3 installers. Each will provide a free quote for you to then compare and be confident that you're getting the most competitive deal.
---
Get FREE Boiler Quotes
If it's time to replace your current boiler, use our free service to
get quotes now
.
---