Hydrogen Timeline: When Could Hydrogen be Heating Your Home?
By 2050 millions of us could be heating our homes with hydrogen.
But plenty needs to be done before that can happen. So we've drawn up a hydrogen timeline to see how soon your home could be heated by hydrogen.
Note: We're still waiting on a final decision about using hydrogen to heat homes. So it's not yet a definite part of the future of home heating.
When hydrogen could be heating our homes
Hydrogen won't be added to the gas network until 2026 at the very earliest. But even that's a push. A consultation is being held in late 2021 where we'll get a clearer idea of hydrogen's role in the future of home heating.
However, after the government published their first UK Hydrogen Strategy in August 2021, a hydrogen timeline is taking shape. So it's becoming more likely that homes connected to the gas network will one day be heated with hydrogen.
The hydrogen timeline
We'll start in 2008. This is when the UK set a target to reduce total greenhouse gas emissions by 80% (compared to 1990 levels) by 2050. Since then, the government has committed to reaching net-zero carbon by 2050. And before then carbon emissions need to be down 78% (based on 1990 levels) by 2035.
Every industry will need to play its part if we're going to achieve these targets. And home heating is one of them. Which is why we're now hearing a lot about hydrogen being added to the gas network.
The publication of the government's Hydrogen Strategy (August 2021) gave us the strongest sign yet that hydrogen will have a role to play in the future of home heating.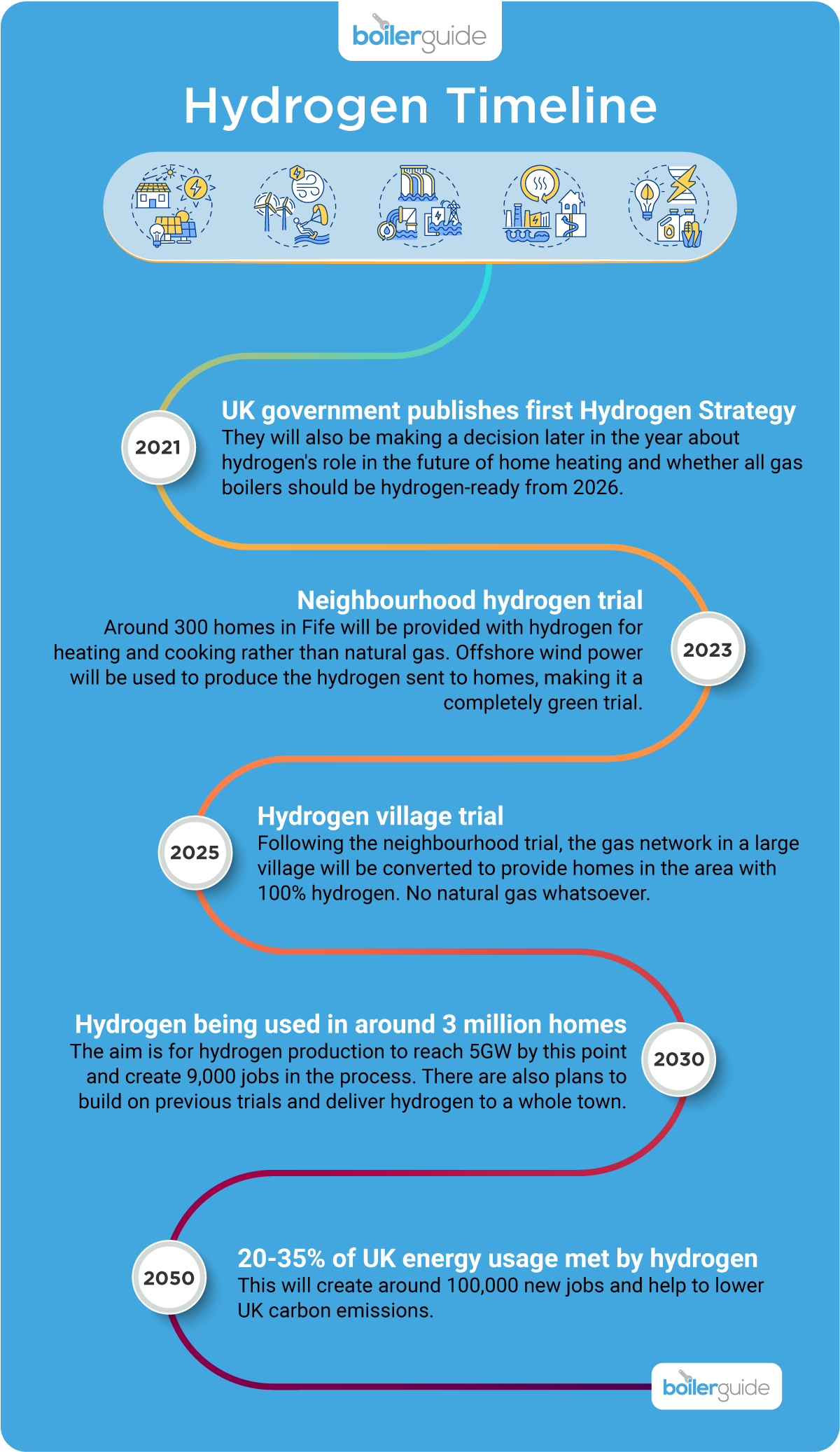 Download the Hydrogen Timeline as a PDF.
2021: UK Government publishes first Hydrogen Strategy
In August 2021, the government published their first Hydrogen Strategy. They will also be making a decision later in the year about hydrogen's role in the future of home heating and whether all gas boiler should be hydrogen-ready by 2026.
2023: Neighbourhood hydrogen trial
Around 300 homes in Fife, Scotland will be provided with hydrogen for heating and cooking rather than natural gas. Offshore wind power will be used to produce the hydrogen sent to homes, making it a completely green trial.
2025: Hydrogen village trial
Following the neighbourhood trial, the gas network in a large village will be converted to provide homes in the area with 100% hydrogen. No natural gas whatsoever.
2030: Hydrogen being used in around 3 million homes
The aim is for hydrogen production to reach 5GW by this point and create 9,000 jobs in the process. There are also plans to build on previous trials and deliver hydrogen to a whole town.
2050: 20-35% of UK energy usage met by hydrogen
This will help to create 100,000 jobs and lower UK carbon emissions.
Why we need hydrogen
Burning natural gas is an effective way of heating a home. That's why over 20 million UK homes have a gas boiler. But they're not so good for the environment. Mainly because every time your boiler fires up, more carbon makes its way into the atmosphere. And that's a leading cause of climate change.
So, there are plenty of alternative heating systems lining up to take their place.
Front of the queue are heat pumps. Very efficient heating systems that can heat your home and hot water using heat from renewable energy sources – the air or ground. And most importantly, they don't emit carbon.
If heat pumps are so good, why do we need hydrogen?
Well, there are over 20 million boilers in the UK. Ripping them all out and replacing them with a heat pump would be a mammoth task. And not all homes are suitable for a heat pump.
They're also pretty expensive. An air source heat pump can cost anywhere from £4,000 up to £11,000. Ground source heat pumps even more. And that's quite a chunk compared to a new boiler.
So rather than replacing the heating systems, we could replace the fuel. And that's where hydrogen comes in.
Around 23 million UK homes are connected to the gas grid – a pipe network that delivers natural gas to your boiler every time you turn the heating on. Replacing this natural gas with hydrogen could help to lower carbon emissions from home heating. Which stands at a whopping 15% of all UK emissions. That's because burning hydrogen doesn't produce carbon.
To heat your home with hydrogen, all you would need is a hydrogen-ready boiler. But before you get on the phone to a local heating engineer, they're not yet available to buy. You can get a boiler certified to run on a 20% hydrogen blend though – check them out here.
While 100% hydrogen boilers aren't available yet, Worcester Bosch presented a hydrogen-ready boiler to MPs in 2019, before officially unveiling it in 2020. Baxi soon followed with a hydrogen boiler of their own. And, since 2020, both manufacturers have been calling for all new gas boiler installations to be hydrogen-ready by 2025.
These boilers won't hit the market unless the gas network moves to 100% hydrogen. But this hasn't stopped manufacturers racing to get their boilers certified to run on a 20% hydrogen-blend.
Testing hydrogen in the home
Manufacturers aren't the only ones putting plans into action. Hydrogen trials have been taking place in some areas across the UK. These trials are being set up to test hydrogen as a heating fuel.
HyDeploy trial at Keele university (October 2019)
This trial has now finished but during a 6 month period, 100 homes and 30 faculty buildings were receiving a gas supply that contained up to 20% hydrogen.
100% hydrogen supply to houses in Northumberland (November 2020)
A 100% hydrogen gas supply is being tested in two houses on the 'Hystreet' in Northumberland. The properties feature Baxi and Worcester Bosch hydrogen-ready combi boilers.
HyDeploy trial in Winlaton (August 2021)
For around 10 months where 668 houses, a few small businesses and a school will all receive a hydrogen-blend of up to 20% hydrogen in their gas supply.
The government is planning more trials over the next decade. With each one growing in size from a neighbourhood up to a town.
Should I wait to get a new boiler?
If all this talk of hydrogen has you questioning whether to get a new boiler, there's no need to worry. Gas boilers are not being banned.
So don't hold off replacing your boiler if it's time for a new one. A modern condensing gas boiler will be the most efficient heating system for your home right now – great news for the planet and your bank balance.
You can get free quotes from up to 3 heating engineers in your area today by completing this simple online form. It only takes a moment to finish and local heating engineers will soon be in touch to chat through your options.