What is the Ideal Room Temperature?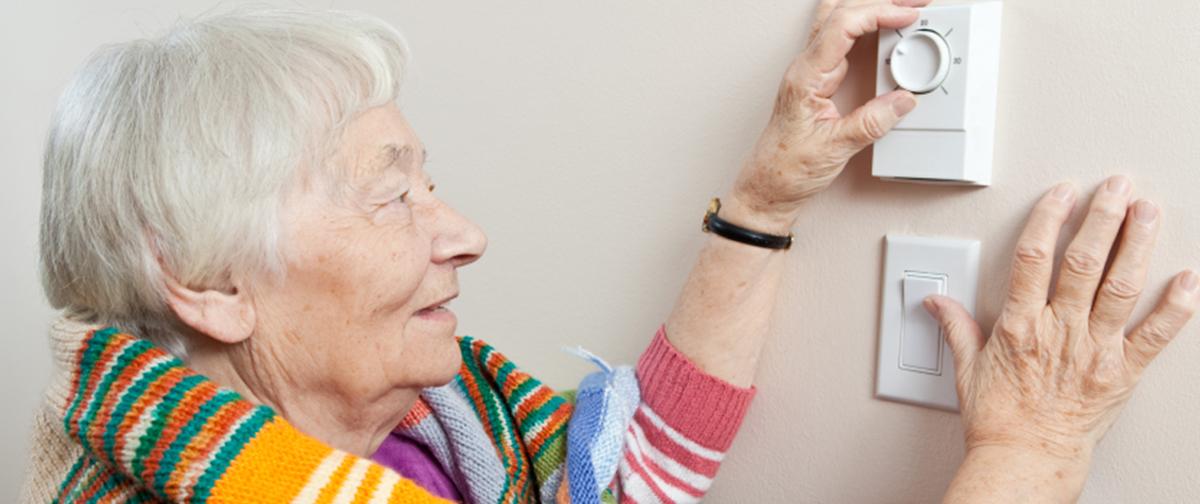 The ideal room temperature is obviously going to be influenced by personal preference among other factors but the average room temperature in the UK is 18-20°C. However, the temperature you choose to keep your home at will not only be decided by comfort, but also the cost of your heating system and how conscious you are of your carbon footprint.
There has, however, been a lot of research into the topic of room temperature which could shed some light on how warm a house in the UK should be (on average)
What is the average room temperature?
During the winter, the average room temperature in the UK is around 18°C with most central heating thermostats set at approximately 20°C (the exact average being 20.1°C). This average figure has increased significantly since 1970 when the average home was only heated to around 12°C. This 6°C increase is probably a result of the improved insulation in homes and more effective central heating systems. Obviously, surveys include figures which buck the trend with some homes being heated to an almost tropical 25°C or even 30°C, and some preferring the cool of 15°C.
Some studies have also shown that men and women have different preferences when it comes to room temperature with women preferring temperatures which are around 2.5ºC warmer than men. In addition, it seems that we often have different ideal temperatures depending on which room we are heating. For example, we usually prefer bedrooms to be cooler than our living rooms as 16-19ºC gives a better night's sleep, while bathrooms and bedrooms for children are even higher (recommended to be 22-24ºC ). Hallways and storage rooms are generally much cooler at 15-18ºC. To heat different rooms to specific temperatures you may want to invest in TRVs or thermostatic radiator valves.
If you are concerned that your heating syste m is not working properly, it may be time to call in a professional heating engineer to service, repair or replace your boiler.
---
---
When (and for how long) do we heat our homes?
Thankfully, the majority of UK households will not have the heating on 24 hours a day. This would not only be very expensive but would also waste a huge amount of energy and produce unnecessary carbon.
On average, most homes will be heated for about 7-10 hours per day in the winter. According to a recent survey, 70% of UK households turn on the heating twice per day (usually around 7am and 7pm) with the occasional boost on particularly cold days.
Importance of room temperature
It's clear that the temperature of our home is important in terms of keeping us comfortable, but that's not the only reason we need to pay attention to our thermostat including our state of mind, preventing damage to our homes, protecting our physical health and reducing our impact on the environment.
Boilers should be serviced every year to ensure they continue to work effectively and to keep your heating bills as low as possible. Get a boiler service quote.
There are several factors which affect how 'comfortable' we find the temperature of a room including the humidity, our level of physical activity, our clothing and our physical health, i.e. young children, elderly people and people with certain health conditions may require a higher temperature. Rooms which have higher levels of humidity are perceived to be more comfortable when the temperature is lower while rooms with low humidity should be set at a higher temperature.
What is a healthy room temperature?
Being too hot or too cold can have a real impact on our mood and ability to focus on tasks. A home which is too cold is at risk of developing mold and damp on the walls, windows and furniture which is difficult to remove and causes significant damage.Spores of mold are not only damaging to the home but can be dangerous to your health. On the other hand, heating a home too much can make it uncomfortable and will be expensive, not the mention the environmental impact.
According to the World Health Organisation, a healthy and adequately dressed person needs a minimum temperature of 18°C. They provide the following guidelines on healthy temperatures.
| Temperature | Impact on health |
| --- | --- |
| > 24°C | Cardiovascular risk |
| 18-21°C | Comfortable temperature |
| 18°C | Minimum for comfort |
| 12-16°C | Respiratory risk |
| | Cardiovascular risk |
| 9°C | Hypothermia risk |
Of course, these figures are generalised and do not take into account that some people may be more vulnerable during the cold weather and may require higher temperatures, and others who are fit and healthy can safely live in lower temperatures.
The NHS says that when temperatures fall below 8 °C, inhabitants are at an increased risk of heart attack, stroke, flu, pneumonia, falls and injuries, hypothermia and it can have a negative impact on conditions like depression and dementia.
Cold weather is most likely to affect people who are:
Aged 65 or older
Living with a long-term health condition, such as heart, lung or kidney disease
Disabled
Pregnant
Young children (newborn to 4 years old)
Living with mental health condition
On a low income, i.e. can't afford heating.
Adults who are under 65, active and healthy can live safely with temperatures below 18°C if they are comfortable. This will help to minimise the cost of your heating bills and will lower your carbon footprint, i.e. help in the fight against global warming and climate change.
If you are concerned that your heating system is not heating your home effectively or efficiently (your heating bills are increasing and there's been no change in your tariff), it may be time to consider installing a new boiler, especially if the boiler is over 8 years old.
---
---
Get help with heating costs
If you think you need a new boiler and you receive certain benefits, you may be able to apply for a free boiler grant which would cover some or all of the cost of a new boiler for your home. Visit www.boilergrants.co.uk for more information. Alternatively, there are other schemes available which could help with the cost of your heating bills such as the Winter Fuel Payment and the Cold Weather Payment.
Read more in 10 Ways to Save Money on Your Heating Bills.
Could a smart thermostat save you money?
Digital programmable thermostats have been around for some time which enable you to set a heating schedule according to when you will be asleep, out of the house or on holiday. In recent years technology has moved on even further with smart thermostats. These thermostats are able to monitor the weather outside, the insulation levels of the building and can automatically adjust the temperature of the heating system accordingly.
With smart TRVs, you can also control the temperature of individual rooms in your home rather than heating every radiator to the same level. These thermostats can also be controlled by an app on a smart device from wherever you are in the world as long as you are connected to the internet. This means you can turn the heating on, off, up or down even when you're not at home and change schedules if your plans change. Many systems also give you greater visibility of your heating usage. With simple and convenient controls, intelligent technology and increased visibility, you should be able to lower your bills and carbon footprint. Find out more about the best smart thermostats.
So, what's the ideal room temperature?
Assuming that you are fit and well and have no elderly or very young people in the home, your thermostat should be set to the lowest temperature that you are comfortable with. This will reduce your heating bills and lower your carbon emissions. This may be the national average 20-21°C, but if you only choose this out of habit consider turning the temperature down by a degree or 2 and see if you notice the difference. You could be just as comfortable while saving money and reducing your impact on the environment.
If it seems that you are always turning the boiler up and not feeling the benefit, there may be a problem with your boiler or radiators. Send us an enquiry today and we'll put you in touch with up to 3 approved heating engineers in your area who will be in touch to provide free no-obligation quotes.
---
---