Ideal vs Glow-worm: A Boiler Comparison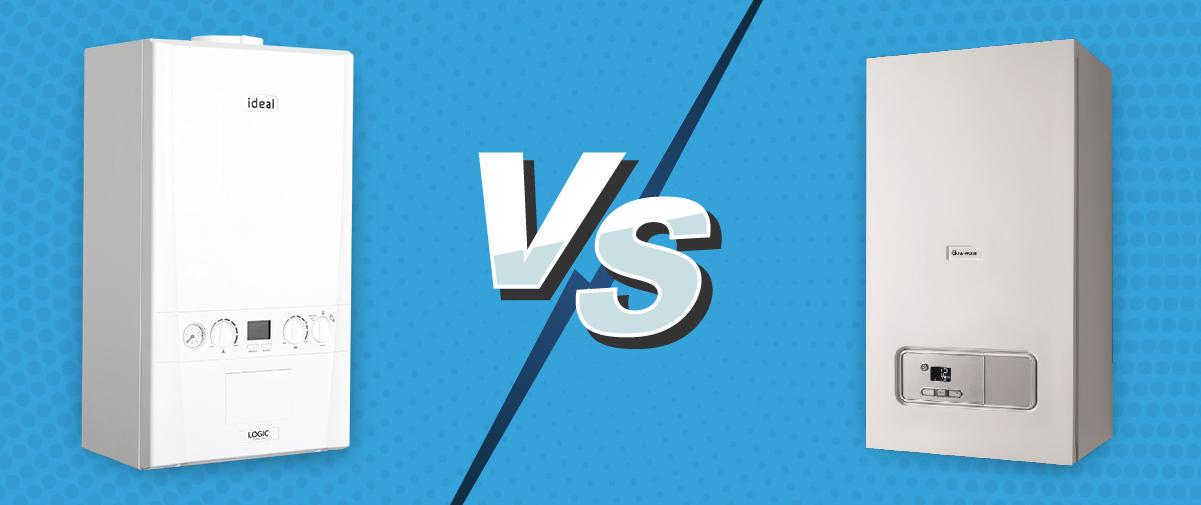 Ideal Boilers are known for their market leading range of boilers. Meanwhile, Glow-worm offer a more affordable alternative for homeowners looking for an effective and efficient heating system.
So, when the time comes to replace your boiler, is it worth parting with a little more money? Find out as we compare Ideal vs Glow-worm.
Ideal vs Glow-worm: Boiler comparison
We've put the Ideal Logic Max range up against the Glow-worm Energy range to help you find a new boiler. Both ranges run on natural gas and include all three boiler types: combi, system and regular.
Combi boilers
A combi boiler is the most popular boiler type in the UK. They work by sending instant heating and hot water to radiators or taps as and when it's needed. This removes the need for the additional tanks or cylinders that other boiler types need.
The only downside to combi boilers is that they can't meet high demand for hot water. So if you have two or more bathrooms, you'd be better off with a system boiler.
Boiler
CH output
DHW output
Efficiency
Flow rate

Ideal Logic Max combi boiler range

Logic Max C24
24.2 kW
24.2 kW
94%
9.9 l/min
Logic Max C30
24.2 kW
30.3 kW
94%
12.4 l/min
Logic Max C35
24.2 kW
35.3 kW
94%
14.5 l/min

Glow-worm Energy combi boiler range

Energy 25
19.1 kW
25 kW
93%
12.1 l/min
Energy 30
26.5 kW
30 kW
93%
14.2 l/min
Energy 35
26.7 kW
35 kW
93%
16.5 l/min
Ideal Logic Max combi boilers
The Ideal Logic Max is a market leading combi boiler that's highly efficient and covered by a lengthy 10 year warranty:
Boiler frost protection will see that the unit is protected during periods of freezing cold weather
Installation is made easier thanks to low lift weight and compact dimensions (which could lower boiler installation costs)
A large digital display is user-friendly, offering more control
Fitted with an aluminium heat exchanger that can be kept preheated which increases the speed of hot water delivery
Well protected by a warranty of 10 years
The Glow-worm range of Energy combi boilers comes with an almost identical number of output ratings to the Ideal Logic Max range, giving you a great selection. The Energy range does fall short of the Logic Max in terms of efficiency and warranty but there are a number of warranties to make them well worth considering:
Glow-worm Energy combi boilers
Ultra-quiet as it heats the home
More choice with where to install the boiler thanks to top and rear flue options
An aluminium heat exchanger that's designed to help lower energy bills
They're compact so can be fitted within a kitchen cupboard
Innovative 4-sided cooling reduces stress on the heat exchanger, helping to greatly reduce the risk of any boiler problems
Fitted with a Grundfos pump that adapts to the demand for heating and hot water, which can help to reduce bills further
A guarantee that can be extended out to 15 years when installed by a Glow-worm installer
---
---
System boilers
A system boiler includes a hot water cylinder that stores domestic hot water. This means they can meet higher demand for hot water than a combi. Great news if your home has 2 or more bathrooms.
Boiler
Output rating
Efficiency

Ideal Logic Max system boiler range

Logic Max S15
15 kW
93%
Logic Max S18
18 kW
93%
Logic Max S24
24 kW
93%
Logic Max S30
30 kW
93%

Glow-worm Energy system boiler range

Energy 12s
12 kW
94%
Energy 15s
15 kW
94%
Energy 18s
18 kW
94%
Energy 25s
25 kW
94%
Energy 30s
30 kW
94%
The Ideal Logic Max range of system boilers is one of the most efficient, reliable and effective heating systems available on the market. As well as being covered by an extensive 10 year warranty, they also boast:
A boiler frost protection feature to prevent water in the unit from freezing when the temperature drops
Hard wearing and scratch resistant casing for added protection
There's an easy-to-reach pressure gauge on the front panel
A digital display that helps to increase your control over the unit
Installation is made simple thanks to the unit's compact size and low lift weight – which could help to save you money
If you're looking for a system boiler, then Glow-worm offers a wide range of outputs from 12 kW to 30 kW. No matter which Glow-worm Energy system boiler you have installed, they all boast a number of benefits:
An aluminium heat exchanger with 4-side cooling means that it's capable of performing efficiently for a number of years
The heat exchanger also has wide waterways which is ideal for retrofit installations
Ultra-quiet performance during operation has seen Energy boilers earn a Quiet Mark accreditation
Compact dimensions allow the units to fit within a standard kitchen cupboard
A modulating Grundfos pump is able to meet the heating and hot water demands without using too much energy, helping to keep energy bills down to a minimum
Regular boilers
Regular boilers are best suited to large older properties as they tend to have the suitable pipework in place. In addition to the unit, you will also need a hot water cylinder as well as a feed and expansion tank in the loft.
Boiler
Output rating
Efficiency
Ideal Logic Max regular boiler range
Logic Max Heat H12
12 kW
93%
Logic Max Heat H15
15 kW
93%
Logic Max Heat H18
18 kW
93%
Logic Max Heat H24
24 kW
94%
Logic Max Heat H30
30 kW
93%
Glow-worm Energy Regular Boiler Range
Energy 12r
12 kW
94%
Energy 15r
15 kW
94%
Energy 18r
18 kW
94%
Energy 25r
25 kW
94%
Energy 30r
30 kW
94%
The Logic Max Heat builds on the award-winning Logic Plus Heat but with the addition of an Ideal system brass filter that helps to deliver increased efficiency. With a Logic Max Heat you can also expect a number of other benefits:
Boiler frost protection as standard to prevent the water in the system freezing during cold weather
The unit is compact in size so can be hidden away in a standard-sized cupboard
Fitted with a 22mm brass system filter which will help to reduce energy waste and keep running costs down
Receive an alert when your boiler is due its annual service
A wide range of outputs from 12 kW right up to 30 kW will give you great choice when it comes to finding a heat-only boiler to suit the heating and hot water demands of your home.
Perfect for a retrofit units as they can be installed with the flue at either the top or rear of the unit
A quality automotive grade heat exchanger, made from aluminium, can help to lower energy bills
Hide the boiler away in a standard cupboard thanks to the compact dimensions
A bright LCD display helps to give greater visibility and control
Use our Boiler Comparison Tool to compare boilers from more than 30 manufacturers.
---
---
Which is the most efficient?
Both the Ideal Logic Max and Glow-worm Energy are efficient boiler ranges that could lower your energy bills. To help deliver increased efficiency, Ideal Logic Max units are fitted with a brass system filter. Meanwhile Glow-worm Energy boilers have an automotive grade aluminium heat exchanger.
How much do they cost?
In terms of cost, Glow-worm Energy boilers are definitely the cheapest but this is to be expected as Ideal are one of the leading boiler manufacturers. The only time you're likely to find a Glow-worm Energy boiler hit a higher price tag than it's Ideal equivalent is when it comes to the more powerful combi boilers.
| Boiler type | Ideal boiler costs | Glow-worm boiler costs |
| --- | --- | --- |
| Combi | £1,015 – £1,248 | £550 – £1,580 |
| Regular | £875 – £1,060 | £710 – £870 |
| System | £915 – £960 | £725 – £860 |
So, if you're looking for a boiler on a tight budget then a Glow-worm Energy unit is the best option.
How long is the warranty?
While, more often than not, the Glow-worm Energy range is likely to be the cheaper option, it's important to consider the warranty. An additional 3 years is available with the Ideal Logic Max range over Glow-worm Energy boilers (10 years compared to 7 years).
This can give you an indication of how long the manufacturer believes the boiler will perform at its most effective and efficient. So while you might be saving money with an Energy boiler, there's a chance that you might be faced with replacing it sooner than if you'd had a Logic Max installed.
In terms of what's covered by the warranty, Ideal will see that you're covered for any mechanical or electrical breakdowns that are caused by defective workmanship – the same can be said of Glow-worm warranties. In both cases you will need to register the boiler with the manufacturer within 30 days to begin the warranty.
Find out more about the warranties covered by both manufacturers:
Ideal or Glow-worm?
We went into this comparison from the angle that a Glow-worm boiler would be the more affordable option – and for the most part they are. However, if you're looking to have a combi boiler installed, there's a chance that an Ideal Logic Max could put less of a dent in your bank balance.
So, if a combi boiler is what you need then you'll be hard pushed to find a better unit than the Ideal Logic Max.
Whether you decide to have an Ideal or Glow-worm boiler installed, you'll need to hire a Gas Safe registered engineer to carry out the installation. That's where we can help.
By taking a few moments to complete our simple online form, letting us know about the work you need doing, you'll get free quotes from up to 3 installers based in your local area.