Is My Boiler a Condensing Boiler?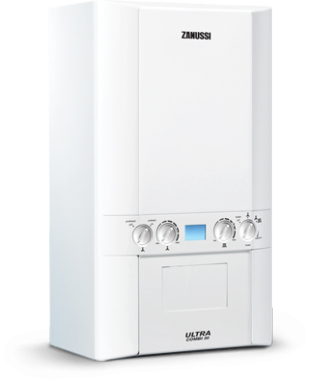 Most new boilers on the market today can be classed as highly efficient, but what makes a boiler a high efficiency condensing boiler?
If your boiler is new, it is likely it could be classed as such, and the boiler can be a combination boiler type, a system boiler or even the traditional type of open vent boiler.
Back boilers are not highly efficient, and many back boilers are no longer allowed to be sold in the UK, as they do not meet the minimum efficiency required by the Government's SEDBUK scheme, meaning they are definitely not high efficiency condesnsing boilerss. An old back boiler can be replaced with a new back boiler in only rare circumstance, and special permission has to be obtained by the consumer from their local council to be eligible.
If you've got a back boiler, it's highly advised these days that you replace it with a System of Regular boiler, to start the process just complete this form.
A high efficiency condensing boiler is named as such based on the technology it uses – with more heat being absorbed into the system to heat hot water, rather than being lost up the flue on an older boiler type. Because of this, the gas in the flue is at a lower temperature than in older boilers, and causes condensation in the form of as small amount of visible "pluming".
If a condensing boiler is placed close to a cold surface, water droplets will form. Because of this, is it recommended that high efficiency central heating boilers are placed away from windows, cold surfaces and corners in households due to it causing aesthetic damage over time, but the pluming is not harmful, merely a slight inconvenience.
Due to the fact that the heat is recovered from the boiler that would ordinarily escape up the flue, condensing boilers run extremely efficiently which, depending on the season, runs at around 90% – making them extremely economical. This means a high efficiency condensing boiler can even save you up to 35p out of every £1 spent on gas, in comparison to an existing boiler over 15 years old.
The Sedbuk Bands and High Efficiency Boilers
The SEDBUK scheme stands for 'Seasonal Efficiency of a Domestic Boiler in the UK', and provides an accurate and fair comparison of the performance of different boilers, based on their consumption and loss of energy in comparison to energy used effectively for purpose.
This rating is calculated by measuring the average annual efficiency of a boiler, that has been achieved in average domestic conditions, factoring issues such as the UK climate, fuel used boiler type and the internal store size.
Once a boiler has been assessed to see what percentage of fuel it converts to heat, it is given a rating using the SEDBUK scale – from 'A' for the best performing boiler at the highest rate of efficiency, to 'G' for the worst.
All new boiler replacements are recommended to be rated in either the A or B SEDBUK band, with only few specific instances where they may be lower.
How Do I Check If My Boiler Is a High Efficiency Condensing Boiler?

If you are unaware of the SEDBUK rating your boiler has been classed as; check the manual and any documentation that came with your boiler. This should let you know the SEDBUK rating, and make you aware of how efficient your boiler is.

If you cannot find your boilers paperwork, look on the boiler itself for a brand name and a model name or number and use the internet to search for your boiler using these.

Most modern manufacturer's websites are proud to display the credentials of their boilers, especially if they are energy efficient. Remember, to be classed as a high efficiency condensing boiler, a boiler must be rated in the 'A' band of the SEDBUK energy efficiency scale.