How Much Does Moving A Boiler Cost?
So you know: Moving a boiler is a job for more than one heating engineer, regardless of whether the boiler is natural gas, or oil. Don't hire an engineer who plans to move the boiler on their own – especially if the boiler is being moved to another room.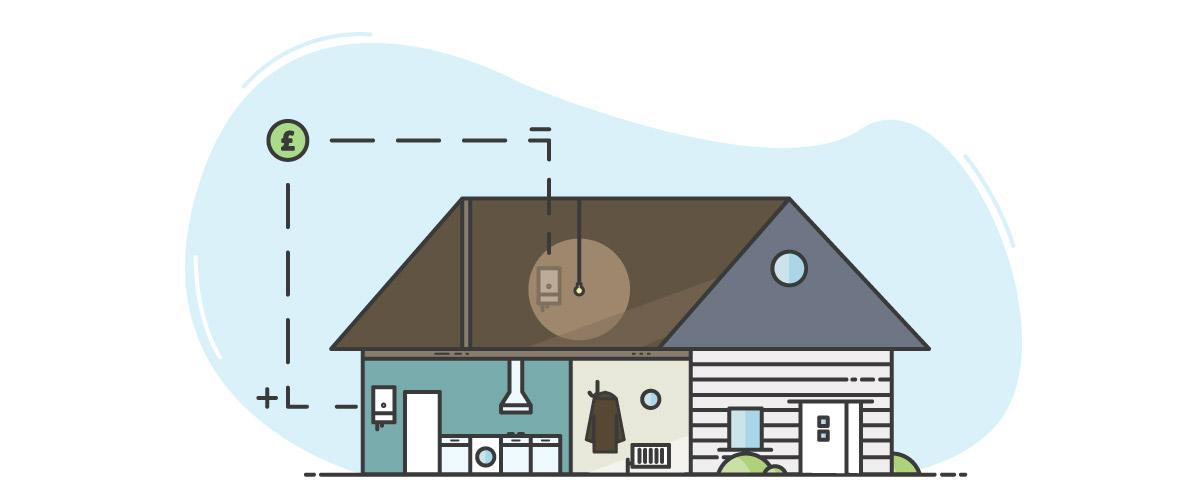 Moving a boiler out the way is a great idea. You'll free up some space and have much more room for activities… or storage. Whatever you want really.
Most boilers are fitted in the kitchen. Which, when you think about it, isn't the best use of space. But as long as you have a modern condensing boiler then you can move your boiler into a bathroom, attic or, even a bedroom. The choice is yours.
Moving a boiler isn't a decision you should take lightly though as costs can reach £800 to £2,800 with most jobs taking 2-4 days to finish (costs and time will all vary from job to job). So let's find out if moving your boiler is worth it.
---
---
Why move a boiler?
Let's say your boiler is tucked away in a kitchen cupboard. Wouldn't you rather that cupboard could be used for storage? That would certainly help when it comes to packing away the big food shop!
So, moving a boiler can free up space but that's not all. It can also make a room far more comfortable.
While modern boilers are pretty quiet they're not silent. So if you spend a lot of time in the same room as your boiler, moving it elsewhere could give you some more peace.
Plus, depending on the layout of your home, relocating the boiler could mean you get hot water faster – if you have a combi boiler.
What's the cost of moving a boiler?
On average, moving a boiler could cost £800 to £2,800. But these figures aren't set in stone as there's plenty that can increase the costs. As you might expect, the more complex the move the more expensive it will be.
When moving a boiler, these are some of the costs that you'll need to keep in mind.
| Materials | Average cost |
| --- | --- |
| Boiler flue | £70 – £120 |
| Extension flue pipe / flue bends | £40 per metre |
| Magnetic filter | £100 – £120 |
| Controls | £70 – £650 |
| Pipework & fittings | £300 – £600 |
Moving an older boiler to a new location is the most expensive option. So if you're planning to move a boiler that was installed 8+ years ago, consider a boiler replacement at the same time. Upgrading will make your heating system more efficient, reliable and safer.
Moving a boiler by only a few feet will be considerably cheaper than relocating it to the other side of the house because of the extra materials needed and the engineer's labour.
The further the boiler is moving, the more copper pipework will be needed
Additional flues or extensions may be needed e.g. if the flue is currently coming out the side of a wall horizontally and you're moving it to the attic you will need a vertical flue instead.
Floorboards may need to be lifted and relaid
It may be necessary to drill through and then patch holes in walls for the pipework
A powerflush is an essential part of moving a boiler. This will clear any dirt and debris from the heating system to allow it to run more efficiently.
---
---
Where can I move a boiler to?
Another factor on the cost of moving a boiler is where it's moved to and how far that is from the current location.
In theory, a boiler can be installed in many locations around the home:
Airing cupboard
Attic
Bathroom
Bedroom
Garage
Kitchen
Utility room
A combi boiler can be fitted in any of these locations or moved by just a few feet.
But moving a system or regular boiler can be more restrictive. That's because they have external parts in addition to the boiler itself. Both need a hot water storage cylinder which stores hot water for your taps. This large cylinder is often kept in an airing cupboard. A regular boiler also needs a feed and expansion tank in the loft, above the boiler.
Let's take a look at some of the pros and cons of installing a boiler into each of these locations.
Airing cupboard
The airing cupboard tends to be where the hot water cylinder is installed as part of a central heating system with a regular or system boiler. This is because the heat that comes off the cylinder can keep your laundry dry.
However, many people are choosing to move their hot water cylinder to a basement or attic. If it's possible to do this in your home then it may also be possible to move the boiler into the airing cupboard. Be sure to keep in mind that the hot water cylinder must be well supported as it will be very heavy when full.
Attic
Moving the boiler completely out of sight is a high priority for many when moving a boiler and there's no better place than the attic. However, it might not be as straightforward as you would hope.
First of all, if you have a regular boiler, a loft installation is unlikely to be possible as they rely on gravity to feed water from tanks in the loft down to the boiler – something that can't be done if they're at the same level.
The boiler also needs to be easy for a heating engineer to access for servicing and any maintenance. Which might mean having to have some additional work done to your loft to get it up to standard. The loft will need to be easily accessible, well-lit and have safe flooring.
Any boiler in an attic will need a vertical flue. So depending on the height of the roof, you may also need a roofer and scaffolding too.
Additionally, in the event of your boiler leaking, the water will drop downwards and could cause damage to other floors of your home.
Bathroom
One of the concerns around having a boiler in a bathroom is the combination of having an electrical appliance in a wet room. It is very much possible as long as the installation meets certain regulations that ensure the boiler is unlikely to get wet, can be accessed by a heating engineer and has suitable ventilation.
Typically, a boiler in a bathroom will need to be installed within a cupboard and a certain distance away from taps, showers and baths. Also, a boiler in a bathroom must be room sealed.
No matter where the boiler is being installed, it must be in a position where the flue meets Boiler Flue Regulations so that it can safely expel waste gases out of the home. A correctly flued appliance is one of the most important points of any boiler installation.
Bedroom
You can install a gas boiler in a bedroom as long as the boiler is 'room sealed' – this means that it takes air in from the outside and expels it outside, so no fumes enter the home.
Some homeowners are reluctant to install a boiler in a bedroom because of safety concerns. In reality, it's perfectly safe to operate modern room sealed boilers in a bedroom provided they have been installed correctly by a Gas Safe registered engineer. Of course, any faulty boiler can leak carbon monoxide. A carbon monoxide leak is potentially fatal so regular servicing and a carbon monoxide detector are recommended no matter where you install your boiler.
Before you settle on installing the boiler in a bedroom, it's worth considering that even modern boilers make some noise when operating which isn't ideal in a room where people are sleeping.
Garage
The main concern with installing a boiler into a garage is the risk of freezing during the winter months.
During freezing temperatures, the water within a boiler can be susceptible to freezing. For this reason, it's recommend to install a boiler with frost protection heating which will keep the water above a certain temperature. In addition, you should also have the pipes insulated with lagging.
Considering installing a boiler into a garage? Find out more about frost protection heating: How Does Frost Protection Heating Work?
Kitchen
The kitchen is one of the more conventional locations for boiler installation. While they can often be hidden away in a cupboard or under a unit, this does mean that some kitchen storage space is lost.
Utility room
For homes that have a utility room, it's the ideal area for keeping the boiler out of the way to save space elswhere around the property.
Can I move my current boiler?
You can move your current boiler to a new spot but you'll need to think about whether it makes sense.
If your current boiler was fitted less than 3 years ago, then we don't recommend moving your boiler. But that's not to say it can't be done.
However, if your boiler will need replacing soon then get a new boiler. Otherwise, you'll be spending money to move your boiler only to have it replaced soon after.
New energy efficient boilers are available for as little as £750 (without installation) and include lengthy warranties. This becomes even more attractive when you consider that a new boiler could reduce energy bills by as much as £580 per year*. So a new boiler could pay for itself in a few years.
Also, if your new boiler is no longer manufactured then it could be hard for the installer to find flue parts – or any parts for that matter! If this is the case then you may have to rule out moving the boiler.
How long does moving a boiler take?
A straightforward like-for-like boiler replacement can be done within a day. Moving a boiler to a new location can add an extra day onto the work.
Should the new location be at the other side of the house then this will add to the time. That's because the heating engineer will need to add to and possibly reroute the pipework.
Moving a boiler considerations
The first hurdle to get over is whether moving your boiler is even possible. Nine times out of ten, moving a boiler can be done but it all comes down to whether the works meets the HSE's Gas Safety (Installation and Use) Regulations 1998.
If your boiler can be moved, there are a few things to think about:
If you have concrete or tiled floors pipework may need to be run through a wall or the ceiling
Boilers have minimum flue clearance requirements meaning they can't be positioned too close to windows or doors
Carpets and floorboards may need to be disturbed, lifted and relaid
If you are moving the boiler further away from taps, you may notice your water takes longer to heat up (combi)
All modern condensing boilers need a waste pipe leading to a drain
If you have hard flooring such as concrete, stone and tiles then pipes might need to be visible
Scaffolding may be required if the boiler is being installed in an attic
Attic installations also come with safety regulations: must be well lit, have a walkway and be easily accessible
A boiler in an outhouse or garage will need frost protection and insulated pipes to protect it in cold weather
IMPORTANT: Wherever you move your boiler to, make sure it is still accessible for future servicing or repairs.
Get free quotes for moving a boiler
Planning to move your boiler or get a new one? Then you'll need a Gas Safe registered engineer for the planning and installation.
To find the best person for the job, we highly recommend comparing quotes. This will also give you the confidence that you're getting the most competitive price. Although if one quote is a lot cheaper than the others, that isn't a good sign.
Rather than going on the hunt for local installers yourself, let us take care of that for you. Simply complete our online form and you'll have up to 3 installers getting in touch to give you a quote in no time.
*Possible savings when replacing an old gas boiler with a condensing A-rated boiler. As well as thermostatic radiator valves, programmer and room thermostat in a detached home. Based on fuel prices as of April 2022: https://energysavingtrust.org.uk/advice/boilers/