Ravenheat HE vs Potterton Assure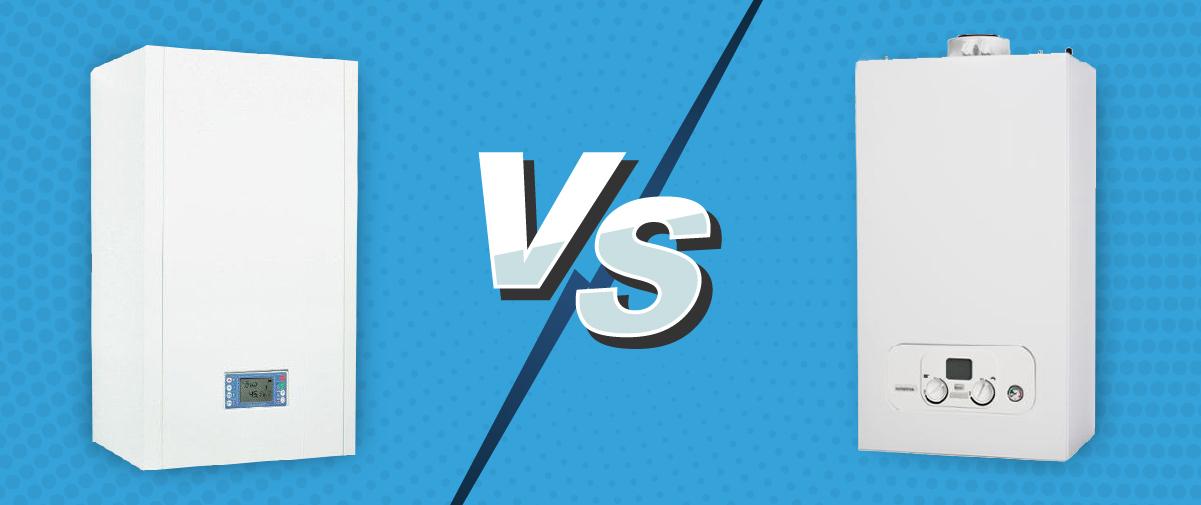 Ravenheat HE and Potterton Assure boilers are reliable heating systems without the high price tag.
So, if it's time to replace your boiler and you're looking for a more budget-friendly option, these are two ranges to think about. And to help you decide between the two, we've compared the Ravenheat HE and Potterton Assure ranges to help you find the best option for your home.
Ravenheat HE and Potterton Assure boilers
The Ravenheat HE and Potterton Assure ranges both include gas-fired combi and system boilers. Potterton also offer a number of regular boilers in their Assure range.
Combi boilers
Combi boilers are the most popular boiler choice for homeowners in the UK. They deliver heating and hot water on demand without the need for any additional tanks or cylinders. This makes them compact heating systems, perfect for homes with limited space.
As they don't store hot water in a cylinder (unlike regular and system boilers), they're best suited to homes with a single bathroom. This is because the hot water pressure would drop if more than one bath or shower was being run at the same time.
Boiler
CH output
DHW output
Efficiency
Warranty
Ravenheat HE combi boilers
HE80
21.4 kW
25.4 kW
95%
2 years
HE98S
26.2 kW
31 kW
92%
5 years
HE30S Compact
26.4 kW
31 kW
92%
10 Years
Potterton Assure combi boilers
Potterton Assure 25
21.16 kW
25 kW
93%
2 years
Potterton Assure 30
26.33 kW
30 kW
93%
2 years
Potterton Assure 36
26.33 kW
36 kW
93%
2 years
Features of Ravenheat HE combi boilers include:
HE80 boilers have a backlit LCD display with easy-to-use controls to help you save energy
Able to reduce power usage to reduce energy costs
Compact dimensions
Densely insulated units
Extensive warranty periods
Potterton Assure combi boilers feature:
Operates quietly
Compact dimensions for a cupboard fit (min 290mm deep)
Installation is made easier by the low lift weight (29kg)
Fully compatible with Baxi uSense heating controls
Front access makes maintenance and servicing for a Gas Safe registered engineer much simpler
LPG is available on the 25 kW and 30 kW models
System boilers
Ravenheat has a single system boiler in their HE range, the HE 98S, which has an output rating of 25 kW and extensive 5 year warranty. If a 25 kW output isn't suitable for the heating and hot water demands of your home, then you might want to turn to the Potterton Assure System range which includes outputs from 12 kW up to 30 kW.
Boiler
Output
Efficiency
Warranty
Ravenheat System Boilers
HE98S System
25 kW
92%
5 Years
Potterton System Boilers
Assure System 12
12.9 kW
93%
2 years
Assure System 15
16.2 kW
93%
2 years
Assure System 18
19.4 kW
93%
2 years
Assure System 24
25.8 kW
93%
2 years
With a Ravenheat HE98S System boiler, you can expect to benefit from:
Quiet in operation
Compact dimensions
Frost protection as standard
Can reduce power to 3.7 kW which helps to reduce the amount of energy being used
Key features of Potterton Assure System boilers include:
Can be installed into a standard kitchen cupboard – out of sight and mind
A low installation weight will help to keep installation costs down (28kg)
An outdoor weather sensor that adjusts heating based on the temperature outside is an optional extra
Can be installed as part of a heating system with a Megaflo Eco SystemReady hot water cylinder
Regular boilers
If you live in a larger property and the existing pipework suits a heat-only system, you'll need to turn to a different manufacturer. Potterton did manufacture a range of Assure regular boilers but they're no longer available. These Assure boilers are now made by their parent manufacturer, Baxi. Compare Baxi regular boilers.
Boiler
Output
Efficiency
Warranty
Potterton Heat-Only Boilers
Assure Heat 13
13 kW
93%
2 years
Assure Heat 16
16 kW
93%
2 years
Assure Heat 19
19 kW
93%
2 years
Assure Heat 25
25 kW
93%
2 years
Assure Heat 30
30 kW
93%
2 years
A Potterton Assure regular boiler is likely to cost between £850 and £1,350. The models with the higher outputs will be the more expensive. To put this into context, a regular boiler from leading manufacturer Worcester Bosch could cost up to £2,300.
---
---
Ravenheat HE vs Potterton Assure
Efficiency
All of these boilers are highly efficient and can help to reduce your energy bills.
The most efficient of them all is the Ravenheat HE80. It has a seasonal space heating efficiency of 95% which means that for every £1 spent heating your home, only 5p is lost to the heat carried away by waste gases. Some heat is always lost with a gas boiler (none are 100% efficient) but thanks to condensing boiler technology, modern boilers are more efficient than ever.
Potterton Assure boilers are fully modulating. This means they only use the amount of fuel needed to meet the demand for heating at any given time. And as proof of their efficiency, they've been endorsed by the Energy Saving Trust.
Heating controls
Ravenheat HE boilers are OpenTherm which means that when paired with a compatible thermostat you get more control over the central heating. With an OpenTherm system the exact amount of gas will be used to meet demand, which will help to greatly reduce energy waste.
As Potterton are part of Baxi, their Assure boilers are compatible with Baxi uSense. This is a smart thermostat that allows you to take control of your heating from your smartphone or tablet.
Price
When it comes to price there isn't much to separate Ravenheat and Potterton. Both are budget-friendly options compared to the leading boiler brands but, on the whole, Ravenheat boiler prices tend to be lower than equivalent Potterton models.
| Boiler range | Potential cost (before installation) |
| --- | --- |
| Ravenheat HE combi | £750 – £1,000 |
| Potterton Assure combi | £620 – £1,350 |
| Ravenheat HE system | £745 – £845 |
| Potterton Assure system | £790 – £1,000 |
| Potterton Assure Heat | £854 – £1,342 |
In addition to the cost of the boiler, you will also need to hire a Gas Safe registered engineer for the installation. Installers will all have their own rates but to aid installation and reduce the cost, both Ravenheat and Potterton have designed lightweight compact units.
To save as much as possible on boiler installation costs, we highly recommend comparing more than one. With a single quote you wouldn't know if you're being over charged. But with multiple quotes you can be confident of getting a competitive price.
In a few short moments, you can get free quotes from up to 3 Gas Safe registered engineers based in your area.
Warranty
Taking a look at the warranties offered by both manufacturers is an important part of any boiler comparison. A boiler warranty normally lasts between 1-10 years and is there to protect you in the event of a fault.
Most Ravenheat warranties cover their boilers for between 2-5 years and will see that you're covered should there be an issue caused by the manufacturing process. However, the Ravenheat HE30S Compact combi boiler is covered by an extensive 10 year warranty – the longest available in this comparison. Potterton boiler warranties are 2 years long as standard and cover the costs of parts and labour.
In any case, you will need to keep the warranty valid by having the boiler serviced by a Gas Safe registered engineer once a year.
Which brand takes the crown?
Compared with Ravenheat, Potterton has a more extensive range of gas-fired combi, system and regular boilers. This will make finding the ideal unit for your home much easier.
As they're backed by Baxi, a leading boiler manufacturer, Potterton boilers house innovative technology to increase performance. For that reason, we're crowning them the winners of Ravenheat vs Potterton even though it might mean parting with a little more money.