Worcester Greenstar Heatslave II vs Grant Vortex Blue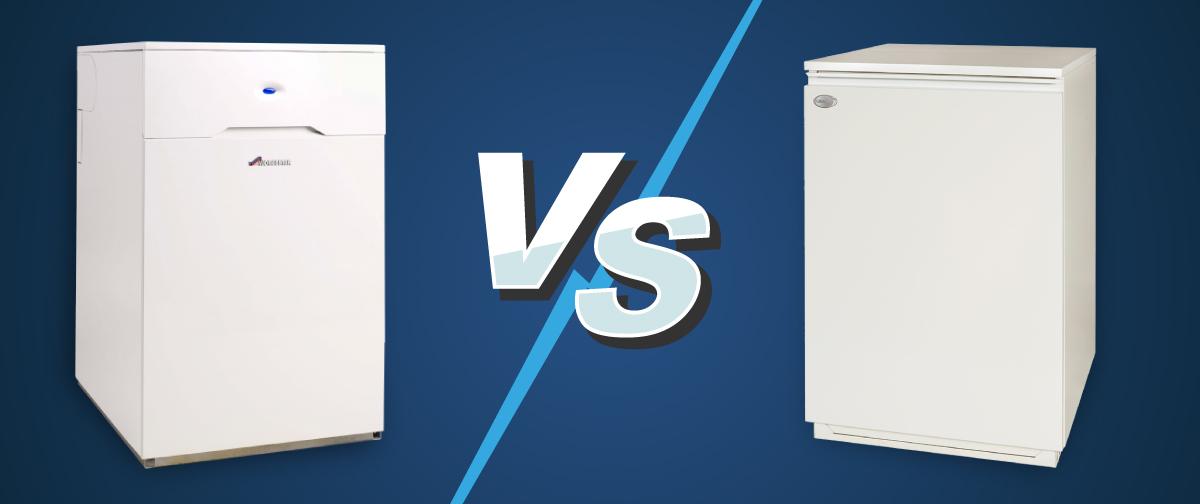 Looking for a new oil combi boiler? Worcester Bosch and Grant are two of the most well known and highly trusted brands around.
But which should you install? We've put the Worcester Greenstar Heatslave II 18/25 up against the Grant Vortex Blue 26 to find out.
Do I need an oil boiler?
You should only think about an oil boiler if you live off-grid. This means that your property isn't connected to the gas network.
If your home does have a gas supply then a gas boiler is the best option.
For homes off the gas network, oil is the most popular choice. But it isn't your only option. You may also want to consider an LPG boiler or a renewable heating system:
While there are many heating options for off-grid homes, oil is one of your cheapest options.
And is a combi right for me?
So you know you want an oil boiler but we'll be comparing oil-fired combi boilers.
This means they're not fitted alongside a hot water cylinder. So, you should only be installing one if you have the one bathroom. Otherwise, you'll be needing a system boiler.
Grant vs Worcester Bosch
These oil combi boilers are well suited to homes with 1 bathroom and 10 radiators.
They're designed for internal floor-mounted installation and can be used with renewable energy sources like solar to help reduce your reliance on oil.
| | Grant VortexBlue 26 | Worcester Bosch Greenstar Heatslave II 18/25 |
| --- | --- | --- |
| Output | 26 kW | 25 kW |
| ErP efficiency | A | A |
| Noise level (dB) | 50.6 | 56 |
| External model? | Yes | Yes |
| Max warranty | 2 years | 7 years |
| Dimensions (HxWxD) | 860 x 614 x 606mm | 855 x 520 x 600mm |
| Other outputs | 21 kW, 36 kW | 18 kW, 32 kW |
Alternatively you can compare up to 4 different boiler models with our Comparison Tool.
Heating controls
Worcester Bosch also offer a wide range of controls and thermostats for their boilers including their own smartcontrol system called 'Wave'. Wave enables you to manage your heating and hot water from an internet connected smart device. This enables you to track your energy usage and identify areas where you could save money on your energy bills.
Grant also offers a range of controls and tools to help you improve your energy efficiency such as intelligent weather compensation via sensors but does not yet offer an internet connected system.
Price
In general, you can find a from both Worcester Bosch and Grant for between £1,200 and £2,500, depending on their size and type.
In the case of the oil Combi boilers we've compared here, however, our research found the Grant boiler to be the pricier option at around £2,570 with the Worcester Bosch model costing slightly less at £2,280 (on average).
Repairs and warranties
The best course of action is to get your oil boiler installed by a manufacturer accredited engineer. This means not only that you can rest assured your boiler has been installed correctly but will also extend the warranty you receive significantly. If this is the case both manufacturers offer a 10 year guarantee on the heat exchanger which is the crucial component that actually heats the water for your home. The warranty on the rest of the parts and labour will vary so it's important to check your guarantee information carefully. Remember to register your product with the manufacturer as soon as possible after installation to ensure you're entitled to the full warranty period.
As with all oil boilers it's really important to get it serviced annually by a fully qualified and OFTEC registered engineer. This means your boiler will continue to operate at optimum efficiency and is usually a condition of your warranty. The Grant boiler has been designed with easy maintenance and servicing in mind and has front access to all the serviceable parts.
If a fault occurs within your guarantee period you should contact your installer in the first instance so they can rule out issues with other parts of your heating system such as running out of oil, blocked radiators, frozen pipes etc. If the fault is found to be with the boiler itself it will be repaired free of charge by both manufacturers if all terms and conditions of the warranty have been met.
So, is there a winner?
The Grant VortexBlue is more efficient and makes less noise as it heats your home.
However, it's worth noting that the Grant boiler tends to be more expensive than the Heatslave II. So if you have a tighter budget then then Heatslave II is the oil boiler for you. Plus, if you go for the Worcester boiler you'll have greater control with the Worcester Wave smart thermostat. And this could help to lower your heating bills.