Common Ferroli Boiler Problems & Repair Advice
Last Updated: 11th January 2022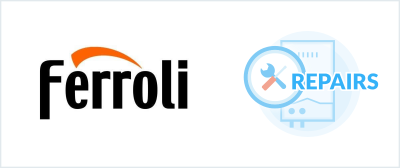 Expected to provide heating and hot water to our homes every single day, boilers have a big job on their hands. Most of the time they're extremely dependable and it can be easy to forget that they're even there.
Sometimes things do go wrong and to prevent your home from going without heating and hot water for too long we've put this handy guide together to help you get your Ferroli boiler going again.
Should you need an engineer, you can get free boiler repair quotes from trusted engineers near you with our service.
Common Ferroli boiler problems
1. Frozen condensate pipe
The job of the condensate pipe is to transport acidic water, caused by waste gas, away from the boiler. This usually runs outside into a drain, because of its location it faces the risk of freezing.
If your condensate pipe has frozen, it will need to be thawed out. If you don't feel comfortable doing this yourself, call out a registered engineer.
2. Low boiler pressure
Your boiler gauge should show that the boiler pressure is between 1.0 and 2.0. If the pressure drops below 1.0, then you'll need to repressurise it. Follow our guide to low boiler pressure to resolve the issue.
3. A leak is coming from the bottom of the boiler
When you see water coming from the bottom of your boiler, the most common cause is a broken internal component, normally a pump seal or pressure valve. To determine the cause, it's always best to get a Gas Safe registered engineer on the case.
If your Ferroli boiler is leaking, take a look through our guide Why is my Boiler Leaking? to help you find the cause.
4. Heating isn't working properly
If you've set your heating to come on at specific times but it's not, or the radiators seem to get hot a completely random times then it could be an issue with the mechanical timer. You should look to replace the programmer if this is the case.
5. Boiler locking out
Your boiler going into lock-out could mean that there's an issue with the Printer Circuit Board (PCB). To find out if electricity is getting to the PCB, a vault metre will need to be used. In most cases, this issue means that the PCG needs to be replaced.
---
---
Which Ferroli boiler problems need an engineer?
Before trying to repair any faults on your boiler, it's important to know whether you should leaving it to a Gas Safe registered engineer. We've put together the table below to help you with the most common problems your boiler might face.
| Problem | Possible cause | Do you need an engineer? |
| --- | --- | --- |
| No heat or hot water | Can be caused by several things including broken diaphragms and airlocks, failure of motorised valves, issues with the thermostat or low water levels | Yes |
| Leaking and dripping | Most likely to be a broken internal component but it will depend where the water is leaking from | Yes |
| Banging, whistling or gurgling noises | Air in the system could be causing this, otherwise it could be that the water pressure is too low | Yes |
| Pilot light goes out | The thermocouple could be broken which is in turn stopping the gas supply | Yes |
| Losing pressure | Could be a water leak in the system, the pressure relief valve needs replacing or due to recently bled radiators | Only if there's a leak |
| Frozen condensate pipe | This fault should be displayed on your boiler with an error code or warning notification | Yes |
| Thermostat issues | Thermostat could be turned off or not set to the correct setting | Consider purchasing a new thermostat |
| Kettling | Limescale or sludge building up on the heat exchanger | Yes |
| Radiators not getting hot | Air or sludge building up in the system or an unequal distribution of heat | Your radiators will need to be bled which doesn't require an engineer but if you don't feel like carrying out the task yourself |
| Boiler keeps switching itself off | Could mean low water pressure, a problem with the thermostat or a lack of water flow due to a closed valve, air or the pump not circulating the water in the system properly | Yes |
---
---
Ferroli boiler warranty
The majority of Ferroli boilers come with a 1-5 year warranty as standard. Should the Modena HE boilers interest you, they come with a 5 year parts and labour warranty that can be extended to 7-10 years. Find out even more with our complete guide to Ferroli warranties. To keep the warranty valid, you will need to arrange a Ferroli boiler service once every 12 months.
Boiler insurance and ongoing cover
For anyone whose boiler warranty has ended or is coming to end, boiler insurance could be well worth considering. This can be done easily enough with your energy supplier, but there's absolutely no obligation to do so. If you think boiler insurance is the way to go, then keep an eye out for ones that offer an annual service and safety inspections.
Ferroli boiler error codes
To make you aware that there's a fault with your Ferroli boiler, it will display an error code. Check our handy list of Ferroli error codes to find out what all of the error codes mean.
Is it time to replace your Ferroli boiler?
If you've had your Ferroli boiler for quite a long period of time then you might want to think about installing a new one. A brand new boiler could be saving your home up to £365* a year if you live in a detached home. The table below shows how much you could be saving depending on your current boiler rating and property.
| House Type | G (< 70%) | F (70-74%) | E (74-78%) | D (78-82%) |
| --- | --- | --- | --- | --- |
| Semi-Detached | £240 | £170 | £150 | £135 |
| Detached | £365 | £255 | £205 | £165 |
| Detached Bungalow | £190 | £135 | £120 | £105 |
| Mid Terrace House | £205 | £145 | £130 | £115 |
| Flat (Mid Floor) | £95 | £65 | £60 | £50 |
Figures are for England, Scotland and Wales only*.
Find the best person to replace a Ferroli boiler
After deciding that you'd like to replace your Ferroli boiler with a brand new one, you'll need to think about who you want to replace it.
Your decision will be between a national company or local engineer, so which one is right for you?
If you love a personal touch, then a local engineer could be for you as you'll probably be talking to the same person throughout your communications. As well as this, local engineers can also offer very competitive rates which might sway your decision.
The bigger national companies will be able to offer extra services like ongoing boiler cover and big brand protection which is always a bonus.
To find the best deal that's right for you, we recommend getting up to 3 quotes rather than going with the first one you receive. With our free service you can receive quotes from trusted engineers near you.
Just remember that whoever you get to replace your boiler, must be Gas Safe registered.
Send us an enquiry today to receive free quotes for a new boiler and find trusted engineers near you with our free service.
Reference
Energy Saving Trust, Heating Your Home: Boilers (2022)
*Based on replacing an old gas boiler with a condensing A-rated boiler with thermostatic radiator valves, programmer and room thermostat in a detached home. Figures are based on fuel prices as of November 2021.
---
Get Ferroli Boiler Quotes
---