System Boilers Explained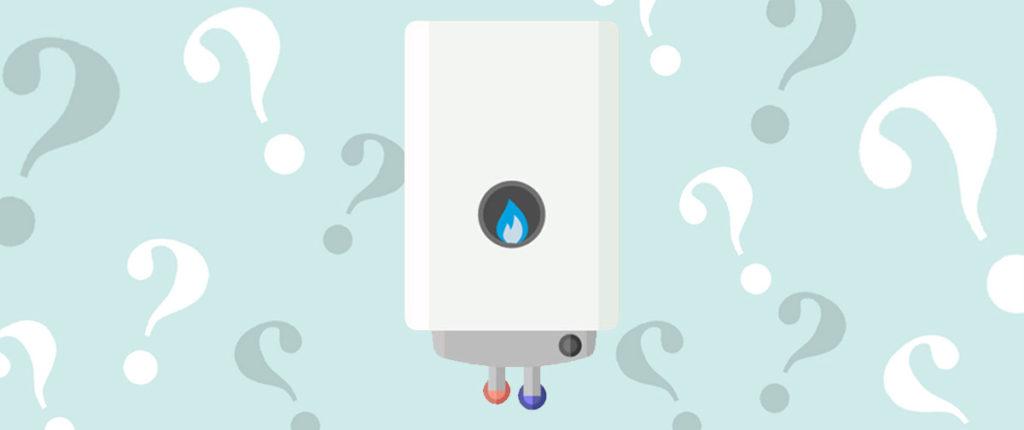 A System boiler directly heats your central heating system and produces hot water for a storage cylinder. They work like a Regular (Conventional) boiler in that they need to store hot water, but unlike Regular boilers they take their water supply directly from the mains.
How Does A System Boiler Work?
With a System boiler, the majority of the components required for generating heating and hot water are built into the boiler. The only external part required is a cylinder or tank that stores hot water.
Taking their water supply directly from the mains, System boilers eliminate the need for a tank of water in the loft, that you would need with a Regular boiler. They then heat the water to supply hot water to radiators around your home as well as the hot water tank.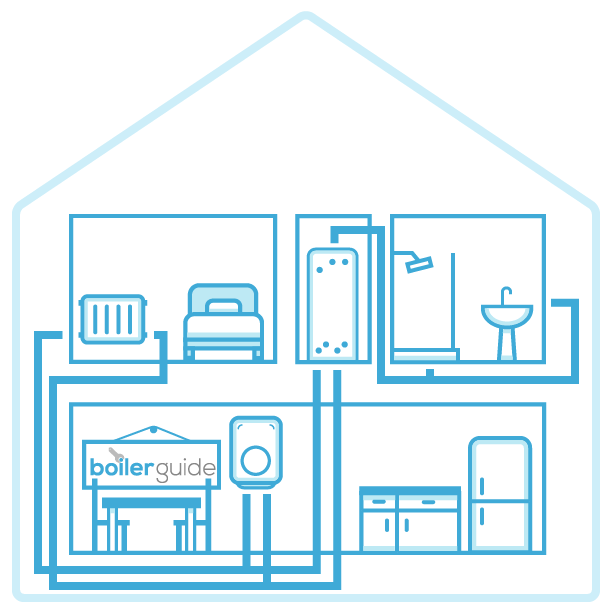 A hot water storage tank will always be required with a system boiler, as it needs somewhere to store the water it has heated.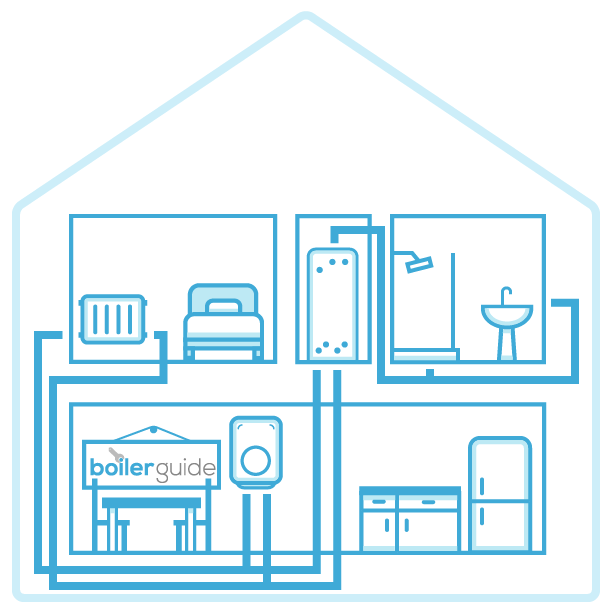 A hot water storage tank will always be required with a system boiler, as it needs somewhere to store the water it has heated.
---
---
Advantages of system boilers
Easier installation
Installation of a System boiler can be easier, quicker and neater than the installation of a Regular boiler. This is due to many of the individual components of the heating and hot water system being built into a System boiler. By building in components, the unit is more compact and only requires a cylinder that can be stored in an airing cupboard.
Great for high hot water demand
A system boiler uses a large tank of stored water meaning you can use multiple taps simultaneously without a reduction in pressure. This makes it ideal for busy or large households with more than one bathroom.
Stronger Water Pressure
As the water supply is delivered by the mains, rather than a tank in the loft, the water coming out of your taps will be at a higher pressure than Regular boilers, which rely on gravity to send water down the pipes.
Fast and economical
System boilers include a pump, which means it responds quickly and has more economic running costs.
No need for a cold water feed tank
System boilers don't require a feed and expansion tank, or a cold water feed tank as they can be used with pressurised cylinders. This can save space and still gives you the option of having a system boiler even if you don't have a loft.
Compatible with solar thermal
If generating hot water with solar is high on your agenda then a System boiler is worth considering. The tank or cylinder that stores hot water can be altered to heat water using solar power.
---
---
Things to Consider with System Boilers
System boilers can take up more space
Although there is no need for a cold water feed tank, System boilers actually take up more space than Combi boilers. This is due to the need for a hot water tank. However, the amount of space they need is still less than a Regular boiler needs.
The tank needs to be well insulated
The hot water cylinder or tank needs to be well insulated to reduce the amount of heat loss. Less heat lost also means less energy wasted. This is really more of a consideration than a disadvantage as insulating a hot water tank is cheap and straightforward in most cases.
Hot water tank size
The amount of hot water you can use will be dictated by the size of your tank or cylinder, as you will need to wait for more water to be heated once you have used it all.
Hot water isn't instant
As the hot water is stored in a tank or cylinder that can only hold so much water, it can run out when lots of hot water is used. The System boiler will then have to heat more water and fill the tank again before your home has hot water again.
Which Are The Top System Boiler Brands?
There's a wide range of System boilers available on the market, manufactured by several manufacturers. These are available in either gas or oil and some manufacturers offer external models as well as internal.
We've picked out a few manufacturers that consistently come do well in terms of customer satisfaction and engineer recommendations:
| Manufacturer | Ideal | Vaillant | Worcester-Bosch |
| --- | --- | --- | --- |
| Ranges | Logic, Logic Plus, Logic Max, Vogue and Vogue Max | ecoFIT Pure, ecoTEC Plus and Home | Greenstar |
| Warranty | Up to 10 years | 2-7 years | 2-5 years |
| Efficiency | 90%+ | 89%+ | 90%+ |
| Outputs | 15-32kW | 12-64kW | 18-32kW |
How Much Does A System Boiler Cost?
There are many different models of System boiler available on the market that come with different price tags attached to them, ranging from around £500 to £3,500 without the cost of installation. Depending on the installing you hire to carry out the work, the price will differ and that's why we recommend getting up to 3 quotes, ensuring that you get the right deal for you.
Looking for a System Boiler?
Using our free service, you can receive as many as 3 quotes from installers in your area. That way you can compare quotes before making your final decision and best of all, there's absolutely no obligation to choose any of the quotes if they're not right for you. Just fill in our quick online form today to get started.
---
---