Which is the Best Boiler for a 3 Bedroom House?
A combi boiler is likely to be the best boiler for a 3 bedroom house. That's if you have 1-2 bathrooms. Any more and you should consider a system boiler because they can meet higher demand for hot water.
As most 3 bed homes don't have 3 bathrooms, we'll be comparing the best combi boilers for a 3 bedroom house.
Best combi boilers: Viessmann Vitodens 100-W vs Vaillant ecoTEC Plus 832
Alternatively, find out the best boilers for a small house or flat, 4 bed or 5 bed house.
---
---
Is a combi right for my home?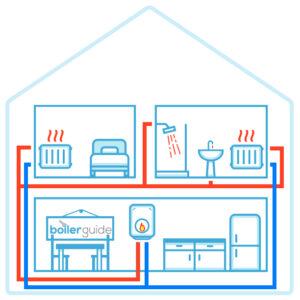 Does your home have 3 bedrooms and 1-2 bathrooms? Then look no further than a combi boiler.
The combi is the only boiler type that has everything it needs to heat your home and hot water within the boiler itself. The alternatives, system and regular boilers, need external parts such as a cylinder or tanks in the loft. So before you learn anything else about a combi, you know you'll be saving space.
Turn the heating or hot water on and the combi will heat water directly from the mains. Once heated up, it will travel straight to the radiators or hot water outlet. Giving you instant hot water. This isn't always the case when you have a hot water cylinder as there will be times when you'll have to wait for it to fill up again.
For a 3 bedroom house with more than 2 bathrooms, we recommend a system boiler to help meet the higher hot water demand.
Best combi boilers: Viessmann vs Vaillant
Viessmann and Vaillant are leading boiler manufacturers. We've put two of their boilers head-to-head to see which you should fit into your 3 bedroom house.
| | | |
| --- | --- | --- |
| Central Heating Output | 25 kW | 25.7 kW |
| Domestic Hot Water Output | 31.7 kW | 31.8 kW |
| Seasonal Space Heating Efficiency Rating | 94% | 94% |
| ErP Efficiency Rating | A HEAT, A WATER | A HEAT, A WATER |
| Flow Rate | 12 l/min | 13 l/min |
| Standard Warranty | 5 years | 5 years |
| Maximum Extended Warranty | 12 years | 10 years |
| Dimensions in mm (HxWxD) | 700 x 400 x 360 | 720 x 440 x 338 |
| Mounting | Wall | Wall |
| Typical Price | £1,160 | £1,248 |
| Typical Installation Costs | £500 - £1,000 | £500 - £1,000 |
---
---
Efficiency
Modern boilers are built to perform efficiently. No matter the make and model. This essentially means that you can install a modern condensing boiler safe in the knowledge that it's highly efficient.
Installing either of these boilers could help to lower your heating bills thanks to an efficiency of 94%. No gas boiler is 100% efficient. This is because burning natural gas produces waste gases which are carried out of the flue pipe, taking heat with them. So for every £1 you spend heating your home, 94p goes towards the heat you feel from the radiators. This is very high and could help to lower your heating bills.
Output rating (the power of the boiler)
You need a boiler to match the demands of your home. If your house has multiple bathrooms and a high demand for heating and hot water then it needs to be pretty powerful. Meanwhile, smaller homes can turn to a boiler that isn't so powerful.
The Viessmann Vitodens 200-W and Vaillant ecoTEC Plus 832 are perfect for a 3 bedroom house with one bathroom. Their central heating (CH) and domestic hot water (DHW) outputs are almost identical. So either one will be able to meet your needs.
Warranty
The length of a boiler's warranty can give you an idea of how long you'll be able to count on it. Fortunately, both of these boilers offer extensive warranties. A standard 5 year warranty is available with both but you have the option to extend. This can take the Viessmann warranty to 12 years and the Vaillant warranty up to 10 years.
Price
Again, there's very little to split these boilers. In terms of price, the Vaillant ecoTEC Plus 832 is likely to be the more expensive option – only slightly though.
In addition to the cost of the boiler itself, you'll also need to think about the installation costs. As these boilers are very similar in many areas, installation costs shouldn't vary too much. To find the most competitive price for installation, we recommend comparing quotes.
Which is the best combi for a 3 bed house?
Separating these boilers is very tough. If you choose either of them then you'll be getting an efficient and reliable heating system.
Having said this, there can only be one winner. And thanks to the warranty period of up to 12 years, we're crowning the Viessmann Vitodens 100-W as the best boiler for a 3 bedroom house.
More gas boilers for a 3 bed house
The Viessmann Vitodens 100-W and Vaillant ecoTEC Plus 832 are great for a 3 bed house but they're not your only options. Take a look at a few more combi boilers worth keeping in mind.
| Boiler Model | CH Output | DHW Output | Typical Price |
| --- | --- | --- | --- |
| Alpha E-TEC Plus 28 | 26.1 kW | 28.3 kW | £800 |
| Ideal Vogue Max C32 | 26 kW | 32 kW | £1,206 |
| Worcester Bosch Greenstar 28CDi | 24 kW | 32 kW | £1,111 |
Get free boiler quotes today
We're here to help you find the most competitive quote for the installation of your new boiler. By completing our simple online form, you'll get free quotes from up to 3 local boiler installers. As soon as you've let us know that you want quotes, we'll get to matching you with installers.
Once you have your quotes, you can compare them and go with the most competitive quote. Remember that you are under no-obligation to accept any of the quotes.