Worcester Greenstar 25i vs Vaillant ecoTEC 825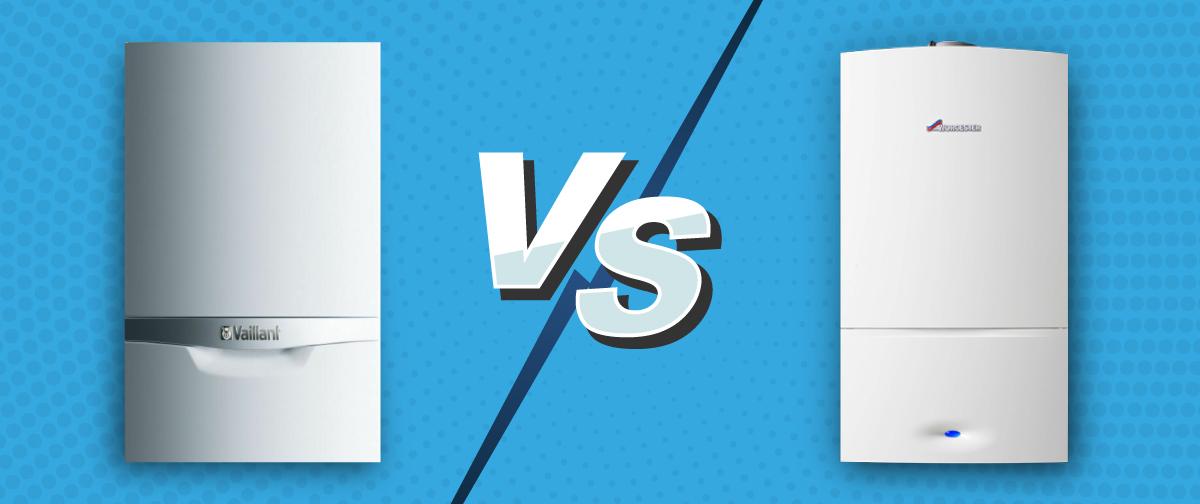 Worcester Bosch and Vaillant are two of the biggest names in the heating industry.
Both brands consistently come out on top in both customer satisfaction and engineer recommendation surveys. When it comes to choosing between them it can be a very close call.
We've put a combi boiler by each brand head-to-head:
Worcester Bosch Greenstar 25i vs Vaillant ecoTEC Plus 825.
---
---
Should I get a combi?
First things first, you should only consider one of these boilers if a combi is right for your home.
Combi boilers are suited to homes with one bathroom. Possibly two if it's powerful enough. They heat water on demand and send it to the radiators or taps. Whichever you want at the time.
As they don't store hot water in a cylinder, they can't meet the higher demand of homes with multiple bathrooms.
What if I have 2+ bathrooms?
If you need something more powerful then a system boiler is your best bet.
System boilers store hot water in a cylinder which allows them to meet higher demand for hot water. So if you have more than one bathroom, they can be used at the same time without the pressure dropping.
Still not sure? Compare system boilers vs combi boilers.
Worcester Greenstar 25i vs Vaillant ecoTEC plus 825
Now, if a combi boiler is right for your home then you have some great options.
The Greenstar 25i and ecoTEC Plus 825 are both wall-mounted combi gas boilers recommended for flats or small houses with one bathroom and up to 10 radiators.
If you'll be needing a combi that's a little more powerful then head to Worcester Bosch 30i vs Vaillant ecoTEC Plus 832.
| | Worcester Greenstar 25i | Vaillant EcoTec Plus 825 |
| --- | --- | --- |
| Efficiency | 93% | 94% |
| Domestic hot water output | 25 kW | 25.4 kW |
| Flow rate | 10.2 l/min | 10.5 l/min |
| LPG compatible | Yes | Yes |
| Maximum warranty | Up to 10 years | Up to 10 years |
| Noise level (dB) | 50 | 46 |
| Dimensions (HxWxD) | 710x400x330mm | 720x440x340mm |
Compare Worcester and Vaillant boilers in our Boiler Comparison Tool.
---
---
Output rating (boiler size)
A boiler's output rating refers to the size of the boiler, or its power. It's measured in kilowatts (kW) and the central heating output shows you how many radiators the boiler is able to heat.
As well as a central heating output, combi boilers also have domestic hot water output. This is because they heat water on demand and send it straight to the tap, bath or shower when you need it.
In terms of central heating, the Vaillant ecoTEC Plus 825 is more powerful. It has an output of 24 kW compared to 20.4 kW for the Greenstar 25i. So if your home has 8-10 radiators, the Vaillant is your best bet.
There's very little between then in terms of domestic hot water output – 25 kW for the Greenstar i compared to 25.4 kW for the ecoTEC Plus 825. However, the Vaillant boiler has a higher flow rate.
Guarantee
As standard both of these boilers come with a 5 year guarantee with the option to extend to 10 years.
Vaillant guarantee
5 years: Standard
7 years: When fitted by a Vaillant Advance installer
10 years:When a Boiler Protection Kit is fitted by a Vaillant Advance installer
Worcester guarantee
5 years: Standard
10 years: When fitted by a Worcester Accredited installer
To keep the guarantee valid for both boilers, they must be serviced annually by a Gas Safe registered engineer.
Heating controls
Both Worcester Bosch and Vaillant offer traditional, mechanical controls with 24 hour programming as well as digital controls that enable up to 7 day programming. There are also options to introduce wireless controls (smart thermostats) that you can control from your tablet or smartphone whether you're at home or not. And, in some cases, sensors will automatically adjust to compensate for the weather.
How much do they cost?
When it comes to down to price there's not a lot in it.
The Vaillant ecoTEC Plus 825 is the more expensive and passes over the £1,000 mark. So if you're on a tight budget then the Greenstar 25i could be the one for you.
On top of the price of the boiler itself, you'll also need to think about sundries and installation. Boiler sundries are extra parts needed for the installation, such as a filter and flue pipe.
| | Greenstar 25i | ecoTEC Plus 825 |
| --- | --- | --- |
| Potential cost | £957 | £1,152 |
| Sundries | £300 | £300 |
| Installation | £500 – £1,000 | £500 – £1,000 |
| Total cost | £1,775 – £2,275 | £1,952 – £2,452 |
When it comes to installation, you can save a fair amount of money by comparing quotes. This will also help you to find the best person for the job. You can get free quotes from up to 3 boiler installers in your area using Boiler Guide today.
---
---
Are these boilers future-proof?
You may have seen lots of talk about the future of gas boilers in the media. But don't worry, they're not being banned any time soon.
The UK government has set a target of reaching net-zero carbon emissions by 2050. And to achieve that the way we heat our homes will have to change. That's because most of us have a gas boiler which releases carbon into the atmosphere as they heat the home.
Now nobody is going to be coming round to take out your boiler. There are no plans to remove gas boilers at the moment. And, in truth, it wouldn't even be practical as over 20 million homes in the UK have a gas boiler. Plus, the alternatives (most likely air source heat pumps) aren't suitable for every home. So, rather than replacing our boilers, there may be plans to replace the fuel.
There's a strong case for natural gas to be phased out by hydrogen. While hydrogen-ready boilers aren't yet available to buy some gas boilers can run on a hydrogen blend of 20% hydrogen and 80% natural gas. Including the Worcester Greenstar 25i.
Most gas boilers on the market are likely to work on a hydrogen blend but Vaillant is yet to state if this is true of their ecoTEC Plus range. Their ecoTEC Plus boilers are, however, suitable for installation with one of their aroTHERM air source heat pumps to form a hybrid heating system.
Which boiler is the winner?
These two boilers are very closely matched. So close that it's hard to declare a clear winner.
In the end, it comes down to which is better suited to your heating system. If your home has 8-10 radiators then the ecoTEC Plus 825 has that bit more power to meet demand. Homes with fewer than 10 radiators could turn to the Greenstar 25i and could potentially save a bit of money as it tends to be the cheaper model.
Get free boiler quotes
Every boiler installer will have their own experiences of each brand so it's important to get multiple quotes.
It's worth asking the installer if they receive any incentive to install a certain brand. If the answer is yes, keep in mind that you may not be getting impartial advice. On the other hand, if an installer is specially trained to install a brand it could mean that you receive an extended manufacturer warranty.
Comparing quotes from heating companies will help you get the best price. And you can get free quotes from up to 3 heating engineers near you with Boiler Guide.
All our companies are Gas Safe registered and we regularly check ratings to ensure you get the best. You'll also have the support of our customer service team to help along the way.