8 Top Tips For Buying a New Boiler
When buying a new boiler, you want to get it right. After all, your new boiler should be heating your home for many years to come.
To find the right boiler for your home, follow our top tips for buying a new boiler.
Why buy a new boiler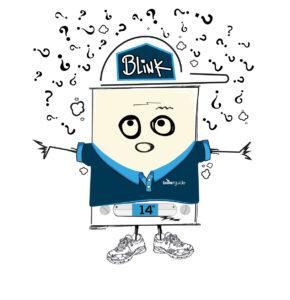 Boilers typically have a lifespan of 10-15 years but they can begin to lose their efficiency after 8 years. As efficiency drops, your heating bills will begin to increase.
Not only that but as a boiler ages it becomes prone to issues. And if you're calling out a heating engineer to fix your boiler on a regular basis then those repairs bills will begin to add up. At this point, the most cost-effective decision you can make is to install a new boiler.
The following are all signs that it's time for a boiler replacement:
Your boiler is breaking down on a regular basis
The cost of a repair would be more than a new boiler
You've noticed that your heating bills are on the rise
Your heating and hot water demands are no longer being met
You're planning to sell or rent out your property - a new modern boiler will help to lift the efficiency rating of your home and make it more appealing to potential buyers
Our guide to New Boiler Prices & Replacement Costs goes into more detail around when it's time for a new boiler.
Now let's get into our 8 top tips for buying a new boiler.
1. Decide on the right type of boiler
The size of your property, number of people living in it and the demand for heating and hot water will determine which boiler type is right for your home.
Combi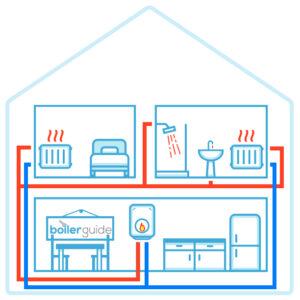 Combi boilers are the most modern and popular type of boiler in the UK. A combi is a single cost-effective heating system that doesn't need to be installed alongside any additional tanks or cylinders. Great news if your property has limited space available.
They deliver instant heating and hot water on demand as and when needed without the need for any tanks or cylinders. As a result, they're perfectly suited to homes with 1-2 bathrooms (depending on the output rating).
While combi boilers have a number of benefits, there are some considerations that need to be made too. As combi boilers take water directly from the mains, you will need a high water pressure at your property. Otherwise, the hot water that comes out of the tap will always be weak. Also, they're unable to deliver a strong supply of hot water to more than a single tap at a time (in most cases) which is why they're best suited to smaller properties.
System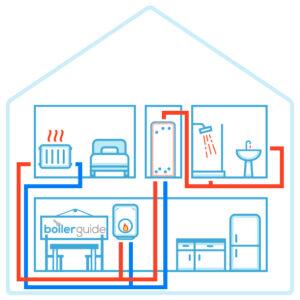 A system boiler is a great option for homes with 2 or more bathrooms and a high demand for hot water. This is because, rather than heating water on demand, they store it in a hot water cylinder. If your property has a high demand for hot water then it's well worth the additional space.
While storing hot water in a cylinder does allow a system boiler to meet higher demands for hot water, there will be times when you need to wait for it to fill back up. This may, on occasion, postpone your bath for a little while – a problem you won't face with combi boilers.
Regular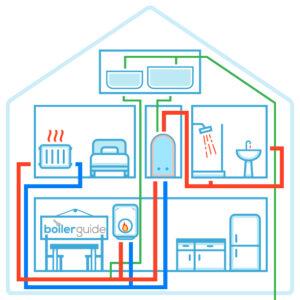 The regular boiler goes under many names. There's open-vent, heat-only and conventional to name a few. They're the oldest boiler type available and are commonly found in older properties built in the 1960s and 70s.
Like a system boiler, regular boilers heat water for storage in a cylinder. However, in addition to needing a hot water cylinder, a feed and expansion tank is also necessary. This tank is fitted in the loft and delivers cold water down to the boiler as they don't take water directly from the mains.
As they're large heating systems in need of an extensive pipe network, they're only recommended for properties where this boiler type is already installed.
Not sure which boiler type is best suited to your home? Then you should seek the expert advice of a fully-qualified heating engineer. Get free quotes today.
2. Research the best boiler brands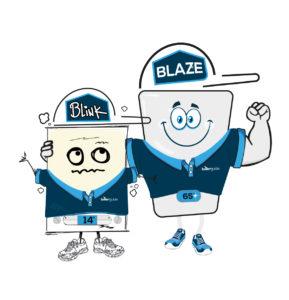 Once you've decided on the right type of boiler for your home then you'll need to select a model from one of the many UK boiler manufacturers.
The best boiler manufacturers in terms of homeowner reviews and installer feedback are widely considered to be:
Each of these manufacturers all 3 boiler types, mainly gas-fueled but with a couple offering oil boilers too.
| Boiler Manufacturer | Fuels | Combi | Regular | System |
| --- | --- | --- | --- | --- |
| ATAG | Gas | ✔ | ✔ | ✔ |
| Baxi | Gas | ✔ | ✔ | ✔ |
| Ideal | Gas | ✔ | ✔ | ✔ |
| Vaillant | Gas | ✔ | ✔ | ✔ |
| Viessmann | Gas & oil | ✔ | ✔ | ✔ |
| Worcester Bosch | Gas & oil | ✔ | ✔ | ✔ |
3. Choose the right size of boiler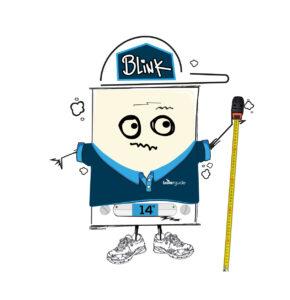 Getting boiler size right is vital. And by boiler size, we mean its power, which is measured in kilowatts (kW).
A suitable output for the boiler installed in your property will be determined by the size of your property and the number of people living in it. Getting the output rating right is essential. Otherwise, if it's too low it will struggle to meet demand and if it's too high then your heating bills could shoot up unnecessarily.
So, how do you know which output rating is best suited to your home? Well, below is a boiler sizing rule of thumb which you can use to get an idea of the right size boiler for your home.
| Type of House | Recommended Boiler Type | Bedrooms | Bathrooms | Radiators | Suitable Central Heating Output Rating |
| --- | --- | --- | --- | --- | --- |
| Small house, flat or bungalow | Combi | 1-2 | 1 | Up to 10 | 24-27 kW |
| Medium bungalow or semi-detached house | System | 3-4 | 2-3 | 10-15 | 28-34 kW |
| Large semi-detached or detached house | System or regular | 4+ | 2 | 15-20 | 35-42 kW |
The above is very much a rule of thumb, you should always have your home's hot water demand assessed by a professional before going ahead with a boiler replacement.
4. Choose a place for your boiler
Modern boiler installations can be incredibly flexible. Giving you the freedom to choose where you'd like your boiler to be installed. Having it installed in a kitchen or utility room is by no means a requirement.
Most boilers manufactured nowadays are designed to be as compact as possible. So they won't take up too much space and many can be hidden away in a wall-mounted cupboard.
One necessity of gas and oil boiler installations is that they must be installed onto an external wall. This is so that waste gases can be easily emitted out and away from the property through the flue pipe.
Note that moving a boiler from one location to another will add to the costs of a boiler replacement.
5. Set your budget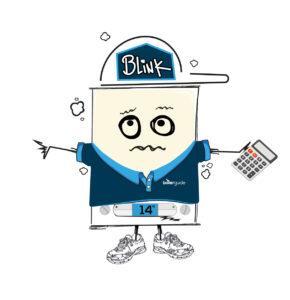 For many people, choice is often dictated by budget. Therefore, it's important to be clear on your budget - and, more importantly, make sure you stick to it.
The price of buying a new boiler will depend on several things, including:
Manufacturer, range and model
Boiler type (combi, system or regular)
Output rating (this determines how powerful the boiler will be and is measured in kW)
On top of the cost of the boiler itself, you'll also need to think about the installation. Boiler installation prices can also vary greatly, thanks to factors such as:
Rates charged by the installer
Time of year
Difficulty of the installation
Whether the boiler is being moved to a new location
Whether it's a like-for-like boiler replacement (replacing a combi with a combi, for example)
With so many variables that can have an impact on the total cost of buying a new boiler, comparing quotes is vital. Take a look at the table below to see how much you might expect to pay.
| Type of Boiler | Boiler Cost (excluding installation) | Average Cost to Install | Estimated Total Cost of a Full Boiler Replacement |
| --- | --- | --- | --- |
| Combi | £500 - £2,000 | £500 - £1,000 | £1,000 - £3,000 |
| System | £500 - £2,500 | £500 - £1,000 | £1,000 - £3,500 |
| Conventional | £500 - £2,750 | £500 - £1,000 | £1,000 - £3,750 |
6. Check the warranty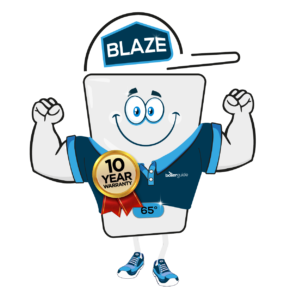 A boiler warranty will give you the peace of mind that you're covered in the unlikely event of an issue. All UK boiler manufacturers offer warranties on their boilers. However, the terms and length of the warranty will both vary depending on the manufacturer and model.
Boiler warranties typically vary from 1-10 years with some now going beyond 10 years. At the time of writing, ATAG boilers come with a 14 year warranty – the longest of any boiler available in the UK.
| Boiler Manufacturer | Longest Available Warranty |
| --- | --- |
| ATAG | 14 Years |
| Baxi | 10 Years |
| Ideal | 12 Years |
| Vaillant | 10 Years |
| Viessmann | 10 Years |
| Worcester Bosch | 12 Years |
The warranty of some boilers can be extended when installed by a heating engineer certified by the manufacturer. So it's worth asking the heating engineers who quote on your job about the warranties they can offer.
Compare the best boiler warranties.
7. Compare at least 2 quotes
Before buying a new boiler, we highly recommend comparing quotes from at least 2 heating engineers. Taking the time to compare multiple quotes will put you in a great position when it comes to finding the right company for the job.
Not only that but comparing quotes will give you the greatest chance of securing the most competitive price. If you were to receive and accept a single quote then you wouldn't know if you were being overcharged.
8. Check your installer's qualifications & reviews
The heating engineer you hire to install your new boiler must be fully-qualified. This means hiring a Gas Safe registered engineer for gas boiler installations. Oil boilers must be installed by an OFTEC technician.
To make sure the installer is suitably qualified, you can check online. This means visiting the Gas Safe register and looking up the company that you're considering. In addition to this, always ask to see their ID card as soon as they arrive at your property.
All Boiler Guide heating engineers are fully certified and accredited and we check this on a daily basis.
As well as holding the right qualifications, it's a good idea to look through reviews from previous customers too.
When is the best time to replace your boiler?
The best time of year to replace your boiler is during the summer. Thanks to the higher temperatures at this time of year, you're far less likely to need the heating on. So going without it for 1-3 days (depending on the type of installation) will be far less noticeable than during the winter.
Plus, heating engineers tend to have more time in their diaries at this time of year. So, it could be easier for you to find a heating engineer and possibly even at a lower rate.
Don't wait to replace your boiler until your existing one completely breaks down. If this happens in the winter, it becomes an emergency situation and you won't have the time to really consider your options.
So plan ahead and consider buying a new boiler 8 years after installing your existing one.
Get free boiler quotes
We can help you get off to the best possible start when buying a new boiler. Our network of boiler installers stretches right across the UK and you can connect with installers in your area today.
Simply complete our online form – it will only take a minute – and you'll get free no-obligation quotes from up to 3 installers in your area.