What is OpenTherm Heating?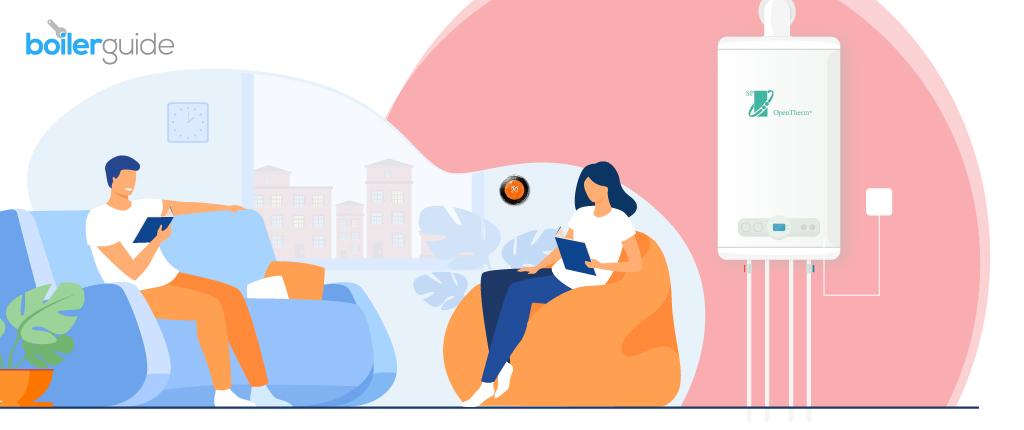 OpenTherm is a language spoken by many boilers and smart thermostats. With a modulating boiler and thermostat, that both speak OpenTherm, your home will be more comfortable than ever.
The language of OpenTherm was developed by Honeywell but can be used by any boiler or thermostat manufacturer. It's been around for many years (heating systems across Europe have been using OpenTherm for some time) but we've been a bit behind the pace here in the UK. Now you can enjoy the benefits of OpenTherm too.
How do 'normal' heating systems work?
Before we get into OpenTherm technology, it's good to know how heating systems with traditional on/off thermostats work. These are the type of thermostats most of us are used to using in the UK.
Let's say you set the thermostat to 21°C. At this point, your boiler will fire up and heat the water for your radiators until the room reaches your desired temperature.
Now, the problem we have here is that the boiler doesn't know the room temperature before the heating is turned on. It could be close to freezing or, it could be just shy of the desired temperature. If the heating system knows this then it can improve efficiency.
With a traditional room thermostat, the boiler would turn off as soon as the room reaches 21°C. At this point, the radiators will still be hot. So, the room will end up getting even hotter than the desired temperature – leaving you feeling a bit stuffy. This is known as 'overshoot'.
As time passes, the radiators will cool. But so will the temperature of the room. When the thermostat notices that the temperature is below what you want, the boiler will fire up again.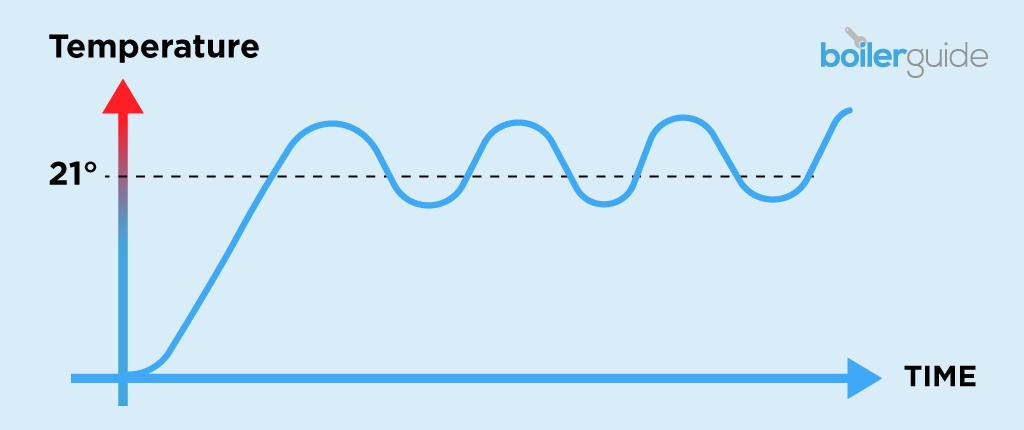 Without OpenTherm, it's hard for the heating to settle at your desired temperature.
This is something that most of us have become familiar with over the years: a boiler that keeps turning on and off as well as piping hot radiators. The thing is, this isn't efficient, puts strain on your boiler and your home is rarely at a comfortable temperature.
This is where smart thermostats and OpenTherm technology come in.
What is OpenTherm?
OpenTherm is a digital language that puts the boiler and thermostat in constant communication. This gives the boiler more information about the temperature of the room, which it can use to run more efficiently.
Most modern condensing boilers are modulating. This means they can run at more than one heating output (the output, otherwise known as the size of the boiler, shows the power of the boiler). So, the same boiler could run at 6 kW and 30 kW – which is a modulation ratio of 5:1. This is far more efficient as they don't need to run at a big output and high temperature (burning through more fuel) if there's no need.
Here's how OpenTherm works…
Let's say it's 5°C in your living room and you want the temperature up to 21°C. That's a big jump. So, the thermostat will tell the boiler to start out by heating the radiators to a high temperature – making them piping hot. Before OpenTherm and modulation, the radiators would stay at this temperature until the room reaches 21°C. But, as we now know, this isn't an efficient way of doing things.
As the room temperature gets closer to 21°C, the thermostat will tell the boiler to ease off on the heat. The boiler will lower the output rating and flow temperature so that the radiators aren't so hot. Then, once the desired temperature has been reached, it will be easier to maintain that temperature. This will give you far more comfort than if the boiler was to keep shutting off and firing up over and over again.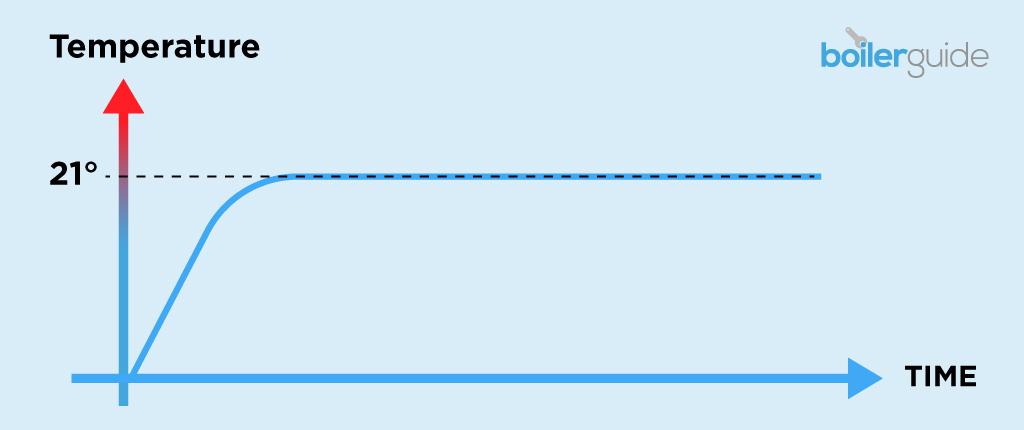 An OpenTherm heating system will keep your home at a consistent temperature.
By working this way, your boiler will remain on for longer but it will be heating water to a lower temperature. So, the radiators in the room(s) you're heating up won't always be piping hot (like we're used to), there will be times when they're warm. Don't worry, this is how it's supposed to work.
It's all good news so far. Your home will be more comfortable (you'll avoid feeling stuffy), you'll be saving on heating and you'll be doing your bit for the planet.
The trouble is, OpenTherm is a language and not all boilers speak it.
A quick one on modulation: Manufacturers have been battling to offer boilers with the widest modulation ratio possible. You'll find some boilers with a massive 10:1 modulation ratio. This sounds great but there's a case to be made as to whether it's necessary. It's rare that a 30 kW boiler would ever need to run at 3 kW, for example.
What are the benefits of using OpenTherm?
At first, an OpenTherm heating system can take a bit of getting used to. Especially when the radiators aren't so warm. But you'll soon realise the many benefits of OpenTherm heating:
You'll be saving money on your heating bills
Your home will be more comfortable (no more 'too hot' or too cold')
Reduces the chance of boiler problems as it won't be turning on and off over and over again
You won't need to think about a replacement boiler as soon
Check on the performance of your boiler on your smartphone (some thermostats will even let you know about a specific boiler problem)
A heating engineer may even be able to find the cause of an issue from their phone without visiting your property
Meets Boiler Plus legislation
What's Boiler Plus?
Boiler Plus is a policy that was brought in to improve the efficiency of heating systems. For a new boiler to meet this standard, it must be at least 92% efficient and include time and temperature controls.
In addition, any combi boiler installation must also include one of these:
Weather compensation
Load compensation
Flue Gas Heat Recovery
Smart controls
If your new boiler installation doesn't meet Boiler Plus then you could end up having to pay a fine. So, make sure you're up to speed with our Guide to Boiler Plus.
Which boilers speak OpenTherm?
OpenTherm technology can be used by any boiler or smart control manufacturer. So any boiler or smart thermostat that hits the market can be OpenTherm compatible. Most do this but not all.
You can compare boilers by these manufacturers with our Boiler Comparison Tool.
Do I have an OpenTherm boiler?
The quickest way to find out is by looking for an OpenTherm logo on your boiler. If you can't see one then it's probably not an OpenTherm boiler. But it's worth checking the manual or giving the manufacturer a quick call to double check.
---
---
OpenTherm smart thermostats
As well as an OpenTherm boiler, you'll also need OpenTherm smart controls. These are some of the best on the market:
Honeywell Evohome
Heatmiser Neo
Nest Learning Thermostat 3rd Generation
Nest Thermostat E
Salus RT520RF
Tado
Wiser Thermostat Kit 1, 2 and 3
One of the most popular smart thermostats is the Hive Active Heating 2 but for all its features, it doesn't have OpenTherm.
Thermostats by boiler manufacturers
Some boiler manufacturers also make thermostats. These have been designed to work with their own range of boilers. So, a Baxi thermostat wouldn't work with a Worcester boiler, for example. The most popular include:
Baxi uSense
Ideal Halo
Vaillant vSmart
Worcester Wave
It's worth knowing that you can still pair a Vaillant or Worcester boiler with another brand's smart thermostat. However, as these boilers don't speak OpenTherm, they won't be able to modulate the heating.
More thermostat features
As well as OpenTherm, there's also weather and load compensation, which can help your boiler to run in a more efficient way.
Weather compensation
The heating system will keep your home at a comfortable temperature by changing the flow temperature in line with outdoor temperatures. So, if it's warm outside, the boiler won't heat the water it sends to the radiators to such a high temperature.
Load compensation
This tells the boiler how far apart the room temperature and desired temperatures are. So, if it's 10°C in your living room and you set the thermostat to 21°C, the boiler will know it needs to heat up the room by 11°C. This means the boiler will never use more fuel than is needed.
| Smart thermostat | Weather compensation | Load compensation |
| --- | --- | --- |
| Honeywell Lyric T6 | ✔ | |
| Heatmiser Neo | ✔ | ✔ |
| Nest Learning Thermostat, 3rd Generation | ✔ | ✔ |
| Nest Thermostat E | ✔ | ✔ |
| Salus RT520F | ✔ | ✔ |
| Tado | ✔ | |
| Wiser | ✔ | ✔ |
Pairing your boiler with a smart thermostat gives you a smart boiler. Use our guide to compare the Best Smart Thermostats.
Can OpenTherm reduce emissions?
Modulating condensing boilers burn less fuel than non-condensing boilers that can't modulate. When a boiler isn't burning so much fuel, it will emit less carbon into the atmosphere. Research by Danfoss found that an OpenTherm heating system can cut emissions by 15% – that's quite a chunk.
So, OpenTherm may have a big role to play in the future of home heating.
In better news for cutting emissions, OpenTherm can work with low-carbon heating systems, such as air source and ground source heat pumps too. So, however we heat our homes in the future, OpenTherm will be there to help them run efficiently.
Is OpenTherm worth it?
There's no doubt that OpenTherm would be a great addition to your home. You'd be more comfortable, save money on your heating bills and, shrink your carbon footprint, all at the same time.
So, when the time comes to replace your heating system, make sure the boiler and thermostat are both fluent in OpenTherm. If the time for a new heating system is now then you're in the right place.
By taking a moment to go through our simple online form, you can get free quotes for a new boiler from heating engineers near you. As soon as you've let us know a few details about the job, we'll get to work matching you with qualified installers. Then, up to three will be in touch to give you a free quote.
Getting more than one quote means you can compare them and be confident that you're getting the most competitive price from the best person for the job.