Santon Unvented Cylinders
About the Brand

Originally the Santon brand was established in South Wales and for over 90 years they have been producing quality products for the heating industry. The brand is now owned by Heatrae Sadia as part of the BDR Thermea Group.
Santon manufacture water heating products for both commercial and domestic settings as well as instant water heaters and combination water storage.
PremierPlus Unvented Cylinders
Santon have positioned their PremierPlus unvented cylinders at the budget end of the price scale, but they still deliver the same high quality construction and reliability as many of their more costly competitors. The PremierPlus is made from high grade Duplex stainless steel which is covered by a 30 year guarantee against corrosion. These cylinders require an external expansion vessel
The PremierPlus is available as both an indirect and direct model in 5 capacities from 100 to 300 litres. The largest cylinders are capable of supplying a 3 bedroom house with up to 2 bathrooms. The PremierPlus Solar is also an option for homeowners who have or would like the option to of solar power to heat their water for free and reduce energy bills.
Santon PremierPlus Unvented Cylinders
| Model | Available Capacities (litres) | Direct Model Available? | Description |
| --- | --- | --- | --- |
| PremierPlus | 100, 120, 150, 170, 210, 250, 300 | Yes | The PremierPlus is also available as a SystemFit model which offers the same benefits as the PremierPlus but has been pre-plumbed and pre-wired to speed up and simplify installation. |
| PremierPlus Solar | 170, 210, 260, 300 | Yes in capacities 190, 210, 250, 300 litres | This cylinder can be powered by a gas, oil or electric boiler, the immersion heater within the cylinder and a solar energy system. |
Key Features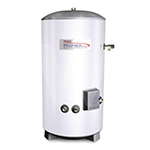 Duplex Stainless steel construction for corrosion protection
Designed with easy installation in mind to save time and money
High efficiency 'coil-in-coil' heat exchanger for powerful heating performance
Mains pressure hot water for balanced supply to showers and mixers
Pressure tested to over 1½ times its maximum operating pressure
Integrated cold water controls include pressure reducing valve and strainer, expansion relief valve and check valve which are incorporated into one to reduce installation time and improve flow rate.
PremierPlus Warranty
The PremierPlus cylinder vessel is covered by a 30 year guarantee if the installation and ongoing maintenance meets certain conditions. However, this warranty does not include the coldwater control value or expansion vessel which are covered by a 5 year guarantee and all other components which are guaranteed for 2 years.
PremierPlus Unvented Cylinder Cost
Santon PremierPlus cylinders sit at the lower cost end of the scale is likely to cost in the region of £400 – £800 (on average) depending on the model and capacity you need. You will also need to factor in the cost of installation which will vary from installer to installer.
Complete our simple enquiry form to get free quotes from up to 3 qualified and reputable engineers in your area. By comparing quotes you can identify the best price vs performance ratio for you and potentially save a significant amount of money.