ACV E-Tech W 15kW Tri Electric Boiler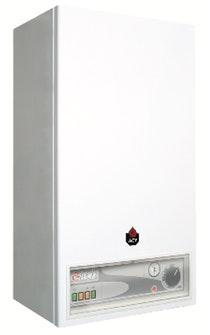 Typical Price (inc VAT)
£1,160
Typical installation Cost (inc VAT)*

£500 - £1000
Sundries (Filter, Flue, etc)

£300
Total Cost
£1,960 - £2,460
| | |
| --- | --- |
| Make | ACV |
| Model | E-Tech W 15kW Tri Electric Boiler |
| Is Condensing | N/A |
| Efficiency Rating | 37% |
| Band Rating | D Heat |
| LPG Compatible | No |
| Standard Warranty | 1 Year |
| Central Heating Max. Output | 15kW |
| Mounting | Wall Mounted |
| Flow Rate | N/A |
| Typical Price (inc VAT) | £1,160 |
| Typical installation Cost (inc VAT)* | £500 - £1000 |
| Sundries (Filter, Flue, etc) | £300 |
| Total Cost | £1,960 - £2,460 |
* This is a guide price for a straightforward, like-for-like boiler replacement. Installation costs will vary dependent on work required.
Product Description
The E-Tech W Tri is a highly reliable electric boiler designed and manufactured by ACV and is perfect for homes looking for an alternative to gas.
Why choose an electric boiler?
Installing an electric boiler comes with many benefits and is a great alternative to gas and oil, supplies of which are running low. Using electricity to heat your home doesn't produce any emissions, there's no risk of a carbon monoxide leak and they can respond quickly to demand for heating and hot water.
Why is electric boiler efficiency different to gas?
Electric boilers often have an efficiency rating of 99-100% while gas an oil boilers can rarely exceed 93%. The efficiency rating of electric boilers means that for every £1 being spent on heat your home, almost none is wasted. Gas and oil boilers, on the other hand, will be wasting around 7p for every £1.
Despite this, electric boilers have a lower ErP rating of D compared to the A awarded to gas and oil boilers.
The ErP is lower on an electric boiler for a couple of reasons one is because electricity is expensive (13.19p/kWh for a standard electricity tariff and 3.48p/kWh for gas according to Standard Assessment Procedure 2012) and the second is Electricity is considered a carbon intensive fuel. The emissions of natural gas production, before being delivered to the home, is 0.216kg of CO2 per kilowatt-hour (kWh). Meanwhile, emissions from electricity generation is 0.519 kg of CO2 per kWh, that's more than double the emissions from natural gas and, as a result, electricity is considered more carbon intensive than natural gas.
You can find more about this in our article electric
Boiler Efficiency Explained.
Could the E-Tech help to save me money?
Choosing an electric boiler over a gas boiler will make the installation simpler and potentially save you money before it's even heating your home and hot water. Once installed, there's no need for an annual service (although they are recommended) and there are fewer moving parts.
However, running electric boilers can be slightly more costly. This is because electricity generation is considered carbon intensive as the vast majority is produced using fossil fuels which releases carbon into the atmosphere - more so than natural gas. As a result, electricity has a high fuel factor which increases the running costs and gives electric appliances a low ErP rating.
How efficient is the E-Tech boiler?
The E-Tech has an efficiency rating of 37% and an ErP D-rating.
Where can this boiler be installed?
Electric boilers are well known for being flexible when it comes to the installation and this is because there's no need for a flue as they don't need to expel waste gases, which would mean having to be installed on an external wall.
Does the range include any alternative options?
In addition to this 15 kW model, the E-Tech range of electric boilers also includes output ratings of 22 kW, 28kW and 36kW to make finding the right model for your home easier.
What are the key features of E-Tech electric boilers?
The E-Tech electric boiler is ready out of the box, comes equipped with a 10 litre expansion vessel, pressure gauge, safety valve, low water pressure switch HEP-pump, an automatic air vent, removable heating elements, a modulation based on heating demand and built in control circuit protected by internal 3 amp MCB so you can be sure you're getting a highly reliable unit that won't let you down.
How long is the warranty period?
E-Tech electric boilers are covered by a 1 year warranty to give you the peace of mind that you're covered after the installation.