Ferroli Optimax HE 38 C Combi Gas Boiler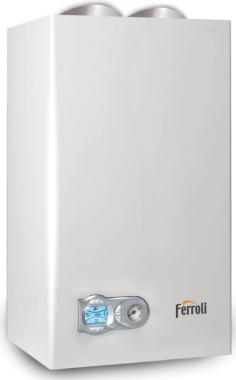 Typical Price (inc VAT)
£699
Typical installation Cost (inc VAT)*

£500 - £1000
Sundries (Filter, Flue, etc)

£300
Total Cost
£1,499 - £1,999
This boiler is discontinued.
| | |
| --- | --- |
| Make | Ferroli |
| Model | Optimax HE 38 C Combi Gas Boiler |
| Is Condensing | Condensing |
| Efficiency Rating | 90.5% |
| Band Rating | A Rated |
| LPG Compatible | Yes |
| Standard Warranty | 5 Years |
| Central Heating Max. Output | 30kW |
| Mounting | Wall mounted |
| Flow Rate | 15.4 l/min |
| Typical Price (inc VAT) | £699 |
| Typical installation Cost (inc VAT)* | £500 - £1000 |
| Sundries (Filter, Flue, etc) | £300 |
| Total Cost | £1,499 - £1,999 |
* This is a guide price for a straightforward, like-for-like boiler replacement. Installation costs will vary dependent on work required.
This boiler is discontinued.
DISCONTINUED. The Ferroli Optimax combination boilers offer the perfect solution for all domestic installations. This reduces the requirement for a space consuming hot water storage tank by heating water directly from the mains supply. This makes combi boilers an exceptionally efficient solution only heating water as it is required.
This boiler is discontinued.
Installed christmas 5years ago and its on its last legs . Constants leaks from cheap union's and plastic parts with over priced spares just waiting for a terminal problem and its going . I would not recommend one unless you need a boiler the same day lol .
Optimax HE 38C. I had this put in Nov 2008 and lived to regret it. Numerous faults and now its been riooed out due to a fault with the heat exchanger. It lost pressure and a plumberwrongly advised me there was a leak in the system. 20 hours of looking before we realised the water was actuslly escaping via the condensing pipe. So heat exchanger and an unknown underlying problem. 5 years and its scrapped. Ferroli never again
This is the second Ferroli boiler that we have had. The first was trouble free for 10 years, so we made the awful decision to buy another (5 yr Warranty....) It has been nothing but trouble since it was installed, it has broken down more than once per year, every year, despite servicing even the install plumber will not do business with them again. Every year at around Sept (ie when you start to need the heating) the boiler packs up and we go through the painful process of getting Ferroli to get someone out to fix it. Usually not one of their own engineers but a Sub contractor. As I write this it has packed up again, no hot water or heating *again*. We have had just about every part replaced except the outer case, valves, electronics, igniters, you name it... it would have been much more cost effective for them to just taken this pile of scrap away and given me a (hopefully) trouble free one. I could not possibly recommend this company or their products to anyone - I am at thr point where I am going to have to scrap it myself even within the warranty period & buy a Worcester
Appaling service capability, engineers arrive, miss things blame previous engineer, fitters, weather... anything but the boiler. Two faulty clocks, dodgy het transfer system and appauling attitude. Think twice about Ferroli. No surprise the management team is swapped out this November.
Called for a enginer to look at a clock on the boiler, he came nexst day to repaire,Realy please
This boiler is discontinued.