Intergas Combi Compact ECO RF 36kW Gas Boiler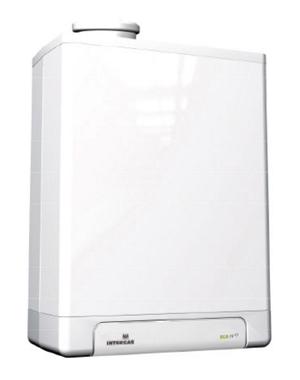 Typical Price (inc VAT)
£990
Typical installation Cost (inc VAT)*

£500 - £1000
Sundries (Filter, Flue, etc)

£300
Total Cost
£1,790 - £2,290
| | |
| --- | --- |
| Make | Intergas |
| Model | Combi Compact ECO RF 36kW Gas Boiler |
| Is Condensing | Condensing |
| Efficiency Rating | 94% |
| Band Rating | A Rated |
| LPG Compatible | Yes |
| Standard Warranty | 10 Years |
| Central Heating Max. Output | 30 kW |
| Mounting | Wall Mounted |
| Flow Rate | 13 l/min |
| Typical Price (inc VAT) | £990 |
| Typical installation Cost (inc VAT)* | £500 - £1000 |
| Sundries (Filter, Flue, etc) | £300 |
| Total Cost | £1,790 - £2,290 |
| ERP Rating | A Heat A Water |
| Hot Water Max. Output | 32.7 kW |
* This is a guide price for a straightforward, like-for-like boiler replacement. Installation costs will vary dependent on work required.
Product Description

The Combi Compact Eco RF 36 gas boiler is made and manufactured by Intergas. This unit is condensing, wall mounted, and being a combi it supplies both hot water and heating on demand by using the mains water supply.

How efficient is the ECO RF boiler?

A seasonal space heating efficiency rating of 94% makes this an ErP A-rated unit for heat, it's also A-rated for hot water too as it provides a flow rate of 13 litres per minute.

Will this size of boiler suit my home?

An output rating of 36kW makes this boiler best suited to larger homes with 2+ bathrooms and a higher demand for heating and hot water.

Where can this boiler be placed?

As a compact wall-mounted boiler, the Intergas ECO RF can fit within a standard kitchen cupboard to be kept out of sight and out of mind.

Will this money save me money?

This is a highly efficient boiler designed to cut down energy bills and will also reduce installation costs thanks to being easy to install.

Is a combi boiler suitable for my home?

Combi boilers are great for smaller properties where space is limited as they don't require an external water tank or cylinder since everything is wrapped up into a single cost-effective unit.

What features does this boiler comes with?

This boiler comes with a unique 2 in 1 heat exchanger, virtually no standby losses (<2.0 watt),innovative control system for maximum control, just 12 components and 4 moving parts, connection to the Honeywell wireless room thermostat and to help save you money on the annual service, Intergas ECO RF boilers are now available with a new service protocol. This feature removes the need for an annual boiler service, as the unit can instead be serviced after 1,700 hours of operational use.

Through RF technology within the boiler, alongside the Intergas LAN Gateway, it enables your installer to track your boiler performance remotely. This is a completely optional feature but could give you that extra peace of mind that your Intergas boiler is running safely and efficiently.

What options does this boiler come with?

As well as this 36 kW model, the Intergas ECO RF boiler range also includes outputs of 24 kW and 30 kW, giving homeowners with a lower demand for heating and hot water an option too. This boiler is also available as a natural gas or LPG unit.

How long is the warranty period?

Available with a 5 year warranty as standard and a 10 year warranty on the heat exchanger, the Intergas Combi Compact ECO is comprehensively covered.
Stay away from this boiler. I was convinced to buy this boiler as considered one of the best on the market. Though it is not true. It may be easy to install, that is why is so recommended. It doesn't heat so well so it needs to be more hours on so consume will increase a lot. It is the same as my old boiler that wasn't a combi, though could heat the house in few minutes in the max power and this doesn't. Using it is impossible as it can only be controlled by the app, the only manual option is on/off. Check the app Confort Touch at the play store and take your conclusions. You can't schedule time or control the temperature, I mean you can but it doesn't work.
One of the best boilers I have fitted. The Intergas boilers are of an unique design in that the main heat exchanger heats the incoming mains water directly and therefore it is the only combination boiler without a secondary heat exchanger. Because of its unique design the boiler has only four moving parts, reducing the possibility of parts failure. It has an impressive 18 litres flow rate which is good enough to service two bathrooms.
The boiler comes RF ready to commicate with a honeywell program able room station which means that the wiring is as easy as wiring the pre-fitted flylead into a socket.
The pipe layout is very spacious and is set up on a gig which makes it easier for piping.
A few minor points about installation. The flue is off set to the left so as a replacement you will have to buy an off set flue kit as opposed to their standard flue to use the previous boilers flue outlet. The installation manual has a few errors but the technical support is extremely helpful.
The customers of 4 Intergas compact Eco 36 RF I have fitted so far have been extremely impressed by its performance. I have also fitted a number of other Intergas boilers from their range that have been equally impressive.
I will continue to fit them where customers want reliability and performance.