Navien LCB700 36kW External Regular Oil Boiler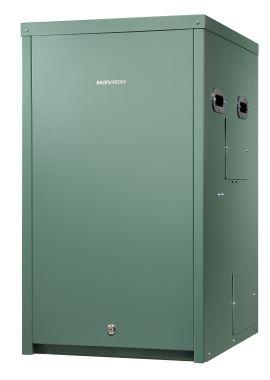 Typical Price (inc VAT)
£N/A
Typical installation Cost (inc VAT)*

£1000 - £1500
Sundries (Filter, Flue, etc)

£300
| | |
| --- | --- |
| Make | Navien |
| Model | LCB700 36kW External Regular Oil Boiler |
| Is Condensing | Condensing |
| Efficiency Rating | 93% |
| Band Rating | A Rating |
| LPG Compatible | No |
| Standard Warranty | 10 Years |
| Central Heating Max. Output | 36kW |
| Mounting | Floor Standing |
| Flow Rate | N/A |
| Typical Price (inc VAT) | £N/A |
| Typical installation Cost (inc VAT)* | £1000 - £1500 |
| ERP Rating | A Heat |
* This is a guide price for a straightforward, like-for-like boiler replacement. Installation costs will vary dependent on work required.
Product Description

Designed and manufactured by Navien, the LCB700 is a highly reliable external condensing regular boiler that runs on oil.

How efficient are LCB700 oil boilers?

A seasonal efficiency of 93% and ErP A-rating make LCB700 boilers highly efficient units.

Will this size boiler suit my home?

An output rating of 36kW makes this LCB700 suitable for larger homes with 2+ bathrooms and a high demand for heating and hot water.

What options are available in the LCB700 range?

While this LCB700 boiler is an external regular boiler, the range also includes units designed for internal installation as well as system boiler. There are also multiple output ratings in addition to the 36 kW boiler: 21 kW and 28 kW. So, if a 36 kW boiler would be too powerful for your home, there's likely to be another unit in the LCB700 range for your home.

Where can this boiler be installed?

LCB700 boilers have been designed for outdoor installation in a back garden - internal models are available too. An external boiler will help to save space in your home and the compact size means that you won't lose much room in the garden.

Could an LCB700 boiler save me money?

Thanks to being able to perform at high levels of efficiency, LCB700 boilers can help to keep your energy bills down. The 93% seasonal efficiency rating means that for every £1 you spend on your energy, the LCB700 provides 93p worth of heating only losing a marginal amount in the process - a substantial saving compared to older boilers. As well as this, it is a compact unit that weighs 67kg allowing an easy installation that can save you both time and money.

Is a regular boiler suitable for my home?

Regular boilers are installed as part of a central heating system that incorporates a boiler, extended controls, a hot water cylinder - which is often fed by a cold water storage cistern located in the loft - and a feed and expansion cistern, also located in the loft. As a result of needing all these parts, they're not suited to properties where space is limited and are best placed in homes with a high demand for heating and hot water.

What are the key features of the Navien LCB700?

Navien LCB700 boilers have many key features and offer the revolutionary power of blue flame technology. Features of the LCB700 include smart controls with a text-driven menu for greater comfort and control, a 2-channel system with separate options for heating and water temperatures, zone control that makes it possible to set up 3 areas of the home as zones and control each one. This unit features venting up to 110m (Big Ben is 96m) with a centralised flue provided as well as a coaxial or twin flue system. Additional features include a stainless steel heat exchanger that will increase boiler life as well as lowering running costs, a combined pipe for PRV and condensate drain to reduce the number of pipes without compromising performance, a fuss-free flue, the lowest NOx emissions on a boiler (57mg/kWH), a geofencing capability means that the heating will turn on or off depending on your location and a smart forecast so that the boiler can heat your home according to the forecast and weather outside.

How long is the LCB700 warranty period?

LCB700 boilers are available with a 10 year warranty as standard, so you can have peace of mind long after it's been installed.