Need a new boiler?
Get FREE no-obligation quotes now!
Get FREE no-obligation quotes now!
No delays! Get quotes today

Compare quotes & get the best prices

Gas Safe & OFTEC registered engineers
The smarter way to find approved boiler engineers
What
work do you require

?

Fuel type
Boiler type
Manufacturer
Viessmann Vitodens 100-W B1HC 35kW System Gas Boiler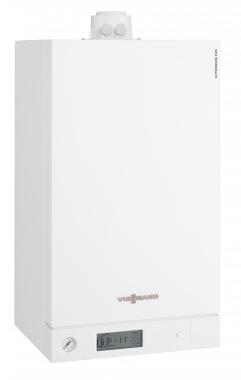 Typical Price (inc VAT)
£1,175
Typical installation Cost (inc VAT)*
£500 - £1,000
Total Cost
£1,675 - £2,175
| | |
| --- | --- |
| Make | Viessmann |
| Model | Vitodens 100-W B1HC 35kW System Gas Boiler |
| Is Condensing | Condensing |
| Efficiency Rating | 94% |
| Band Rating | A Rated |
| LPG Compatible | Yes |
| Standard Warranty | Up to 5 years |
| Central Heating Max. Output | 35 kW |
| Mounting | Wall Mounted |
| Flow Rate | N/A |
| Typical Price (inc VAT) | £1,175 |
| Typical installation Cost (inc VAT)* | £500 - £1,000 |
| Total Cost | £1,675 - £2,175 |
| ERP Rating | A Heat |
Product Description
Designed and manufactured by Viessmann, the Vitodens 100-W is a condensing system gas boiler with a powerful central heating output rating of 35 kW.
How efficient is the Vitodens 100-W 35?
If you're looking for a system boiler that could help to lower your heating bills then this model performs at an efficiency of 94% meaning that it has an ErP A-rating.
Is the output rating suitable for my home?
A 35 kW output rating makes this a powerful system boiler which can meet the heating demands of larger properties with around 20 radiators.
Are any alternative options available in the Vitodens 100-W range?
There's no shortage of options when it comes to the Viessmann Vitodens 100-W range. System boilers are also available in outputs of 19 kW, 26 kW and 30 kW. Then there are also combi and regular boilers available too.
Is a system boiler the right choice for my home?
A system boiler is a great option for homes with multiple bathrooms and a high demand for hot water. This is because they store hot water in a cylinder until its needed. While higher demand can be met than a combi boiler, more space is needed for the installation of a cylinder.
How long is the warranty period?
Available with a 5 year warranty as standard, you have the option to extend this to 10 years if you choose to have the boiler installed by a Viessmann Trained installer.
What are the key features of Vitodens 100-W boilers?
A touchscreen display gives you greater control, a low fan speed guarantees quiet operation, reliability is ensured by the stainless steel Inox-Radial heat exchanger and optional room thermostats are also available.
How big is the Vitodens 100-W system boiler?
This is a lightweight and compact boiler with dimensions of only 700 x 400 x 350mm (HxWxD) which will contribute to a quick and straightforward installation. The B1HC Vitodens 100-W is a system gas boiler by Viessmann. This boiler is a wall mounted condensing boiler, that comes with an output of 35kW and an efficiency rating of 89.4% (making it an B rated boiler).
It comes in sizes from 4.7 to 35kW. It is controlled by the backlit LCD touchscreen, and with this boiler you can be sure you're always in control as it makes it easy to use as well as easy to read where light may be limited.
It also has a constant temperature control and weather compensated operation (the outside temperature sensor is required for this). This unit has a modulation range of up to 1:6 and with it having a modulating cylinder burner. It is able to have multiple boilers installed on one chimney system. This boiler comes with 5 years warranty giving you the added security that you have bought a reliable boiler
Get quotes to supply and fit a new
* This is a guide price for a straightforward, like-for-like boiler replacement. Installation costs will vary dependent on work required.
Great to install, commission and service afterwards, with all the features you want on a boiler.
Why not compare these similar boilers?
Boiler Model
kW
Efficiency
Warranty
Typical Price

Best Sellers

Viessmann Vitodens 200-W B2HE 11kW System Boiler
11 kw
92%
Up to 10 years
£1,344
Viessmann Vitodens 200-W B2HE 19kW System Boiler
19 kw
93%
Up to 10 years
£1,500
Viessmann Vitodens 200-W B2HE 25kW System Boiler
25 kw
94%
Up to 10 years
£1,550
Viessmann Vitodens 200-W B2HE 32kW System Boiler
32 kw
94%
Up to 10 years
£1,650
Viessmann Vitodens 200-W B2KE 30kW Combi Gas Boiler
25.4 kw
94%
Up to 10 years
£1,550
Viessmann Vitodens 200-W B2KE 35kW Combi Gas Boiler
32 kw
94%
Up to 10 years
£1,600

Available

Viessmann Vitodens 100-W B1KC 30kW Combi Gas Boiler
30 kw
94%
Up to 10 years
£1,095
Viessmann Vitodens 100-W Compact WB1B 13kW Regular Gas Boiler
13 kw
94%
Up to 10 years
£845
Viessmann Vitodens 100-W Compact WB1B 35kW Regular Gas Boiler
35 kw
94%
Up to 10 years
£1,200
Viessmann Vitodens 050-W BPJD 29kW Combi Gas Boiler
24 kw
93%
Up to 7 years
£800
Viessmann Vitodens 100-W B1HC 19kW System Gas Boiler
19 kw
94%
Up to 10 years
£995
Viessmann Vitodens 111-W B1LD-26 Storage Combi Gas Boiler
26 kw
94%
Up to 10 years
£1,676
Viessmann Vitodens 222-F B2TE 19kW Storage Combi Gas Boiler
19 kw
92%
Up to 10 years
£2,560
Viessmann Vitodens 050-W BPJD 35kW Combi Gas Boiler
33 kw
93%
Up to 7 years
£890
Viessmann Vitodens 100-W B1KC 26kW Combi Gas Boiler
26 kw
94%
Up to 10 years
£1,125
Viessmann Vitodens 100-W B1KC 35kW Combi Gas Boiler
35 kw
94%
Up to 10 years
£1,175
Viessmann Vitodens 111-W B1LD-35 Storage Combi Gas Boiler
35 kw
94%
Up to 10 years
£1,700
Viessmann Vitodens 100-W B1HC 26kW System Gas Boiler
26 kw
94%
Up to 10 years
£995
Viessmann Vitodens 100-W B1HC 30kW System Gas Boiler
30 kw
94%
Up to 10 years
£1,100
Viessmann Vitodens 100-W B1HC 35kW System Gas Boiler
35 kw
94%
Up to 5 years
£1,175
Viessmann Vitodens 222-F B2TE 25kW Storage Combi Gas Boiler
25 kw
92%
Up to 10 years
£2,700
Viessmann Vitodens 222-F B2TE 35kW Storage Combi Gas Boiler
32 kw
92%
Up to 10 years
£2,975
Viessmann Vitodens 100-W Compact WB1B 16kW Regular Gas Boiler
16 kw
94%
Up to 10 years
£900
Viessmann Vitodens 100-W Compact WB1B 19kW Regular Gas Boiler
19 kw
94%
Up to 10 years
£900
Viessmann Vitodens 100-W Compact WB1B 26kW Regular Gas Boiler
26 kw
94%
Up to 10 years
£900
Viessmann Vitorondens 200-T 20kW System Oil Boiler
20.2 kw
97%
7 years
£N/A
Viessmann Vitorondens 200-T 24kW System Oil Boiler
24.6 kw
97%
7 years
£N/A
Viessmann Vitorondens 200-T 28kW System Oil Boiler
28.9 kw
97%
7 years
£N/A
Viessmann Vitorondens 200-T 35kW System Oil Boiler
35.4 kw
97%
7 years
£N/A
Viessmann Vitorondens 200-T 42kW System Oil Boiler
42.8 kw
97%
7 years
£N/A
Viessmann Vitorondens 200-T 53kW System Oil Boiler
53.7 kw
97%
7 years
£N/A

Show

Discontinued
Viessmann B2KB Vitodens 200-W 26kW Combi Gas Boiler
26kw
89%
3 - 5 years
£1,445
Viessmann B2HB Vitodens 200-W 30kW System Gas Boiler
30kw
89.1%
3 - 5 years
£1,480
Viessmann Vitodens 242-F B2UB 19kW Storage Combi Gas Boiler
19kw
89.3%
2 years
£2,700
Viessmann B1KC Vitodens 100-W 19kW Combi Gas Boiler
19kw
89.2%
5 years
£950
Viessmann B2KB Vitodens 200-W 30kW Combi Gas Boiler
30kw
89%
3 - 5 years
£1,565
Viessmann B2KB Vitodens 200-W 35kW Combi Gas Boiler
35kw
89.1%
3 - 5 years
£1,425
Viessmann Vitodens 242-F B2UB 26kW Storage Combi Gas Boiler
26kw
89.3%
2 years
£2,975
Viessmann B2HB Vitodens 200-W 19kW System Gas Boiler
19kw
89%
3 - 5 years
£1,250
Viessmann B2HB Vitodens 200-W 26kW System Gas Boiler
26kw
89.1%
5 years
£1,375
Viessmann B2HB Vitodens 200-W 35kW System Gas Boiler
35kw
89.2%
3 - 5 years
£1,300