Viessmann Vitodens 242-F B2UB 26kW Storage Combi Gas Boiler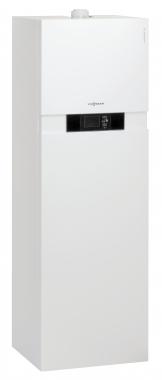 Typical Price (inc VAT)
£2,975
Typical installation Cost (inc VAT)*
£500 - £1,000
Total Cost
£3,475 - £3,975
This boiler is discontinued.
| | |
| --- | --- |
| Make | Viessmann |
| Model | Vitodens 242-F B2UB 26kW Storage Combi Gas Boiler |
| Is Condensing | Condensing |
| Efficiency Rating | 89.3% |
| Band Rating | A Rated |
| LPG Compatible | Yes |
| Standard Warranty | 2 years |
| Central Heating Max. Output | 26kW |
| Mounting | Wall Mounted |
| Flow Rate | 19 l/min |
| Typical Price (inc VAT) | £2,975 |
| Typical installation Cost (inc VAT)* | £500 - £1,000 |
| Total Cost | £3,475 - £3,975 |
| ERP Rating | A Heat A Water |
This boiler is discontinued.
Product Description

The B2UB Vitodens 242-F is a storage combi gas boiler. It is a condensing floor standing boiler by Viessmann. It has an efficiency rating of 89.3% and an output rating of 26kW with this boiler being in the energy efficiency class B.

This gas condensing unit comes with an integral solar cylinder as well as solar coverage of >50%. It is easy to operate with it coming with a control unit that has five inch colour touchscreen, with it also being controllable via app and internet when used with the option of the Vitoconnect 100 WLAN adaptor.

This boiler also comes with a high heating and DHW convenience, solar integration, and a Matrix cylinder burner with lambda pro control combustion and controller for permanently high efficiency and clean combustion. This boiler comes with a floor area of just 0.4m2 meaning that it only takes up the smallest amount of space making it able to fit just about anywhere. It also comes with 2 years warranty so you can be sure you have purchased a reliable boiler.
* This is a guide price for a straightforward, like-for-like boiler replacement. Installation costs will vary dependent on work required.
Why not compare these similar boilers?
Boiler Model
kW
Efficiency
Warranty
Typical Price

Best Sellers

Viessmann Vitodens 100-W B1KF 25 kW Combi Gas Boiler
25 kw
94%
Up to 12 years
£1,095
VIEW
Viessmann Vitodens 100-W B1KF 19 kW Combi Gas Boiler
19 kw
94%
Up to 12 years
£1,125
VIEW
Viessmann Vitodens 200-W B2HE 11kW System Boiler
11 kw
92%
Up to 10 years
£1,344
VIEW
Viessmann Vitodens 200-W B2HE 19kW System Boiler
19 kw
93%
Up to 10 years
£1,500
VIEW
Viessmann Vitodens 200-W B2HE 25kW System Boiler
25 kw
94%
Up to 10 years
£1,550
VIEW
Viessmann Vitodens 200-W B2HE 32kW System Boiler
32 kw
94%
Up to 10 years
£1,650
VIEW
Viessmann Vitodens 200-W B2KE 30kW Combi Gas Boiler
25.4 kw
94%
Up to 10 years
£1,550
VIEW
Viessmann Vitodens 200-W B2KE 35kW Combi Gas Boiler
32 kw
94%
Up to 10 years
£1,600
VIEW

Available

Viessmann Vitodens 100-W Compact WB1B 13kW Regular Gas Boiler
13 kw
94%
Up to 10 years
£845
VIEW
Viessmann Vitodens 100-W Compact WB1B 35kW Regular Gas Boiler
35 kw
94%
Up to 10 years
£1,200
VIEW
Viessmann Vitodens 050-W BPJD 29kW Combi Gas Boiler
24 kw
93%
Up to 7 years
£800
VIEW
Viessmann Vitodens 100-W B1HF 11 kW System Gas Boiler
11 kw
94%
Up to 12 years
£995
VIEW
Viessmann Vitodens 111-W B1LD-26 Storage Combi Gas Boiler
26 kw
94%
Up to 10 years
£1,676
VIEW
Viessmann Vitodens 222-F B2TE 19kW Storage Combi Gas Boiler
19 kw
92%
Up to 10 years
£2,560
VIEW
Viessmann Vitodens 050-W BPJD 35kW Combi Gas Boiler
33 kw
93%
Up to 7 years
£890
VIEW
Viessmann Vitodens 100-W B1KF 32 kW Combi Gas Boiler
32 kw
94%
Up to 12 years
£1,175
VIEW
Viessmann Vitodens 111-W B1LD-35 Storage Combi Gas Boiler
35 kw
94%
Up to 10 years
£1,700
VIEW
Viessmann Vitodens 100-W B1HF 19 kW System Gas Boiler
19 kw
94%
Up to 12 years
£995
VIEW
Viessmann Vitodens 100-W B1HF 26 kW System Gas Boiler
26 kw
94%
Up to 12 years
£1,100
VIEW
Viessmann Vitodens 100-W B1HC 32 kW System Gas Boiler
32 kw
94%
Up to 12 years
£1,175
VIEW
Viessmann Vitodens 222-F B2TE 25kW Storage Combi Gas Boiler
25 kw
92%
Up to 10 years
£2,700
VIEW
Viessmann Vitodens 222-F B2TE 35kW Storage Combi Gas Boiler
32 kw
92%
Up to 10 years
£2,975
VIEW
Viessmann Vitodens 100-W Compact WB1B 16kW Regular Gas Boiler
16 kw
94%
Up to 10 years
£900
VIEW
Viessmann Vitodens 100-W Compact WB1B 19kW Regular Gas Boiler
19 kw
94%
Up to 10 years
£900
VIEW
Viessmann Vitodens 100-W Compact WB1B 26kW Regular Gas Boiler
26 kw
94%
Up to 10 years
£900
VIEW
Viessmann Vitorondens 200-T 20kW System Oil Boiler
20.2 kw
97%
7 years
£N/A
VIEW
Viessmann Vitorondens 200-T 24kW System Oil Boiler
24.6 kw
97%
7 years
£N/A
VIEW
Viessmann Vitorondens 200-T 28kW System Oil Boiler
28.9 kw
97%
7 years
£N/A
VIEW
Viessmann Vitorondens 200-T 35kW System Oil Boiler
35.4 kw
97%
7 years
£N/A
VIEW
Viessmann Vitorondens 200-T 42kW System Oil Boiler
42.8 kw
97%
7 years
£N/A
VIEW
Viessmann Vitorondens 200-T 53kW System Oil Boiler
53.7 kw
97%
7 years
£N/A
VIEW

Viessmann B2KB Vitodens 200-W 26kW Combi Gas Boiler
26kw
89%
3 - 5 years
£1,445
VIEW
Viessmann B2HB Vitodens 200-W 30kW System Gas Boiler
30kw
89.1%
3 - 5 years
£1,480
VIEW
Viessmann Vitodens 242-F B2UB 19kW Storage Combi Gas Boiler
19kw
89.3%
2 years
£2,700
VIEW
Viessmann B1KC Vitodens 100-W 19kW Combi Gas Boiler
19kw
89.2%
5 years
£950
VIEW
Viessmann B2KB Vitodens 200-W 30kW Combi Gas Boiler
30kw
89%
3 - 5 years
£1,565
VIEW
Viessmann B2KB Vitodens 200-W 35kW Combi Gas Boiler
35kw
89.1%
3 - 5 years
£1,425
VIEW
Viessmann Vitodens 242-F B2UB 26kW Storage Combi Gas Boiler
26kw
89.3%
2 years
£2,975
VIEW
Viessmann B2HB Vitodens 200-W 19kW System Gas Boiler
19kw
89%
3 - 5 years
£1,250
VIEW
Viessmann B2HB Vitodens 200-W 26kW System Gas Boiler
26kw
89.1%
5 years
£1,375
VIEW
Viessmann B2HB Vitodens 200-W 35kW System Gas Boiler
35kw
89.2%
3 - 5 years
£1,300
VIEW