Warmflow Agentis Pro External System 33kW Oil Boiler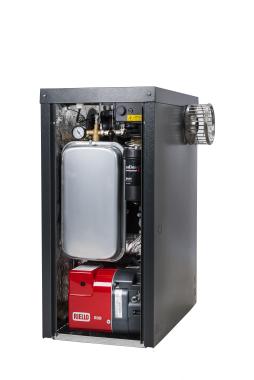 Typical Price (inc VAT)
£2,500
Typical installation Cost (inc VAT)*

£1000 - £1500
Sundries (Filter, Flue, etc)

£300
Total Cost
£3,800 - £4,300
Get a quote to install this boiler
| | |
| --- | --- |
| Make | Warmflow |
| Model | Agentis Pro External System 33kW Oil Boiler |
| Is Condensing | Yes |
| Efficiency Rating | A Heat |
| Band Rating | A rating |
| LPG Compatible | No |
| Standard Warranty | 5 years |
| Central Heating Max. Output | 33 kW |
| Mounting | Floor standing |
| Flow Rate | N/A |
| Typical Price (inc VAT) | £2,500 |
| Typical installation Cost (inc VAT)* | £1000 - £1500 |
| Sundries (Filter, Flue, etc) | £300 |
| Total Cost | £3,800 - £4,300 |
| ERP Rating | A |
| Hot Water Max. Output | N/A |
Get a quote to install this boiler
The Professional Agentis External system oil boiler has the same features and benefits of the Agentist External system boiler, in addition to numerous factory fitted accessories which enable quicker installation and maximises space within the system. The Agentis External system oil boiler is ideal for outdoor installations, but the true benefits lie in its energy efficiency. Warmflow's unique patented heat exchanger and Riello Low NOx technology which deliver efficiencies in excess of 90% making it an A rated boiler. This range of oil boilers is amongst the most efficient in the UK helping many homeowners to enjoy cheaper heating bills and reduced carbon emissions. As a system boiler it will provide hot water at high mains pressure but needs to be installed alongside a hot water cylinder in order to do so. This boiler is also available in 21kW and 26kW.
Get quotes to supply and fit a new
* This is a guide price for a straightforward, like-for-like boiler replacement. Installation costs will vary dependent on work required.
Why not compare these similar boilers?
Boiler Model
kW
Efficiency
Warranty
Typical Price

Best Sellers

Warmflow Agentis Internal System 33kW Oil Boiler
33 kw
A heat
5 years
£1,730
VIEW
Warmflow Agentis Internal Combi 26kW Oil Boiler
26 kw
Aaa
5 years
£2,270
VIEW
Warmflow Agentis Internal Combi 33kW Oil Boiler
33 kw
Aaa
5 years
£2,470
VIEW
Warmflow Agentis External Combi 33kW Oil Boiler
33 kw
Aa
5 years
£2,710
VIEW

Available

Warmflow Agentis Internal Heat Only 21kW Oil Boiler
21 kw
A heat
5 years
£1,300
VIEW
Warmflow Agentis Internal Heat Only 26kW Oil Boiler
26 kw
A heat
5 years
£1,360
VIEW
Warmflow Agentis Internal Heat Only 33kW Oil Boiler
33 kw
A heat
5 years
£1,560
VIEW
Warmflow Agentis Internal Heat Only 44kW Oil Boiler
44 kw
A heat
5 years
£1,700
VIEW
Warmflow Agentis Internal Pumped 21kW Oil Boiler
21 kw
A heat
5 years
£1,440
VIEW
Warmflow Agentis Internal Pumped 26kW Oil Boiler
26 kw
A heat
5 years
£1,440
VIEW
Warmflow Agentis Internal Pumped 33kW Oil Boiler
33 kw
A heat
5 years
£1,530
VIEW
Warmflow Agentis Internal Pumped 44kW Oil Boiler
44 kw
A heat
5 years
£1,900
VIEW
Warmflow Agentis Internal System 21kW Oil Boiler
21 kw
A heat
5 years
£1,500
VIEW
Warmflow Agentis Internal System 26kW Oil Boiler
26 kw
A heat
5 years
£N/A
VIEW
Warmflow Agentis Internal Combi 21kW Oil Boiler
21 kw
Aaa
5 years
£2,170
VIEW
Warmflow Agentis External Heat Only 21kW Oil Boiler
21 kw
A heat
5 years
£1,560
VIEW
Warmflow Agentis External Heat Only 26kW Oil Boiler
26 kw
A heat
5 years
£1,590
VIEW
Warmflow Agentis External Heat Only 33kW Oil Boiler
33 kw
A heat
5 years
£1,920
VIEW
Warmflow Agentis External Heat Only 44kW Oil Boiler
44 kw
A heat
5 years
£2,100
VIEW
Warmflow Agentis External Pumped 21kW Oil Boiler
21 kw
A heat
5 years
£1,680
VIEW
Warmflow Agentis External Pumped 26kW Oil Boiler
26 kw
A heat
5 years
£1,740
VIEW
Warmflow Agentis External Pumped 33kW Oil Boiler
33 kw
A heat
5 years
£2,110
VIEW
Warmflow Agentis External Pumped 44kW Oil Boiler
44 kw
A heat
5 years
£2,500
VIEW
Warmflow Agentis External System 21kW Oil Boiler
21 kw
A heat
5 years
£1,740
VIEW
Warmflow Agentis External System 26kW Oil Boiler
26 kw
A heat
5 years
£1,800
VIEW
Warmflow Agentis External System 33kW Oil Boiler
33 kw
A heat
5 years
£2,000
VIEW
Warmflow Agentis External Combi 21kW Oil Boiler
21 kw
Aa
5 years
£2,300
VIEW
Warmflow Agentis External Combi 26kW Oil Boiler
26 kw
Aa
5 years
£2,500
VIEW
Warmflow Agentis Boilerhouse 21kW Oil Boiler
21 kw
A heat
5 years
£1,170
VIEW
Warmflow Agentis Boilerhouse 26kW Oil Boiler
26 kw
A heat
5 years
£1,170
VIEW
Warmflow Agentis Boilerhouse 33kW Oil Boiler
33 kw
A heat
5 years
£1,370
VIEW
Warmflow Agentis Pro Internal Pumped 21kW Oil Boiler
21 kw
A heat
5 years
£1,760
VIEW
Warmflow Agentis Pro Internal Pumped 26kW Oil Boiler
26 kw
A heat
5 years
£1,850
VIEW
Warmflow Agentis Pro Internal Pumped 33kW Oil Boiler
33 kw
A heat
5 years
£1,950
VIEW
Warmflow Agentis Pro Internal Pumped 44kW Oil Boiler
44 kw
A heat
5 years
£2,060
VIEW
Warmflow Agentis Pro Internal System 21kW Oil Boiler
21 kw
A heat
5 years
£1,820
VIEW
Warmflow Agentis Pro Internal System 26kW Oil Boiler
26 kw
A heat
5 years
£1,890
VIEW
Warmflow Agentis Pro Internal System 26kW Oil Boiler
33 kw
A heat
5 years
£1,950
VIEW
Warmflow Agentis Pro Internal Combi 21kW Oil Boiler
21 kw
Aa
5 years
£2,500
VIEW
Warmflow Agentis Pro Internal Combi 26kW Oil Boiler
26 kw
Aa
5 years
£2,630
VIEW
Warmflow Agentis Pro Internal Combi 33kW Oil Boiler
33 kw
Aa
5 years
£2,830
VIEW
Warmflow Agentis Pro External Pumped 21kW Oil Boiler
21 kw
A heat
5 years
£1,990
VIEW
Warmflow Agentis Pro External Pumped 26kW Oil Boiler
26 kw
A heat
5 years
£2,150
VIEW
Warmflow Agentis Pro External Pumped 33kW Oil Boiler
33 kw
A heat
5 years
£2,400
VIEW
Warmflow Agentis Pro External Pumped 44kW Oil Boiler
44 kw
A heat
5 years
£2,600
VIEW
Warmflow Agentis Pro External System 21kW Oil Boiler
21 kw
A heat
5 years
£1,800
VIEW
Warmflow Agentis Pro External System 26kW Oil Boiler
26 kw
A heat
5 years
£2,110
VIEW
Warmflow Agentis Pro External System 33kW Oil Boiler
33 kw
A heat
5 years
£2,500
VIEW
Warmflow Agentis Pro External Combi 21kW Oil Boiler
21 kw
Aa
5 years
£2,650
VIEW
Warmflow Agentis Pro External Combi 26kW Oil Boiler
26 kw
Aa
5 years
£2,710
VIEW
Warmflow Agentis Pro External Combi 33kW Oil Boiler
33 kw
Aa
5 years
£2,900
VIEW

Warmflow Kabin-Pak Combi KC70HEE 21kW Oil Boiler
21kw
89.1%
2 years
£1,995
VIEW
Warmflow Kabin Pak Combi KC90HEE 26kW Oil Boiler
26kw
89.5%
2 years
£1,975
VIEW
Warmflow Kabin Pak KC120HEE Combi 33kW Oil Boiler
33kw
89.1%
2 years
£2,200
VIEW
Warmflow Utility UC70HEE Combi 21kW Oil Boiler
21kw
89.1%
5 years
£1,345
VIEW
Warmflow Utility Combi UC90HEE 26kW Oil Boiler
26kw
89.1%
5 years
£1,400
VIEW
Warmflow Utility UC120HEE Combi 33kW Oil Boiler
33kw
89.1%
5 years
£1,990
VIEW
Warmflow Kabin Pak KS70HE System 21kW Oil Boiler
21kw
90.7%
2 years
£1,417
VIEW
Warmflow Kabin Pak KS90HE System 26kW Oil boiler
26kw
90.8%
2 years
£1,650
VIEW
Warmflow Kabin Pak KS120HE System 33kW Oil boiler
33kw
90.7%
2 years
£1,650
VIEW
Warmflow Utility US70HE System 21kW Oil Boilers
21kw
90.7%
5 years
£1,175
VIEW
Warmflow Utility US90HE System 26kW Oil boiler
26kw
90.8%
5 years
£1,585
VIEW
Warmflow Utility US120HE System 33kW Oil boilers
33kw
90.7%
5 years
£1,510
VIEW
Warmflow Boilerhouse B70HE 21kW Regular Oil Boiler
21kw
90.7%
7 years
£1,045
VIEW
Warmflow Boilerhouse B90HE 26kW Regular Oil Boiler
26kw
90.7%
7 years
£1,780
VIEW
Warmflow Boilerhouse B120HE 33kW Regular Oil Boiler
33kw
90.8%
7 years
£1,225
VIEW
Warmflow Kabin-Pak K70HE 21kW Regular Oil Boiler
21kw
90.7%
7 years
£1,310
VIEW
Warmflow Kabin-Pak K90HE 26kW Regular Oil Boiler
26kw
90.8%
7 years
£1,345
VIEW
Warmflow Kabin-Pak K120HE 33kW Regular Oil Boiler
33kw
90.7%
7 years
£1,635
VIEW
Warmflow Kabin-Pak K150HE 44kW Regular Oil Boiler
44kw
90.3%
7 years
£1,915
VIEW
Warmflow Utility HE U70HE 21kW Regular Oil Boiler
21kw
90.7%
7 years
£1,175
VIEW
Warmflow Utility HE U90HE 26kW Regular Oil Boiler
26kw
90.8%
7 years
£1,230
VIEW
Warmflow Utility HE U120HE 33kW Regular Oil Boiler
33kw
90.7%
7 years
£1,300
VIEW
Warmflow Utility HE U150HE 44kW Regular Oil Boiler
44kw
90.3%
7 years
£1,795
VIEW