Best Electric Boilers: Prices & Reviews
Millions of us have been heating our homes and hot water with gas for longer than we can remember, but with all this talk of gas boilers being phased out to meet climate change targets and for people not connected to the National Grid, an electric boiler could well be worth considering.
If you are thinking of switching to an electric boiler we thought it would be a good idea to speak to our network of registered boiler engineers through the UK. These installers are at the home heating coalface and have given us their views on electric boilers and what they think is the best electric boiler on the market.
---
Need a new electric boiler?
---
What is an electric boiler?
Over 25 million homes in the UK have boilers that ignite gas or oil to heat water, an electric boiler passes the water through an electric element to get it hot. Electric boilers are becoming more popular and can be installed in most small to medium sized homes to produce enough hot water for central heating and baths and showers. Electric combi boilers are definitely worth thinking about for homes without gas and people looking to lower their carbon footprint.
How do electric combi boilers work?
Have you ever wondered how a kettle works? No, me neither, but if you did it would be very similar to how an electric combi boiler works.
In short – the electric boiler is connected to the mains electricity supply and just like a gas combi boiler, is supplied with cold water from the mains. Turning the hot tap on or popping on the heating makes the heating element inside the boiler heat up which will then transfer the heat to the cold water. Your now nice and hot water then gets pumped to your tap or radiators. Rather clever when you think about it.
As water is supplied on demand from a single source, if an electric boiler needs to supply hot water to more than one tap or shower at the same time, the water pressure and/or temperature may drop. This is why combi boilers (gas or electric) are not recommended for larger homes with multiple bathrooms"
Types of electric boiler
There are a few different types of electric boiler to choose from. Some of which may be more suited to your home and lifestyle than others. Similar to gas boilers, the electric combi boiler is emerging as the most popular electric boiler.
Electric combi boiler (direct)
An electric combi boiler looks just like a gas combi boiler and is a single unit that provides both hot water and central heating. The electric combi boiler uses its heating element to provide you hot water when you want it. A combi is the cheapest and easiest to install and because it doesn't need a tank, will save you space around the home. Just be mindful that the lack of water storage means you won't be able to take advantage of Economy 7 tariffs by heating your water overnight on a cheaper rate. View the range of electric combi boilers on the market in the UK today in our Comparison Tool.
Storage
A storage electric boiler is suitable for Economy 7 tariffs which may help you reduce your energy bills. An electric storage boiler is supplied with a hot water tank either within the unit or comes as a separate unit. Storage electric boilers are often more expensive than their direct acting cousins.
Electric CPSU
A Combined Primary Storage Unit, or CPSU, stores lots of hot water within the boiler so it can meet demand much quicker and at higher pressure. Unless you fancy a bath 12 times a day, it is unlikely a CPSU will be required in your home. They tend to be quite large and as such are more suited to commercial installations.
Dry Core Storage
Dry Core Storage boilers are similar to storage heaters and are designed to work alongside Economy 7 tariffs for cheaper energy prices at night. They work by heating bricks overnight – the heat is then released into water to be used for central heating and hot water, rather than being circulated directly into your home.
Solar compatible
If you have a storage tank with an immersion heater you can use free energy from solar panels to heat your water during the day.
Note: Electric boilers are not electric storage heaters. While the boiler will use electricity to heat water for your taps and radiators, a storage heater will heat bricks in your home overnight (when energy costs are lower) so you can then use this stored heat throughout the following day.
Advantages of electric boilers
For millions of homes across the UK without access to the gas network they are a viable heating alternative and bring with them several other less talked about benefits. In addition, if you are able to power an electric boiler with renewable energy, you could be reducing your carbon footprint and/or lowering your energy bills.
There is no denying that the price per unit for electricity is higher than gas. But, electric boilers certainly have their advantages and do provide other ways to make some savings. They're cheaper to install than other boilers and you also don't need to have it serviced every year.
Here's a few more benefits of installing an electric boiler.
No gas or oil needed
If you're not connected to the National Grid and have no access to gas an electric boiler is a sensible option. If you don't have space for an oil tank an electric boiler is also a great alternative as they only need an electricity supply to heat your home.
Highly efficient
With electricity, you get out what you put in. In other words, as electric boilers do not need to burn fuel to produce heat, they don't lose energy through waste gases. This results in an efficiency rating of 99% compared to 89%-95% for most gas boilers. Read more about electric boiler efficiency here.
Lower emissions
Electric boilers are a much 'greener' alternative to gas boilers. They don't need to burn fossil fuels to generate heat and don't release waste gases. If you're looking to reduce your carbon footprint, an electric boiler could be just the ticket.
Cheaper to install
Thanks to the absence of waste gases, an electric boiler does not need a flue or condensate so the installation is much easier and is likely to cost less than a gas boiler installation. Have a look at our guide to electric boiler installation for a bit more detail.
Flexible installation
Not only is an electric boiler installation cheaper, they don't have to be installed on external/outdoor walls like gas and oil units. So within reason, you can choose where to put your new electric boiler.
No annual service
To ensure gas and oil boilers continue to work efficiently and to avoid breakdowns you need an annual service. These need to be done by a professional heating engineer and can cost you anything between £50 and £160. The good news is electric boilers do not need this level of maintenance saving you some money every year. Just to note: If you do have a hot water cylinder with your electric boiler – continue to get this serviced once a year.
Easier to maintain
Only in the unlikely event of a breakdown are repairs ever needed and unlike gas boilers, which can become blocked when not used, an electric circulation pump will continue to work even when it is inactive.
No risk of a carbon monoxide leak
Gas boilers produce harmful gases during operation, which are safely expelled out of the flue but could leak, with an electric boiler you don't have to worry about any harmful gases leaking.
---
Need a new electric boiler?
---
Light and compact
Having no flue or waste gases means the electric boiler unit is smaller and compact. You also get a lot more options on where you can install it.
Quiet operation
Unlike a gas boiler, there are no moving parts in an electric boiler which means they operate in near-silence when providing your heating and hot water. Sleep tight!
Perfect for homes not connected to the gas network
A lot of homes that are not connected to the National Grid tend to opt for an oil boiler but one of the cons of an oil boiler is having to find room for somewhere to store the oil. With an electric boiler, you don't have that problem. They're also a lot less maintenance than oil boilers.
Solar compatible
Solar Panels work with most electric boilers and the energy you generate can be used which will help you reduce your electricity bills. You could also invest in a storage battery which will store and release the free energy you have generated when you need it. Solar thermal is another option, which heats your water in the cylinder. A solar compatible electric boiler is a great way to lower your carbon footprint.
Disadvantages of electric boilers
The main criticism of using an electric boiler as the sole source of heating and hot water is that electricity is more expensive, so in terms of running costs they just aren't winners. They are often limited as to the amount of hot water they can produce at any one time and so aren't recommended for larger homes.
You do need to have a good think before installing an electric boiler and make sure they are right for your circumstances. This is even more important if you live in a larger home as they may not be able to meet your demands for central heating and hot water.
Higher running costs
Electricity is significantly more expensive than gas which means your energy bills are likely to go up.
In 2022 Ofgem announced that from the 1st of April the equivalent per unit level of the price cap to the nearest pence for a typical customer would be 28p per kWh for electricity customers and 7p per kWh for gas customers. This means that, even if you're with a really cheap energy supplier, you'll still be paying about 18p a unit for electricity compared to the price cap of 7p for gas. The figures on this article will be updated when the Ofgem price cap is next changed on October 1 2022.
An economy 7 tariff may help reduce costs as you get cheaper electricity rates during the night. Installing an electric boiler as part of a solar PV system will also do some good for energy use.
Less hot water
Electric boilers heat water on demand so they have limitations with the amount of hot water they can produce. If you have a large house with multiple bathrooms an electric boiler may struggle to cope.
Power cuts
Power cuts are rare, but if one does happen you'll probably won't be able to get any heating or hot water. Having said that, this also applies to most gas and oil boilers as they are made up of electrical components.
Could blow property's fuse
Most electric boilers will use 48 amps, which takes up most of a 60amp fuse, which a lot of homes have. So, while your boiler is busy heating your home and hot water, having another couple of appliances going at the same time could blow the fuse. Speak to an electrician to check if an electric boiler is a viable option with the fuse in your home.
Is electric or gas best for your home?
Electric boilers are a good alternative to oil or LPG for homes off the grid and if you are keen to reduce your carbon footprint then an electric boiler is certainly worth considering. If you are connected to the grid and you are worried about an increase in your energy bills, you may want to stick with your gas boiler.
Why choose a gas boiler?
Electricity is 3-4 times more expensive than gas per kilowatt hour (kWh), so running costs will be significantly higher.
While an electric boiler does not use a fossil fuel like gas to generate heat and does not produce carbon emissions when operating, the electricity it uses is usually generated using fossil fuels when an electric boiler runs on electricity which comes from fossil fuels.
Electric boilers are usually only suitable for small homes as they cannot supply multiple outlets at the same time.
Why choose an electric boiler?
If you have solar PV panels installed in your home an electric boiler is a great option. You can use the electricity you generate which will see your energy bills reduce.
Efficiency is significantly higher in electric boilers. You'll be getting 99-100% from an electric boiler compared to 92-93% from a gas boiler. If you don't want to waste energy – an electric boiler could be the solution.
Unlike gas, oil, or LPG, an electric boiler does not produce carbon emissions when working.
Which are the best electric combi boilers?
If you're looking to change to an electric boiler you have plenty of options with models and manufacturers. We've listed a few of the best combi boilers below.
Electromax Combi Boiler by Heatrae Sadia
Comet Combi Boiler by Electric Heating Company
Mattira MAC15 by Elnur
THERMAFlow Electric Combi Boiler by THERMAFlow
Elektra EKC Combi Boilers by Electric Combi Boilers Company
Manufacturer
Boiler Model
Floor-standing or Wall-mounted?
Available Outputs (kW)
Dimensions (H x W x D)
Efficiency
Energy Rating
Standard Warranty
Electric Heating Company
Comet Combi Boiler
Floor-standing
9 / 12 / 14.4
1745 x 580 x 630mm
100%
Hot Water: C
Heating: D
2 years (10 years on cylinder)
Heatrae Sadia
Electromax
Floor-standing
6 /9
1476 x 550 x 600mm
99.8%
Hot Water: C
Heating: D
2 years (10 years on cylinder)
Elnur
Mattira MAC15
Wall-mounted
3 / 4 / 5 / 6 / 7 / 8 / 9 / 10 / 11 / 12 / 13 / 14 / 15
830 x 555 x 450mm
100%
Hot Water: D
Heating: D
2 years (5 years on cylinder)
THERMAflow
THERMAflow Electric Combi Boiler
Floor-standing
10 / 11 / 13 / 14 / 16 / 18
From 1590 x 550 x 690mm up to 1920 x 710 x 850mm
100%
Unknown
1 year (25 years on cylinder)
Electric Combi Boilers Co.
Elektra EK.C Combi Boiler
Wall-mounted
12kW (modulates from 2-12kW)
875 x 400 x 300mm
99.9%
Unknown
2 years
---
---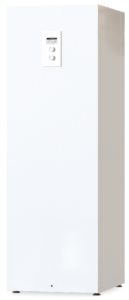 Comet Combi Boiler by Electric Heating Company
The Comet Combi combi boiler provides hot water for a wet central heating system and for domestic use. It includes a 140-litre Duplex stainless steel hot water cylinder to maximise the volume of hot water, but is compact in size and is pre-plumbed and pre-wired for ease of installation.
The Comet has a built-in programmer which enables you to set the temperature and schedule of your heating as well as a wireless thermostat. The Comet is available as in outputs of 9kW, 12kW or 14.4kW. You can also select heating only, hot water only or use both at the same time. The Comet includes a 2 year warranty on the boiler with 10 year warranty on the cylinder.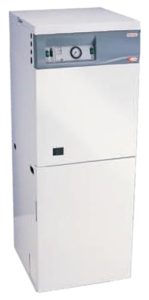 Electromax by Heatrae Sadia
The Electromax boiler can provide both heating and hot water for your home (at the same time) as it combines an electric flow boiler with a hot water storage cylinder and circulating pump.
All that the Electromax needs is a mains electricity supply and cold water. Inside the boiler is a duplex stainless steel unvented cylinder that has a 180 Litre capacity. This enables it to deliver mains pressure showers, fast filling baths and a balanced supply of hot water to multiple tap outlets. The Electromax is designed for sealed systems and, thanks to its compact size, will fit into a standard domestic airing cupboard. The Electromax is available in two domestic kW sizes: 6 or 9 kW. The Electromax includes a 2 year warranty on the boiler with 10 year warranty on the cylinder.
Mattira MAC15 by Elnur
The Mattira MAC15 is a wall mounted electric boiler is a digital modulating, electric combination boiler which provides both heating and hot water. The boiler is suitable for either single or 3-phase supplies and reduces energy consumption thanks to digital modulation.
The Mattira also includes a digital display, user-friendly controls and can deliver a hot water flow rate of up to 12 litres per minute. CThe Mattira is available in twelve different outputs from 3 to 15 kW. The Mattira MAC15 includes a 2 year warranty on the boiler with 2 year warranty on the cylinder.

THERMAflow
The THERMAflow High Efficiency Electric Combination Boiler is designed to operate during periods of cheaper electricity tariffs to enable you to reduce running costs and energy use while still meeting all of your heating and hot water demand. They claim that this can save users up to 40% on their heating.
The floorstanding THERMAFlow can be connected to a wood burning or solar thermal system to reduce your electricity usage, heating bills and carbon footprint. The THERMAFlow is available in six outputs between 10-18 kW. The THERMAFlow includes a 1 year warranty on the boiler with 25 year warranty on the cylinder.
Elektra EK.C by Electric Boilers Company
The Elektra EK.C is a wall mounted electric combi boiler which is suitable for smaller properties and flats. It provides instantaneous hot water (40-50°C) at a rate of 8 litres per minute, but filling a bath can take up to 15 minutes as the flow rate would need to be reduced. The Elektra is best suited to small homes with one bathroom.
The Elektra is only available as a 12 kW boiler, but it will modulate between 2-12 kW as needed. The Elektra boiler includes a 2 year warranty as standard.
What size electric boiler do I need?
A boiler's size relates to how powerful it is and is measured in kilowatts (kW). The higher the number, the more radiators and taps it can provide hot water for.
You'll find that most electric boilers are smaller than an oil or gas boiler but it's important to remember that 'size' in the boiler world refers to how powerful it is and this is measured in kilowatts (kW). The higher the kW, the more heat and hot water it can provide.
Electric boilers tend to be less powerful than gas and oil boilers making them suitable for smaller homes and flats. An average gas boiler has a kW size of anywhere between 24-35 kW compared to 15 kW or less for an electric boiler.
There is an electric boiler sizing rule of thumb which suggests that you need 1.5 kW for each radiator in your home. This will be impacted by the size of your rooms, the height of the ceiling and how well insulated the room is, and this is why a heating engineer is best placed to size a boiler for your home. Find out more in What Size Electric Boiler do I Need? guide will help you when it comes to installing an electric boiler will sufficient power.
| Number of Radiators | Output rating |
| --- | --- |
| 4 | 6 kW |
| 6 | 9 kW |
| 8 | 12 kW |
| 10 | 15 kW |
Remember, if you install an electric boiler that is too small for your home you'll suffer from a lack of hot water. It's just as important to avoid buying an electric boiler that is too big as you'll be using lots more electricity than you need and you'll get a bit of a shock when you see your energy bills.
Electric boiler efficiency and running costs
The reason for the high running cost of electric boilers is because the UK generates the vast majority of its electricity using fossil fuels. This also contributes to electric boilers receiving a lowly D-rating when it comes to their ErP efficiency rating, which can be confusing when they are also rated as 99-100% efficient.
Electric Boiler Efficiency
As most electricity is produced by fossil fuels, which emits lots of carbon into the atmosphere, electricity is considered a carbon intensive fuel. So, even if you're with an energy supplier that generates electricity with renewable technology, the electricity is still considered carbon intensive but as more suppliers adopt renewable generation, the high 'fuel factor' imposed on electricity is likely to drop.
The future is looking bright for renewable electricity generation, with the National Grid believing that all UK electricity generation could be producing zero carbon emissions by 2025. Find out more with Electric Boiler Efficiency Explained.
Running costs of electric boilers
In the UK the average cost per unit of electricity is 14.4p/kWh, with the price varying depending on your tariff and the area you live, making it a lot more expensive than gas, which has an average cost per unit of 3.8p/kWh.
While the running costs of electricity are higher than gas, as we've mentioned, you will be able to make savings in other areas, such as the installation, not needing to arrange an annual service and all-round maintenance costs.
We put electric boilers head-to-head with gas boilers to find out which are cheaper to run during their lifetime, find out which came out on top in Electric Boilers vs Gas Boilers: Pros, Cons & Running Costs.
Electric boilers with solar PV
Solar PV panels convert natural energy from the sun into electricity you can use in your home. An electric boiler can be a great choice for small homes with solar PV panels as they may be able to generate their own heating and hot water using free electricity. This setup could significantly reduce the running costs of your boiler. Find out more in Running an Electric Combi Boiler with Solar.
Electric boiler prices
Electric boiler costs vary depending on the model and manufacturer. As you might expect, the smaller models will often be the cheapest with a price tag of around £650-£1,000 stretching up to £2,500 for the larger models.
It's not just the price of the electric boiler you need to consider. Installation costs will vary so it is important to compare multiple quotes.
| Manufacturer | Boiler Model | Average Price (estimated) |
| --- | --- | --- |
| Electric Heating Company | Comet Combi Boiler | £2,300-£2,500 |
| Heatrae Sadia | Electromax | £1,800-£2,000 |
| Elnur | Mattira MAC15 | £1,750-£2,000 |
| THERMAflow | THERMAflow Electric Combi Boiler | £2,300-£4,000 |
| Electric Combi Boilers Co. | Elektra EK.C Combi Boiler | £900-£1,100 |
Electric boiler installation costs
On average, the cost of installing an electric boiler can range between £500-£1,000, but it's important to note installation costs will vary depending on the installer you choose, along with other variable factors. Naturally, the more complicated the installation, the more it will cost.
A boiler installation will be more expensive if you are changing from one type of boiler to another and/or upgrading radiators or underfloor heating. You may also end up paying more for a central heating installation in the winter as engineers tend to be busier, whereas work completed in the summer may be more competitively priced.
Remember to compare multiple quotes when making your choice. Boiler Guide can provide you with up to 3 quotes from registered installers with no fee.
Get free electric boiler installation quotes
To find the best possible price for an electric boiler installation, we highly recommend comparing multiple quotes. Boiler Guide can provide you with up to 3 free quotes from local and national installers. Compare the most competitive quotes on the market and choose the best. No obligation, no hassle, no fee.
---
---