New Oil Boiler Replacement – Installation Costs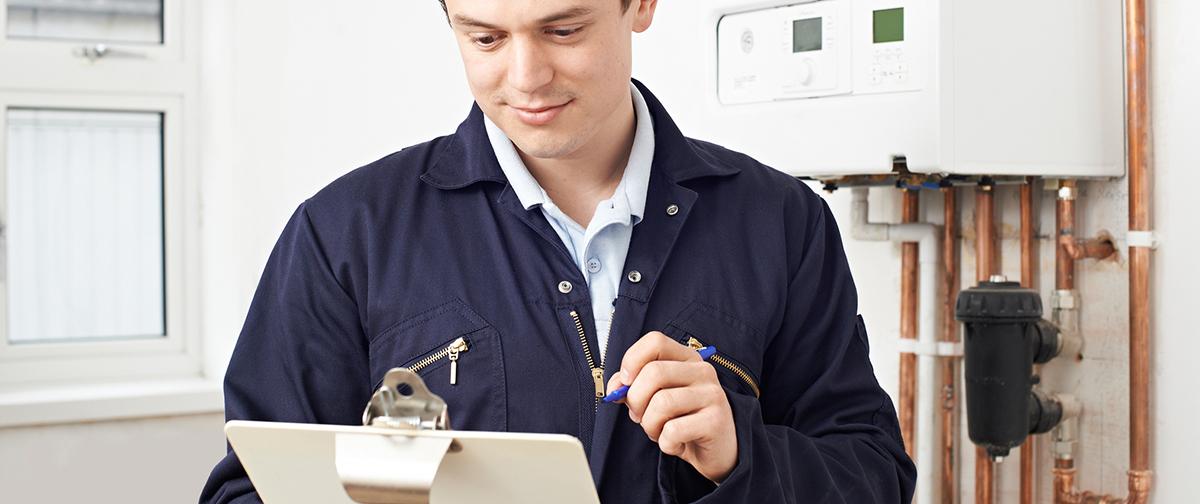 As your oil boiler ages it becomes less efficient at heating your home, more expensive to run, more likely to break down and, in some cases, unsafe. Replacing it with a new oil boiler is the best solution to all these concerns.
Modern A-rated condensing boilers are significantly more energy efficient than their ancestors with some reaching up to 95%; when compared to older boilers, many of which can only manage efficiency levels of 60% or less, this can result in huge benefits to both your home and bank balance.
Get Oil Boiler Quotes

1. Tell us about your job

2. Get quotes to compare

3. Choose the best
---
What is an oil combi boiler?
More than half of all new boiler installations today are combi boilers; this is most likely because they are compact, all-in-one units that make for easier installation than traditional boilers that require a water tank or storage cylinder.
Combi boilers produce hot water for your home and central heating on demand. This is not only a more convenient system for many homeowners but also means energy use is kept to a minimum without the need to keep a constant store of hot water.
Combi boilers are available in a range of sizes and the size you need will depend on the demand for heating and hot water in your property. Combi boilers are especially ideal for smaller houses and flats however, if you have more than 1 bathroom or shower you might want to consider a system boiler with a hot water storage cylinder to increase the hot water capacity of the system.
The oil tank is installed outside either above or below ground and is connected to the boiler in your home by pipework. The oil is fed to the boiler where it is burned and the resulting energy used to heat water for your home.
How much do replacement oil boilers cost?
The price of replacement oil boilers vary depending on a number of factors, including:
Brand
Model
Size of the unit
Size of the oil storage tank
Here are 3 of the best oil boilers from the leading manufacturers to give you a guide on the range of prices available:
| Brand/Model | Efficiency | Approx Price Range |
| --- | --- | --- |
| Worcester Bosch Greenstar Heatslave II | A (89%) | £2,100 – £2,500 |
| Grant VortexBlue | A (90.81%) | £2,500 – £2,800 |
| Firebird Enviromax Combi | A (90.7%) | £1,600 – £2,200 |
When it comes to the oil tank, the size, and therefore cost, of the tank you need will depend on the size of your home and how much fuel the boiler will get through.
Sizes tend to start at 1,000 litre capacity but can be as high as 3,500 – although it's rare that a domestic property would need a tank of this size. You can opt for a single skinned tank to keep costs to a minimum of around £500 or a more expensive double skinned tank. A large integrally bounded model could cost £2,000 or more. You can also choose to rent a tank from your oil supplier.
Whichever tank you choose, make sure it has a gauge so you can keep an accurate track on your fuel levels and reorder in good time.
Once you've found the right replacement oil boiler and the most suitable oil storage tank, it's time to find an installer.
Oil boiler installation costs
The cost of an oil boiler installation for each of these boilers will vary from installer to installer so we highly recommend comparing multiple quotes to give you the greatest chance of finding the most competitive price.
On average, you can expect to pay anything from £800 – £2,000 for the labour and installation of your new boiler with the total being affected by a number of factors:
Level of labour
No 2 oil boiler installations are the same and the amount of work needed will have an impact on the final price. For example, if your job requires extra pipework, relocating a flue, replacement radiators or the removal of cylinders / water tanks, then you'll inevitably have a higher bill from the installer. The type of installation will also play a factor with external oil boilers being a better choice than internal units for some properties.
Powerflush of the heating system
A Powerflush of the heating system before the new boiler is installed typically costs around £300 – £500. It is also often recommended that you install a new magnetic filter to trap sludge, dirt and debris to keep your system working at optimum efficiency for longer.
TRVs
Thermostatic Radiator Valves (TRVs) give you the ability to control the heat output from the indiviual radiators around your home – giving you the power to prevent radiators not needed at the time from turning on. Having TRVs installed will help to keep your energy bills down and there's no better time to have them fitted than during a new boiler installation.
In total a new replacement oil boiler including installation could cost between £2,500 – £4,500
Benefits of installing a replacement oil boiler
Upgrading an old, inefficient oil boiler to modern condensing version has many benefits including a significant improvement in your safety. They are also far more energy efficient which reduces both your energy bills and carbon footprint.
Cheaper bills through improved efficiency
More effective heating performance means a more comfortable home
Energy efficiency is a great selling point if you ever sell your home in the future
Lower carbon emissions reduces your home's impact on the environment.
Choose an oil combi boiler and the list of benefits continues to grow:
Heating and hot water on demand
Compact design, small enough to fit in a kitchen cupboard
Quick, easy to installation
User friendly controls
No water tank in loft
No hot water cylinder
Reduced carbon emissions.
Modern condensing combi boilers can convert at least 90% of fuel into heat. Some older boilers can be as inefficient as 50%, meaning that half of the fuel you pay for is not actually used to heat your home. Such a significant improvement in efficiency means you should lose significantly less money through wasted energy and could reduce your energy bills by as much as £305 a year*.
---
---
Oil boiler installation options
When getting quotes for your new oil boiler you have a few options to consider:
Local company
A local company and even independent engineers will be able to carry out your work with no problems from a like for like boiler replacement to a complete system overhaul. The engineer will visit your home to assess the current system, discuss your lifestyle and therefore hot water needs before making a recommendation and offering a quote.
Energy supplier
Some of the biggest energy suppliers like British Gas can also replace your boiler. One of their engineers will visit your home and provide a quote. The cost can often be higher than an independent or local company but they also tend to offer more comprehensive warranties and ongoing support.
Manufacturer
It is possible in some cases to buy a boiler from a manufacturer directly but you will need to find your own OFTEC registered engineer to complete the installation.
Oil boiler warranties
Leading manufacturers such as Worcester and Grant offer up to 10 year warranties if the engineer is accredited by them. All warranties will need to be registered on the day of installation and will usually require certain conditions to be met to ensure they remain valid such as annual servicing by a qualified engineer.
It's important to check the smallprint of any warranty to be sure what is included. Some will offer "parts and labour" but this may only cover certain parts like the heat exchanger or labour up to a limited number of hours.
Find an OFTEC registered installer
OFTEC is a trade association and competent persons scheme that recognises competence for engineers working with oil-fired appliances. Unlike gas boilers, and the Gas Safe register, OFTEC registration is not legally required in order to install an oil boiler or storage tank. The legal requirement is that the installation needs to be checked to ensure it meets building regulations. An OFTEC registered engineer can both install and declare the work compliant with regulations, but if the work is carried out by someone without OFTEC registration you will need to find someone else to check their work.
In addition to the unnecessary hassle this presents, if the boiler is installed without OFTEC training there is a chance the work could be faulty and even unsafe. Errors made at this stage could end up costing you far more in the long run. An OFTEC engineer will be able to advise you on the best boiler and oil tank for your home and will ensure the installation meets legal requirements.
So, wherever you source your oil boiler from, you should always get an OFTEC registered engineer to install it.
Before providing you with an accurate quote, an OFTEC registered heating engineer will need to visit your home to see the current set up in place. The engineer will assess your home as to the level of work required, discuss your options with you and calculate a price. What is OFTEC?
When finding an installer, don't just go with the first company you find. To get a competitive price, compare at least 2-3 quotes from multiple oil boiler installers. You can get free quotes from up to 3 oil boiler installers based in your local area by completing our simple online form.
---
---
*Source: https://www.energysavingtrust.org.uk/home-energy-efficiency/boiler-replacement. Figures based on installing a new A-rated condensing boiler with a programmer, room thermostat and thermostatic radiator controls (TRVs) in a gas-heated home from an older boiler with a programmer and room thermostat. Based on fuel prices as of April 2019 for a detached house.