System Boiler Replacement: Find Your New System Boiler
A system boiler is perfect for busy homes that need plenty of heating and hot water. A system boiler replacement will mean different things for different households. The scale and complexity of the new boiler installation comes down to some key deciding factors – all of which we've outlined in this handy guide!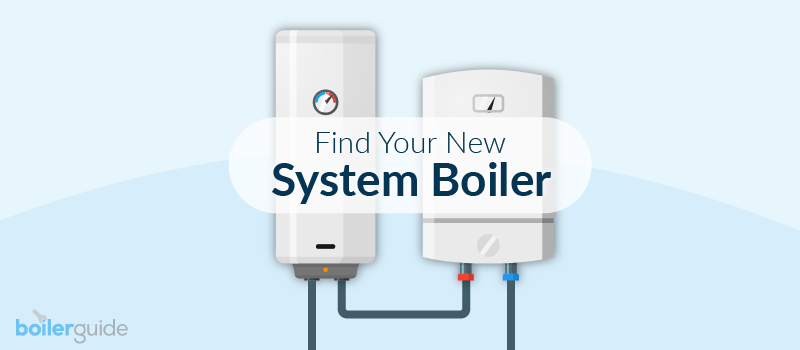 Reasons to replace your system boiler
New system boilers use condensing technology, which became a standard legal regulation for all modern gas boilers in 2005. Older, non-condensing boilers are up to 30% less efficient than modern condensing boilers. This is due to heat energy being lost as it escapes out of  the flue pipe.
Condensing technology is able to capture this extra heat and use it to provide additional energy. Therefore, they will use less fuel to produce the same amount of heat and can achieve an efficiency level of 92 – 99%.
An older boiler, even one with condensing technology, will lose efficiency over time. Therefore, it may become more economically savvy to replace your boiler. If your boiler continually runs into issues or cannot provide sufficient heating and hot water, this will amount to frequent maintenance and repair costs that will soon outweigh the cost of replacement.
An inefficient system boiler will also contribute towards already rising bills. You can combat this by upgrading to a new system boiler. Boiler Guide can help ease this process by connecting you with local installers. Simply click the link below and you can compare their rates to find the best deal!
---
---
Benefits of replacing an old system boiler
A new boiler will bring new levels of home comfort with optimal heating and hot water convenience. You could also benefit from modern, future proof technologies that will further increase the reliability of your central heating.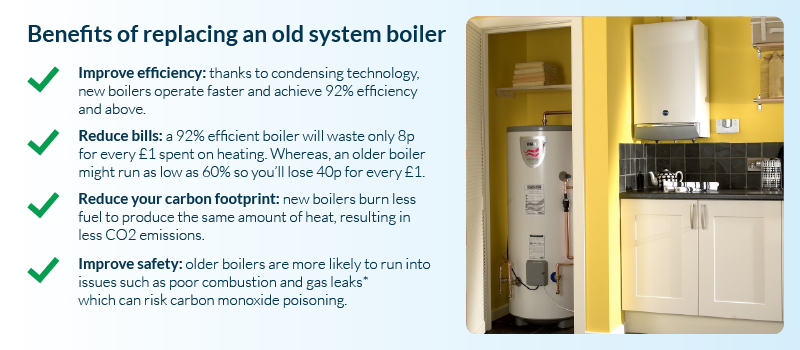 *If you identify any signs that your boiler may be unsafe, switch it off and have it checked by a licensed Gas Safe engineer as soon as possible. If you smell gas, or suspect there is an emergency, call the gas emergency helpline on: 0800 111 999.
When should you replace your system boiler?
Modern  boilers will last 10-15 years. While some boilers might last as long as 20 years, there is increased risk of issues, or complete system failure as the boiler ages. Therefore, you should weigh up the costs of frequent repairs versus a new system boiler replacement.
We recommend seeking advice from a Gas Safe registered engineer about the efficiency of your system boiler and having it replaced. To help you with this, you can fill in our custom form to be connected with up to 3 local heating engineers. Their tailormade quotes will help you estimate the costs of replacement, but you are under no obligation to accept their offers.
---
---
Things to consider when replacing an old system boiler
Once you've identified that your old system boiler needs replaced, you should next consider what the installation will entail, based on your existing boiler and set up.
A like-for-like boiler swap, ie. if you are replacing your system boiler with another system boiler, will require significantly less time and labour so it's a good way to minimise new boiler installation costs. This is because the pipework and hot water cylinder is already in place, and so you may only need to install the boiler unit itself.
Replacing a combi boiler with a system boiler
A new system boiler in place of a combi boiler will require that you install a hot water cylinder which will take up additional space.
However, if  you have a new bathroom fitted or you're getting an extension, a combi boiler will struggle to provide high pressure flow rates for more than one bathroom with multiple outlets. While there are some powerful combi boilers out there, with capacity to meet the demands of a large home with 2+ bathrooms, these will use more energy per kilowatt.
Therefore, a system boiler is ideal for medium-to-large homes with more than one bathroom, since it keeps its own supply of hot water in the cylinder. This makes it much more suitable than a combi.
Replacing a regular boiler with a system boiler
Replacing a regular boiler with a system boiler will require removal of the cold water feed tank from the loft and additional pipework. While this may cost extra, a new system boiler can meet the heating and hot water demand of a busy household, maintain high water pressure and save you space. This is not so easily the case for regular boilers.
Before going ahead with this type of swap, remember that regular boilers are typically older. Therefore, you should make sure your surrounding pipework and radiators can withstand the high mainlines water pressure that a system boiler will bring.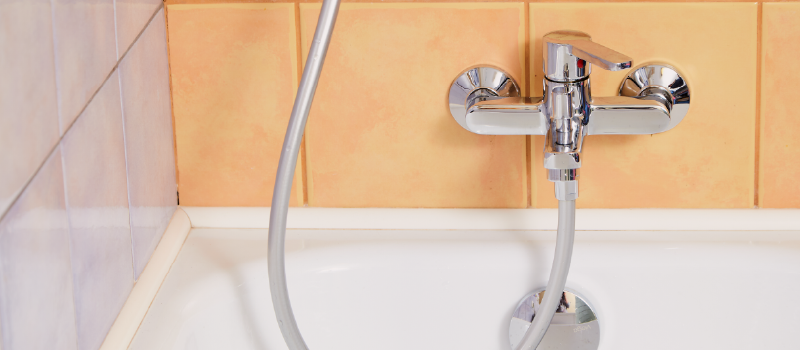 How much does a new system boiler cost?
Excluding installation, a new system gas fired boiler will cost approximately £500 – £1,500. Premium models can also go up to £2,800.
System boiler prices are mainly decided by factors such as fuel type, boiler size, manufacturer and the quality and features of the model you choose.
A heating engineer can provide you with an itemised quote that will breakdown the upfront costs of a new boiler, including installation. This will be based on the specifications of your own heating system and is the most accurate way of determining the true costs of a boiler replacement. All our trusted engineers are Gas Safe or OFTEC registered. Fill in our quotes form today and take the first step towards securing a new boiler!
---
---
System boiler replacement costs
Assuming a simple boiler swap, a new system boiler replacement will cost between £500-£2,500.
A like-for-like system boiler replacement, in the same location, will take relatively little time. That's because the pipework can usually remain intact and the hot water cylinder is already in place.
Below we've provided a breakdown of additional parts and labour involved in a boiler replacement with corresponding cost estimates.
New system boiler installation costs
A new system boiler, in the place of a pre-existing combi or regular boiler, will vary in cost depending on the time and complexity of the overall installation. The table below estimates the costs in each case.
| Type of boiler replacement | Price range |
| --- | --- |
| Combi to system | £1,850 – £4,100 |
| Regular to system | £1,550 – £3,450 |
Additional installation costs might include:
New pipework (£250 – £600): different boiler types require varying amounts of pipework and of varying diameters.
New unvented hot water cylinder (£900 – £1,300): the existing vented hot water cylinder from a regular boiler system will not be compatible with a system boiler. In the case of a combi to system boiler swap, the additional space for the cylinder will need to be accounted for.
Relocating your boiler (£800 – £2,800): this is not recommended unless absolutely necessary since it will add significant costs to the overall installation.
Which system boiler do I need?
Finding the right system boiler will involve estimating your home's energy demands. Then, you can match it with the right boiler according to its 'size', measured in kilowatts (kW).
It's important to get this correct, otherwise you could waste energy running an oversized boiler, or be stuck with an insufficient boiler that can't meet your heating and hot water needs.
System boiler output size
You can estimate the right boiler size by counting the number of radiators you have. Every radiator requires approximately 1.5-2kW of power. This can vary depending on boiler type, but is a good place to start when consider what size you need.
Use the table below to estimate your energy demands, and the appropriate boiler output range.
| No. of Radiators | System Output range |
| --- | --- |
| Up to 10 | 9-18 kW |
| Up to 15 | 18-26 kW |
| Up to 20 (and over) | 27-40 kW |
Which cylinder do I need?
A hot water cylinder is typically made from copper or stainless steel. They will usually need to be replaced after 8-12 years. The cylinder stores hot water for all your domestic hot water needs, so there's no waiting around for the water to heat up, even with multiple outlets running at once.
The capacity of your new hot water cylinder will depend on the size of your property. Typically, hot water cylinders can hold between 120-300 litres of water.
There are two types of cylinders: vented or unvented (aka open vented). The difference comes from the way water is fed into the tank, and where the water comes from. Vented cylinders are fed water via gravity from a cold water tank (usually kept in the loft).
System boilers do not require a cold water tank, as they use unvented cylinders which are fed water directly from the mains water supply. As long as you live in an area with a high water pressure, then unvented cylinders will operate effectively and supply optimum hot water flow rates.
Worried about finding the right boiler size and cylinder capacity? A heating engineer can assess your home to help you find the perfect new system boiler. By filling in our simple form, you will be contacted by up to 3 local installers who would be happy to discuss all your heating needs. They will then offer you no-obligation quotes for your boiler replacement. Comparing multiple installers is the best way to find the best deals. Why wait? Click the link below!
---
---
Frequently Asked Questions
How long do system boilers last?
System boilers can last up to 20 years. However, it is recommended to replace your boiler after 10-15 years since it becomes increasingly inefficient over time. You can optimise its performance by ensuring it is annually checked or by bleeding the radiators.
Can you replace a combi boiler with a system boiler?
You can replace a combi boiler with a system boiler. This type of swap will take up more space in your home since a system boiler requires a hot water cylinder to operate. However, in larger homes with high energy demands, a new system boiler will bring a more reliable supply of hot water.
Can you replace a regular boiler with a system boiler?
You can replace a regular boiler with a system boiler. System boilers do not require a cold water feed tank so will take up less space in your home. The supply of water in system boilers comes from the mains which provide high pressure flow rates which will meet the demands of large homes. Therefore, this type of swap is preferable, as long as the remaining pipework and radiators are able to withstand higher water pressure.
What are the disadvantages of a system boiler?
Some disadvantages of system boilers are that the hot water cylinder will take up additional space in your home and that heat loss occurs from storing hot water, which results in wasted energy.