Fischer Future Heat Boilers Reviews & Compare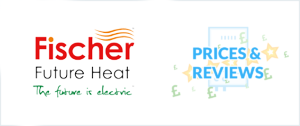 Fischer Future Heat is an international brand which started in Germany over 70 years ago, but in 2009 it was brought to the UK market by Keith and Maria Bastian. With more than 12 years of experience in the heating industry behind them they were keen to bring the brand's reputation for excellence to British homes.
Today the UK company has complete control over manufacturing, customer service, sales, stock control and installation which can give customers great peace of mind as there are no third parties.
If you're looking to replace your current boiler with an electric or gas boiler, get in touch today and you can get up to 3 free boiler replacement quotes from approved engineers near you.
Get Boiler Quotes

1. Tell us about your job

2. Get quotes to compare

3. Choose the best
---
Fischer Future Heat Electric Combi Boiler
The Fischer Electric Combi boiler can replace an oil or gas boiler enabling you to keep all of your existing pipework and radiators in place.
Features & Benefits of a Fischer EB (Electric Boiler)
The biggest advantage that an electric boiler has over a gas or oil boiler is that it does not produce carbon making it a much more environmentally friendly solution (providing the electricity powering it has been generated through renewable energy technology such as solar panels or wind farms).
The Fischer Future Heat EB has been manufactured with the highest quality AISI 316L stainless steel.
This floor-standing boiler includes a hot water cylinder which maximises your hot water supply and delivers a quick response in terms of hot water on demand. This also means you usually won't need an additional hot water cylinder in the airing cupboard.
The Fischer EB includes wireless thermostat technology.
Other Products by Fischer Future Heat
Electric Heaters
Dynamic clay core heaters by Fischer are a stylish alternative to electric convection heaters available in vertical and horizontal orientation and coloured in white to suit all styles of home. The heaters are designed to provide a continuous flow of warm air around a room while conventional heaters will push warm air upwards. The heaters are fluted in design to increase the surface area.
Aquaefficient
Aquaefficient is a hot water delivery system which heats water on demand with no need for storage. This makes it a great space-saver for homes which still use bulky hot water cylinders. It features Fischer Thermal Energy Store which can store 4 times more than a standard hot water tank, all from a unit the size of a combi boiler. It is also compatible with solar PV panels which means you could power it with free electricity and reduce your energy bills.
Fischer Future Heat Boiler Service
Electric boilers don't need the same level of servicing as other boiler types thanks to there being fewer moving parts. This means that you'll be able to save money and time on arranging a service each year. However, you should still get your electric boiler looked over by a professional engineer during its lifetime to ensure its safe and efficient running.
Fischer Future Heat Boiler Warranty
The warranty should be an important part of your considerations when comparing replacement boilers. It's your insurance policy should a fault develop within the unit and gives you the peace of mind that you're covered by the manufacturer.
All boilers come with a standard warranty, usually lasting between 1-10 years, with the option to extend in some cases. It's important to check the terms and conditions of the warranty so that you know what the manufacturer covers, if it can become invalid and how long you're covered for.
Fischer Future Heat includes a 10 year standard warranty on parts and labour.
Fischer Future Heat Boiler Repair Advice
Even the most reliable boilers can develop faults, especially as they age. There are some faults you can repair yourself but the majority should only be repaired by a fully qualified engineer.
Fischer Future Heat Boiler Error Codes
Should there be an issue with your Fischer Future Heat boiler, the digital screen will display a code to help you identify the cause of the problem. This could range from something simple that you could resolve yourself, such as low boiler pressure, right up to something technical that requires the expertise of a fully-qualified heating engineer.
---
Need a one-off boiler repair?
---