Electric Heating Company Fusion Comet System Electric Boiler 12kW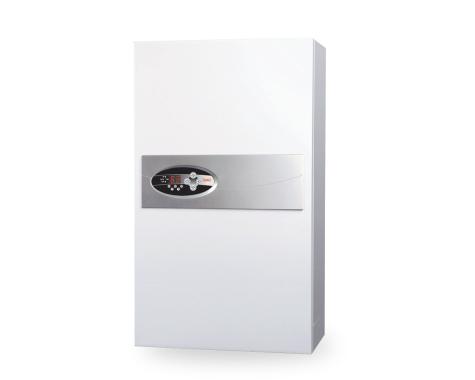 Typical Price (inc VAT)
£1,405
Typical installation Cost (inc VAT)*

£500 - £1000
Sundries (Filter, Flue, etc)

£300
Total Cost
£2,205 - £2,705
| | |
| --- | --- |
| Make | Electric Heating Company |
| Model | Fusion Comet System Electric Boiler 12kW |
| Is Condensing | N/A |
| Efficiency Rating | 100% |
| Band Rating | D Heat |
| LPG Compatible | No |
| Standard Warranty | 2 Years |
| Central Heating Max. Output | 12 kW |
| Mounting | Floor Standing |
| Flow Rate | N/A |
| Typical Price (inc VAT) | £1,405 |
| Typical installation Cost (inc VAT)* | £500 - £1000 |
| Sundries (Filter, Flue, etc) | £300 |
| Total Cost | £2,205 - £2,705 |
* This is a guide price for a straightforward, like-for-like boiler replacement. Installation costs will vary dependent on work required.
Product Description
The Fusion Comet is a floor-standing electric combi boiler that's ideal for smaller homes and flats, designed and manufactured by the Electric Heating Company.
Why choose an electric boiler?
There are many reasons to choose an electric heating system, with the resources of gas and oil expected to run out within the next 40 years, electricity could be the best solution for home heating.
Electric heating systems offer many benefits, such as zero emissions during operation, no risks of a carbon monoxide leak, they heat the home efficiently and effectively and respond quickly to calls for heating and hot water.
Why is the efficiency of electric boilers different to gas?
Electric boilers are considered 99-100% efficient as they don't produce any waste gases, as gas and oil boilers do. However, electric boilers are only awarded an ErP D-rating, whereas gas and oil boilers are ErP A-rated despite being 93% efficient at most.
The reason for this lies in how electricity is generated in the UK, by burning fossil fuels. Natural gas production sees 0.216kg of CO2 per kilowatt-hour (kWh) released into the atmosphere, electricity generation is almost double: 0.519 kg of CO2 per kWh. Due to this, electricity is considered a carbon intensive fuel.
Find out more in Electric
Boiler Efficiency Explained.
Will an electric boiler save me money?
As the majority of UK electricity generation is carbon intensive, electricity is an expensive fuel. More so than both gas and oil. At this point, you might be put off by the higher running costs, however, an electric boiler can help you save in other areas.
To start with, electric boiler installation is simple, keeping the installation costs right down to a minimum. Once installed, arranging an annual service isn't essential as it is with gas and oil boilers so that's an annual saving of around £60-£120. Plus, as there are fewer moving parts, the chances of having to hire a heating to fix the boiler are considerably lower.
How efficient is the Fusion Comet electric boiler?
With this highly reliable unit being designed with an efficiency rating of 100% and an energy related product rating of D. you can have peace of mind that you're purchasing a highly reliable unit that you know won't let you down.
Where can this boiler be installed?
This highly reliable electric boiler does not require flues allowing for this unit to be flexible in where it can be placed. As well as it being designed as a compact unit to save you that much needed space in your home. This highly reliable boiler is a floor standing unit. So you can have peace of mind this unit can be kept out of sight and out of mind.
Is this boiler suitable for my home?
This boiler is an 12kW boiler. With an 12kW output rating being suitable for those medium/larger sized homes that feature 8 radiators in there home.
Are there any alternative options?
This highly reliable boiler features a variety of options. With this unit features and range of output ratings including an 9kW 12KW and 14.4kW. With an 9kW being suitable for those homes that feature 4 radiators in there house, the 12kW is suitable for those homes that feature 8 radiators and the 14.4kW suitable for homes that feature 10 radiators
What are the key features of the Fusion Comet?
Fusion Comet electric boilers include an inbuilt programmer with system diagnostics, a wireless thermostat, weather compensation which automatically modulates to reduce the boiler input temperature in relation to the outdoor temperature which could reduce energy usage by up to 15% energy.
There's also an energy saving smart pump, full power modulation, stainless steel heat exchanger, high current thermal cut out, digital pressure gauge, magnetic filter tank, cleansing feature and solar PV connection, inbuilt controller which gives easy access to the boiler settings as well as a wireless room thermostat - you can alternatively use a 3rd party smart thermostat.
Does this boiler have a warranty period?
Fusion Comet electric boilers are available with a 2 year warranty as standard, with 10 years on the cylinder, so you can have the peace of mind that you'll be well covered after installation.