Biasi Boilers: Compare Efficiency, Warranty & Price
Biasi is a leading manufacturer of affordable domestic heating solutions with more than 75 years of experience to draw on. Their range includes multiple combi, regular and system boilers that all run on natural gas.
In addition to having the most suitable boiler type installed for your home, you will also need to consider the output rating, efficiency and warranty. Price is another important comparison factor and Biasi offer some of the most affordable units on the market.
Output rating: The central heating (CH) output rating of a boiler gives an idea of how many radiators it will be capable of heating up – the higher the CH output, the more radiators it will be able to warm. Combi boilers deliver hot water on demand (rather than storing it in a hot water cylinder) which means that they also have a domestic hot water (DHW) output rating too. A combi boiler with a higher DHW output rating of more than 30 kW will be better suited to larger homes.
Efficiency: Biasi boilers burn natural gas to heat your home – as the vast majority of boilers do. The efficiency rating relates to how much of this fuel is converted into usable energy. The most efficient Biasi boilers have a high 92% efficiency rating which means that for every £1 spent on heating your home, only 8p will be lost to the waste gases produced as natural gas is burnt.
Warranty: Biasi offer warranty periods of between 3 and 7 years on their boilers which will see that you're covered by the manufacturer in the unlikely event of a fault developing after the installation.
Price: Biasi boilers are a budget-friendly option, with combi, regular and system boilers available for as low as £500 to £600.
You can compare up to 4 boilers with our Boiler Comparison Tool – just hit the 'add boiler' symbol. It will be worthwhile to include your existing boiler as part of any comparisons you make.
---
---
Biasi combi boiler range
Combi boilers have become the most popular boiler type in the UK. A combi is a great option for small to medium-sized properties with 1-2 bathrooms. Biasi have a number of combi boiler ranges with high levels of efficiency.
A 24-27 kW combi boiler is an ideal choice for smaller homes with 1 bathroom and around 10 radiators. Slightly larger homes with up to 15 radiators should turn to an output rating of 28-34 kW.
Compare Biasi regular boilers
Regular boilers (also known as conventional or heat-only boilers) are the most traditional heating system. They're typically found in older properties and aren't often recommend if the suitable pipework isn't already in place.
Compare Biasi system gas boilers
Biasi system boilers need to be installed as part of a heating system that includes a hot water cylinder where domestic hot water is stored until needed.
Take a few moments to complete our simple online form and you'll get free quotes from up to 3 Gas Safe registered engineers for the installation of a new Baxi boiler.
---
---
Benefits of Biasi combi boilers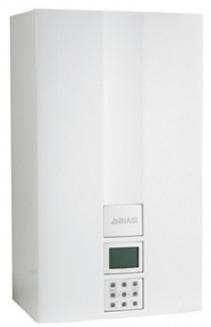 For the UK domestic market Biasi offers a range of combination or 'combi' boilers.
All the products offered are affordable, easy to use and feature compact design.
Every Biasi boiler is made at the company's state-of-the-art production centre in Italy and is fully tested before making the journey to the UK distribution hub, and then on to customers' homes.
Biasi boilers combine a high efficiency water heater with a central heating boiler into a single compact unit. This means that unlike other systems, there is no requirement for a separate hot water cylinder.
This is also good news if you want to save space and keep installation costs down too.
If you are choosing a Biasi combi, take time to consider how many people would be using the hot water at one time as this will affect the flow rate if more than one tap is running at once.
Wide range of sizes and outputs
Easy to use programmes and controls
Built-in frost protection
Excellent ratings for energy efficiency
No need to accommodate an additional loft tank or water cistern
You can look forward to lower gas bills which should make a difference in the long term. Get quotes for a new Biasi boiler.
Biasi regular boiler range and prices
A Biasi Advance OV is the perfect replacement for regular (traditional) open vented boilers which incorporate a feed and expansion tank in the attic with a separate hot water cylinder.
Large households will often find that a Combi boiler isn't able to generate enough hot water for all the radiators and bathrooms in the home, and while a System boiler is a popular choice option in big homes, the pipework in older properties cannot cope with the high pressure of mains water. In addition, replacing a regular heating system with a combi or system can be a more complex and costly installation.
This is where modern, condensing regular boilers like the Biasi Advance OV are a great solution. The Advance OV boiler has been designed with efficiency, reliability and ease of installation as priorities and is a great choice for homeowners looking to update their central heating system and lower their energy bills.
Able to deliver hot water to more than one bathroom at once
Good for high usage homes
Energy efficiency improvements mean lower energy costs
Sleek design
Optional weather compensation
Available in a 15kw, 18kw and 24kw version to suit your needs
A Biasi regular boiler is a great value option as they are some of the most affordable models on the market. You'll also need to pay for a Gas Safe heating engineer to install it for you, but once the boiler it has been fitted you can enjoy many years to come of a comfortable home and minimal heating bills. Get quotes for a new Biasi boiler.
Benefits of Biasi system boiler range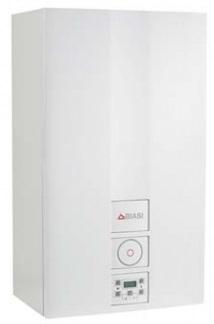 A system boiler is worth considering, particularly in homes were the demand for hot water is likely to be quite high.
This is because any combi without stored water will struggle to achieve good flow rates if two or more taps are running at the same time. That's when a system boiler comes into its own as it is linked to a separate hot water cylinder.
A system boiler is also different to the third option – a traditional or 'regular' boiler – as that type needs both a hot water cylinder and a cold water storage tank.
If you choose a Baisi system boiler you should benefit from a modern, sleek system and higher flow rates than a combi. You also won't need to put a storage tank in the loft.
Biasi system boilers energy efficient too, so if you prefer a greener choice, this type of boiler is a good idea.
Able to deliver hot water to more than one bathroom at once
Good for high usage homes
Energy efficiency improvements mean lower energy costs
Sleek design
Range of options to choose from to suit your needs
Buying a new boiler is a big decision, but when you see how much lower your energy bills are as a result, you'll soon start reaping the benefits.
When planning a budget, you need to think about the boiler purchase price, the cost of a regulated engineer to install it, plus any ongoing maintenance and repair costs. Biasi is a great value option that is popular with customers across the UK.
It should be easy to find an installer, but make sure you get at least three quotes so you can compare prices and get the very best deal. Get quotes for a new Biasi boiler.
---
---
Biasi boiler service
It's important to keep your boiler in the best possible condition with an annual boiler service by a professional engineer. This will ensure the boiler can operate as efficiently as possible, keeping heating bills to a minimum, and that there are no potential safety issues to be concerned about. A boiler service is also a great way to catch and fix small repairs before they have the chance to worsen over time and cause an expensive breakdown. Find out what's involved in an annual boiler service, why it's so important, the benefits and how much they cost in Biasi Boiler Service.
Biasi boiler warranty
Every boiler manufacturer offers a standard warranty with their boilers which last between 1-10 years. The warranty is your insurance policy and means if a fault develops the manufacturer will resolve it within a specified time frame. Some warranties include both parts and labour while others may only cover parts. The most important thing to remember is to get your boiler serviced by a Gas Safe registered engineer every year as failing to do so is likely to invalidate your warranty. For more detail about this brand's warranty (including the small print) take a look at Biasi Boiler Warranty.
Biasi boiler repair advice
Even the highest quality boiler can develop faults and problems as they age. Some are minor issues you may be able to handle yourself but most will need a Gas Safe registered engineer to diagnose and repair the problem. To find out if there are any common problems associated with this manufacturer you can read our guide to Biasi Boiler Repairs & Common Biasi Boiler Problems.
---
Reference
Visit the Biasi website for further details.
---
---