With the origins of its parent company dating back to 1928, Keston draws on its extensive resources and experience in boiler design, and focuses on innovation and quality.
All of its units are SEDBUK 'A' band rated, and have ultra low NOx combustion.
Keston's parent company, Keston Heating, actually goes back to 1928 when they specialise in commercial and domestic heating only. In 1998 they started offering a full range of domestic and commercial boilers and have continued to innovate in this market.
The newest lineup from Keston hit the market in 2013 with their twin flue capability, 2 year warranty as standard, and built and designed in Britain for the British market. The new range includes combi, system and heat only boilers, from 30Kw to 55kW.
Keston boiler types: Combi – System
The range of Keston boilers are available in the following fuel types: Gas
---
---
Keston Combi Boilers & Prices
Keston's combi range of boilers come in either the C30 or the C35 which are available in 30kW and 35 kW power outputs respectively.
Both offer all you would expect from a modern boiler and more, being small enough to fit in most kitchen cupboards as well. Both models also allow you to control the heating and hot water independently, ensuring maximum comfort and efficiency.
And let's not forget that both these combi boilers connect to the unique Keston twin-flue system, which allows both boilers to be anywhere up to 27 metres from the flue outlet – this offers a degree of flexibility not seen in a lot of other boiler manufacturers.
Benefits of a Keston Combi Boiler
Pre-fitted filling loop
Compact dimensions
Fully modulating
On board diagnostics
Low component count maximising reliability
Twin flue up to 25m
2 year warranty
Weather compensator supplied as standard
Inbuilt frost protection
Low lift weight
Large backlit display with user friendly controls
Easy to see pressure gauge
Automatic bypass
50mm muPVC solvent weld flue allowing simple, cost effective installations
Comparing Costs: Keston Combi Boiler
Cost alone should not be your primary driving factor when in the market for a new boiler. For example, if you just go for the cheapest new boiler you can find then chances are it wont be up for the job. If you live in a 4 bedroom house with 10+ radiators and 3 bathrooms, then a 30 kW combi boiler would not be the right choice as it couldn't handle the load.
This is where the experience of a Gas Safe heating engineer really comes into play, as they can advise you on what your new boiler needs to look like based on your unique requirements. Get quotes for a new Keston boiler.
Review the complete range of Keston Gas Combi boilers prices…
---
---
Keston System Boilers & Prices
Keston also do a great job with their System boilers offering both a simple and reliable solution regardless of whether you're looking for a new or replacement boiler.
The Keston System S30 has push & clip flue spigot connections making for a very fast and clean install. And how about this for flexbility, the S30 has a wide range of alternative flueing solutions making this boiler work great in virtually any domestic situation.
Given how lightweight this boiler is, and how the connections are hidden away neatly – the S30 will also fit in most standard kitchen cupboards.
Benefits of a Keston System Boiler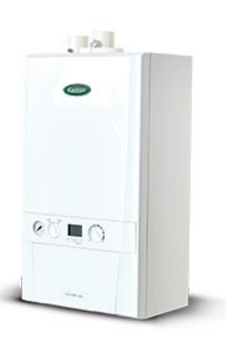 Fully modulating
Twin flue up to 27m
Large backlit display with user friendly controls
50mm muPVC solvent weld flue allowing simple, cost effective installations
Digital display with simple diagnostics
Low lift weight
2 year warranty
Compact dimensions
High efficiency
Inbuilt frost protection
Easy to see pressure gauge
Low component count maximising reliability
Weather compensator supplied as standard
Review the Pricing of Keston System Boilers
Get quotes for a new Keston boiler.
Compare the complete range of Keston Gas System boilers prices…
---
---
Keston Commercial Boilers
Keston's parent company has origins dating back to 1928, and is certified to ISO 9001. The commercial division is promoted through recommended merchants, and Keston can give you details of these.
In its commercial product range is the Keston C40 Condensing Boiler for small applications, with heat up to 40KW. Next in the range is the C55 (up to 55kW), then the C90 (up to 90 kW), with the largest boiler being the C110 (to110 kW). All of these are SEDBUK 'A' rated giving a 98 per cent performance rate, and its multi-boiler pre-fabricated rigs are suitable for a wide spectrum of industries.
The qSPA range of water storage cylinders take water direct from the mains, with no need for a separate tank. Keston also manufactures muPVC standard kitchen waste pipes for the new flue and air intake system.
With solar products, Keston's 'A la Carte' solar solution for commercial projects enables you to select any combination of components within the Solar Pack to suit your requirements.
Keston Boiler Warranty
Every boiler manufacturer offers a standard warranty with their boilers which last between 1-10 years. The warranty is your insurance policy and means if a fault develops the manufacturer will resolve it within a specified time frame. Some warranties include both parts and labour while others may only cover parts. The most important thing to remember is to get your boiler serviced by a Gas Safe registered engineer every year as failing to do so is likely to invalidate your warranty. For more detail about this brand's warranty (including the small print) take a look at Keston Boiler Warranty.
Keston Boiler Repair Advice
Even the highest quality boiler can develop faults and problems as they age. Some are minor issues you may be able to handle yourself but most will need a Gas Safe registered engineer to diagnose and repair the problem. To find out if there are any common problems associated with this manufacturer you can read our guide to Keston Boiler Repairs & Common Keston Boiler Problems.
---
---
Keston Error Codes
Error codes may appear on your boiler's display; it's your boiler's way of telling you that something is wrong. Each manufacturer uses a different coding system to help an engineer to diagnose a fault. In some cases it may be a simple issue such as low pressure which you can adjust yourself but more technical faults will certainly need a professional. We've put together a list of error codes for all Keston Boilers to help you understand what's wrong before you contact an engineer.