Keston Boilers: Compare Efficiency, Warranty & Price

British boiler manufacturer Keston has over 90 years of experience in boiler design, and focuses on innovation and quality. Keston manufacture a small range of combi, system and regular boilers, all of which run on natural gas.
When comparing boilers, you should pay particular attention to the output rating, efficiency, warranty and potential cost.
Output rating: Both Keston combi boilers have a central heating output of 24 kW which is well suited to homes with up to 10 radiators. Where the C30 and C35 differ is the domestic hot water output, which are 30 kW and 35 kW giving them the power to meet the demands of homes with 1-2 bathrooms.
Efficiency: All boilers have an efficiency rating which shows how much of the fuel is converted into usable energy. A boiler with a high efficiency rating will use less fuel to provide central heating and hot water which will help to lower your energy bills. Keston boilers have a seasonal efficiency rating of 93%, making them highly efficient units.
Warranty: It's reassuring to know that you're covered by the manufacturer should there be a fault with the boiler after the installation. And this is where the warranty comes in. Warranties vary in length and what they cover with Keston boilers being covered for a lengthy 7 years.
Price: Keston boilers aren't the cheapest units on the market but neither are they the most expensive. A Keston boiler is likely to cost between £1,000 and £2,000 depending on the model.
You can compare Keston boilers with other manufacturers using our Boiler Comparison Tool. To include a boiler as part of your comparisons, simply hit the 'add boiler' symbol. You can add up to 4 different boilers and it's a good idea to include your existing boiler.
---
---
Review Keston combi boilers
Combi boilers deliver heating and hot water on demand without the need for any additional tanks or cylinders. Keston combi boilers have a central heating output rating of 25.6 kW which is ideal for smaller homes with up to 10 radiators.
Compare the costs: Keston System Boilers
A system boiler is able to meet higher demands for domestic hot water than a combi as they store hot water in a cylinder. The Keston S30 system boiler has a central heating output of 30.4 kW – ideal for homes with up to 15 radiators and multiple bathrooms.
Compare Keston regular boilers
A regular boiler should only be considered if you already have this type of boiler. This is because they're part of a complex heating system that includes multiple parts. Keston regular boilers are powerful units suited to homes with around 20 radiators and multiple bathrooms and come with a lengthy 7 year warranty.
To get competitive quotes for a new Keston boiler from Gas Safe engineers in your area, send us an enquiry today via our simple form. It only takes a few minutes to complete and you'll receive up to 3 free no-obligation quotes to compare.
---
---
Benefits of Keston combi boilers
Keston's combi range of boilers come in either the C30 or the C35 which are available in 30kW and 35 kW power outputs respectively.
Both offer all you would expect from a modern boiler and more, being small enough to fit in most kitchen cupboards as well. Both models also allow you to control the heating and hot water independently, ensuring maximum comfort and efficiency.
And let's not forget that both these combi boilers connect to the unique Keston twin-flue system, which allows both boilers to be anywhere up to 27 metres from the flue outlet – this offers a degree of flexibility not seen in a lot of other boiler manufacturers.
Pre-fitted filling loop
Compact dimensions
Fully modulating
On board diagnostics
Low component count maximising reliability
Twin flue up to 25m
2 year warranty
Weather compensator supplied as standard
Inbuilt frost protection
Low lift weight
Large backlit display with user friendly controls
Easy to see pressure gauge
Automatic bypass
50mm muPVC solvent weld flue allowing simple, cost effective installations
Cost alone should not be your primary driving factor when in the market for a new boiler. For example, if you just go for the cheapest new boiler you can find then chances are it wont be up for the job. If you live in a 4 bedroom house with 10+ radiators and 3 bathrooms, then a 30 kW combi boiler would not be the right choice as it couldn't handle the load.
This is where the experience of a Gas Safe heating engineer really comes into play, as they can advise you on what your new boiler needs to look like based on your unique requirements.
Benefits of Keston system boilers
Keston also do a great job with their System boilers offering both a simple and reliable solution regardless of whether you're looking for a new or replacement boiler.
The Keston System S30 has push & clip flue spigot connections making for a very fast and clean install. And how about this for flexbility, the S30 has a wide range of alternative flueing solutions making this boiler work great in virtually any domestic situation.
Given how lightweight this boiler is, and how the connections are hidden away neatly – the S30 will also fit in most standard kitchen cupboards.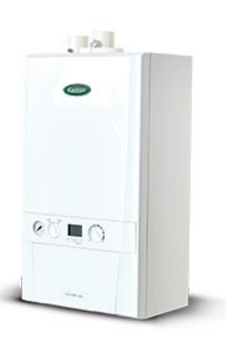 Fully modulating
Twin flue up to 27m
Large backlit display with user friendly controls
50mm muPVC solvent weld flue allowing simple, cost effective installations
Digital display with simple diagnostics
Low lift weight
2 year warranty
Compact dimensions
High efficiency
Inbuilt frost protection
Easy to see pressure gauge
Low component count maximising reliability
Weather compensator supplied as standard
Keston Regular Boilers
The Keston Heat is a wall hung boiler which is suitable for large homes or small commercial properties.
The boiler is highly energy efficient which means low running costs and low NOx emissions at Class 5 and at less than 40mg/kWh achieves maximum points under BREEAM schemes. The Keston Heat range of boilers are easy to cascade to a system with up to 6 boilers using Keston frame and header kits. This results in a power output of up to 330kW.
Benefits of a Keston regular boiler
2 year warranty as standard, 5 years when installed by a Keston engineer
LPG variants available
Condensing outputs 45 & 55kW
Inbuilt weather compensator
Inbuilt pump (low energy modulating)
Minimum pressure 0.3 bar
Minimum head 3m
Twin flue up to 21m*
5:1 turndown ratio
Small installation footprint
Low NOx Class 5
Commercial control system compatibility as standard
Twin thermostat
ECA listed
Can be installed in a cascade producing up to 330kW (6 boilers)
---
---
Keston boiler service
It's important to keep your boiler in the best possible condition with an annual boiler service by a professional engineer. This will ensure the boiler can operate as efficiently as possible, keeping heating bills to a minimum, and that there are no potential safety issues to be concerned about. A boiler service is also a great way to catch and fix small repairs before they have the chance to worsen over time and cause an expensive breakdown. Find out what's involved in an annual boiler service, why it's so important, the benefits and how much they cost in Keston Boiler Service.
Keston boiler warranty
Every boiler manufacturer offers a standard warranty with their boilers which last between 1-10 years. The warranty is your insurance policy and means if a fault develops the manufacturer will resolve it within a specified time frame. Some warranties include both parts and labour while others may only cover parts. The most important thing to remember is to get your boiler serviced by a Gas Safe registered engineer every year as failing to do so is likely to invalidate your warranty. For more detail about this brand's warranty (including the small print) take a look at Keston Boiler Warranty.
Keston boiler repair advice
Even the highest quality boiler can develop faults and problems as they age. Some are minor issues you may be able to handle yourself but most will need a Gas Safe registered engineer to diagnose and repair the problem. To find out if there are any common problems associated with this manufacturer you can read our guide to Keston Boiler Repairs & Common Keston Boiler Problems.
---
---
Keston heating controls
Keston offer an RF Electronic Thermostat System and Combi boilers which enables 7 day scheduling and holiday mode as well as a plug-in mechanical timer with 15 minute periods.
---
Reference
Visit the Keston website for further details.