The Zanussi brand was originally established in 1916 by a blacksmith's son, Antonio Zanussi, who created wood-burning ovens and stoves in his small workshop in Northern Italy. Passing the business on to his sons, over time the family run business evolved as the leading household appliance manufacturer in Italy exporting to over 60 countries by 1960.
Today Zanussi is owned by the second largest appliance maker in the world, The Electrolux Group, and maintains a reputation for quality, innovation and contemporary design internationally.
---
---
Each ErP compliant, A-rated boiler is available with a warranty option of up to 10 years and boiler frost protection. This is one of the longest warranty periods on the market giving you real peace of mind that your boiler will run at peak performance.
Zanussi offer both a combi and a system boiler to suit your home ranging from 15kW to 35kW output. Get quotes for a new Zanussi boiler.
Zanussi boiler types: Combi – System
The range of Zanussi boilers are available in the following fuel types: Gas
Zanussi Combi Boiler
Reliable, easy to install and highly efficient, Zanussi's Ultra Combi boilers are available in a number of different outputs to suit your hot water requirements.
All the components are neatly tucked away within the boiler meaning no external cylinder is required so you can position it in your cupboard or other small space with no fuss.
Benefits of a Zanussi Ultra Combi Boiler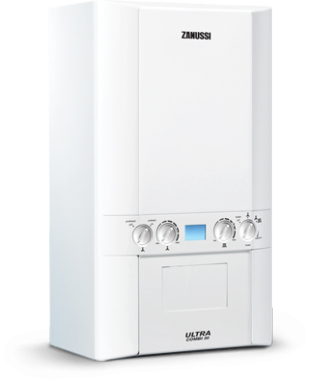 Reliable

Excellent energy efficiency
Compact space-saver maximises room in your home
Up to 10 year parts and labour warranty available
Boiler frost protection
Built-in, easy to use filling loop
Simple diverter valve design
Two stage flame sensing for greater reliability
Latest generation Honeywell gas valve
Fully modulating operation to low outputs
Automatic bypass
ErP compliant

Easy to install

Compact cupboard fit
Low lift weight (32kg)
Wide range of additional flueing options
Visually impaired user fascia option
Preformed copper tails and pre-wired mains lead
Universal condensate connection
Compatible with a range of additional controls inc. weather compensation

Compare the Costs of Zanussi Ultra Combi Boilers

There are so many options when it comes to making the decision to replace your boiler and we understand it can be a daunting challenge, particularly when you consider the potential costs.

While it may be tempting to go with the cheapest option we strongly recommend that you take the time to ensure you choose the right system for you and your home. Quick wins now may mean costly repairs or replacements down the line whereas the right choice will improve your energy efficiency and, most importantly, save you money.

The amount of water you use each day, the installation space in your home and any ongoing maintenance needed should all impact your decision.

We can help simplify your decision process by providing you with 3 no obligation, free quotes from professional installers in your area. Get quotes for a new Zanussi boiler.

Review the complete range of Zanussi Gas Combi boilers…

---

---

Zanussi Ultra System Boiler

If hot water is in high demand in your home a Zanussi Ultra System boiler may be the best choice for you.

Highly efficient and reliable, the use of an external storage cylinder (usually stored in an airing cupboard) ensures a supply of hot water is available to all your radiators, baths, showers and taps on demand.

Zanussi's Ultra System boilers are available in an array of outputs ensuring you get the boiler to suit your hot water demand: 15kW, 18kW, 24kW, 30kW.

Benefits of a Zanussi Ultra System boiler

Reliable

Provides a consistent supply of hot water, even when demand is high
Up to 10 year parts and labour warranty available
Boiler frost protection
Built-in, condensate trap
Simple diverter valve design
Latest generation Honeywell gas valve
Two stage flame sensing for better reliability
Fully modulating operation down to 4.8 kW
ErP compliant

Easy to install

Compact cupboard fit
Wide range of additional flueing options
Concealed pipe connections
Low lift weight (27.7kg)
Preformed copper tails
Stand-off kit and pre-pipe options
Pre-wired mains lead
Easy Access to PRV and AAV
Universal condensate connection
Digital display and simple diagnostics

Review the Pricing of Zanussi Ultra System boilers

If you think a Zanussi boiler could be the one for you, it may be time to find an installer to get your new system up and running. Installation costs can vary so make sure you get comparative quotes.

Let us take the hard work away and send us an enquiry today. Get quotes for a new Zanussi boiler.

Compare the complete range of Zanussi Gas System boilers…

---

---

Zanussi Boiler Warranty

Every boiler manufacturer offers a standard warranty with their boilers which last between 1-10 years. The warranty is your insurance policy and means if a fault develops the manufacturer will resolve it within a specified time frame. Some warranties include both parts and labour while others may only cover parts. The most important thing to remember is to get your boiler serviced by a Gas Safe registered engineer every year as failing to do so is likely to invalidate your warranty. For more detail about this brand's warranty (including the small print) take a look at Zanussi Boiler Warranty.

Zanussi Boiler Repair Advice

Even the highest quality boiler can develop faults and problems as they age. Some are minor issues you may be able to handle yourself but most will need a Gas Safe registered engineer to diagnose and repair the problem. To find out if there are any common problems associated with this manufacturer you can read our guide to Zanussi Boiler Repairs & Common Zanussi Boiler Problems.

---

Need a one-off boiler repair?

---

Zanussi Error Codes

Error codes may appear on your boiler's display; it's your boiler's way of telling you that something is wrong. Each manufacturer uses a different coding system to help an engineer to diagnose a fault. In some cases it may be a simple issue such as low pressure which you can adjust yourself but more technical faults will certainly need a professional. We've put together a list of error codes for all Zanussi Boilers to help you understand what's wrong before you contact an engineer.

View the Complete Zanussi Boilers Range

Compare Zanussi boiler types and costs and get a competitive quote for a boiler replacement below.

Our Gas Safe registered boiler installers can provide you with up to three free quotes, leaving you to choose the one which suits you the best.

---